Buttermilk Starter Culture
it's easy to make cultured buttermilk
"Easy to use, works beautifully, and adds a better flavor to my breads and biscuits than store-bought."
–Julie, Happy Cheese Maker
Description
This buttermilk culture makes a thick, old-fashioned New England Style, Buttermilk. For each batch, you can use 1-2 quarts of skim or whole milk, depending on your desired thickness.
The amount of character (flavor, texture) can be customized by increasing or decreasing the setting time and/or temperature.
Details
Ingredients
Lactose
(LL) Lactococcus lactis subsp. lactis
(LLC) Lactococcus lactis subsp. cremoris
(LLD) Lactococcus lactis subsp. biovar diacetylactis
(LMC) Leuconostoc mesenteroides subsp. cremoris
Storage
Store in the freezer for up to 2 years
Yield
Each of the five packets will make 1-2 quarts of buttermilk
Brand
New England Cheesemaking Supply Company
Kosher Info
Kosher certificate available upon request
Allergens
| Yes | No | Allergens | Description Of Components |
| --- | --- | --- | --- |
| | X | Peanuts | |
| | X | Tree Nuts | |
| | X | Sesame | |
| X | | Milk | |
| | X | Eggs | |
| | X | Fish | |
| | X | Crustaceans | |
| | X | Shellfish | |
| | X | Soy | |
| | X | Wheat | |
| | X | Triticale | |
| | X | Mustard | |
| | X | Sulfites | |
Directions
Heat 1 quart of milk to 72ºF
Add 1 packet of buttermilk culture to milk, let rehydrate for 1-3 minutes
Stir milk for 1-2 minutes
Let set for 12-24 hours
Store finished buttermilk in a refrigerator for up to one week
Reviews
Q & A
Related Recipes
Customer Reviews
Write a Review
Ask a Question
Filter Reviews:
culture
starter
batch
butter
milk
husband
Cream Cheese
buttermilk culture
products
time
08/23/2020
Orquidia A.
United States
Fresh Buttermilk!
After struggling with store-bought buttermilk for decades, I decided to make some cultured buttermilk myself using fresh cultures from New England Cheesemaking Supply Company and good, fresh milk. What a difference! The buttermilk was so easy to make. I microwaved the milk to heat it as per the directions, let it cool to 86F, added the culture powder, and blended it in well with a whisk. I then put the mixture in my Yogotherm incubator (you can use a thick tower if you do not have one) and let it sit on the counter overnight. In the morning, I had beautiful, thick, sweet/tangy buttermilk for my Buttermilk Oatmeal Bread, Southern Fried Chicken, and buttermilk sourdough pancakes. Scrumptious!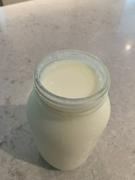 08/08/2020
Amy
United States
Great product
Exceptional culture that produces great product each time. I use this to make buttermilk and cream cheese.
07/28/2020
Audra
United States
Excellent
Great products and pricing! Fast shipping as well.
07/13/2020
Telse T.
Canada
Buttermilk starter for making quark.
I make quark once a month. Since I had lately so much problem making it using store bought Buttermilk added to regular milk I ordered the Buttermilk starter. I am totally happy with the results. I should say that I make a batch using 16 to 20 liter milk to make it. I prepare the Buttermilk starter first like suggested and the next day I add it to the rest of the milk. Then I leave it in the oven with only the oven light on for about 36 to 48 hours. Then I drain it. Perfect quark. Of course I freeze a large part of it. Thank you.
07/12/2020
Dori D.
United States
Buttermilk Starter Culture using raw goat milk:
I have been using the Buttermilk Starter Culture with goat milk for a couple of years now. I use it in baking, cheese making and it is even tasty to drink. Using fresh warm goat milk, I let it culture for 48 hours in an insulated container and it always comes out rich, thick and delicious. This is one culture that I buy year after year!