Organic Powdered Calf Rennet
Description
This organic powdered calf rennet by WalcoRen is NON-GMO.
Details
Ingredients
Storage
Store in the freezer
Size
Yield
Approximately 1/16 tsp will set 2 gallons of milk
Brand
Walcoren
Halal Info
Halal certificate available upon request
Shipping Restriction
Due to customs restrictions we cannot ship this rennet to Australia or Sweden
Allergens
| Yes | No | Allergens | Description Of Components |
| --- | --- | --- | --- |
| | X | Peanuts | |
| | X | Tree Nuts | |
| | X | Sesame | |
| | X | Milk | |
| | X | Eggs | |
| | X | Fish | |
| | X | Crustaceans | |
| | X | Shellfish | |
| | X | Soy | |
| | X | Wheat | |
| | X | Triticale | |
| | X | Mustard | |
| | X | Sulfites | |
Directions
Mix required amount of rennet in about 1/4 cup cool, non-chlorinated water. Let rennet solution sit for 30 minutes for complete dissolution.
Add diluted rennet to milk, gently stir for 1 minute, to evenly distribute.
Note: The amount will vary on the condition of your milk, season and type of cheese you are making.
Reviews
Q & A
Related Recipes
Customer Reviews
Write a Review
Ask a Question
Filter Reviews:
cheese
milk
rennet
freezer
curd
refrigerator
juice
1/16
teaspoons
rennet powder
11/06/2020
Melinda
United States
Excellent!
I did some cheesemaking several years ago and wanted to start it again. I went with this rennet because I liked that it could be stored in the freezer for quite a while. I have used it several times for cream cheese, halloumi, mozzarella, Colby, and others. I found that it does work at the recommended level of 1/16 tsp for 2 gallons; however, it takes a while and could be a little firmer (I use closer to 1/8 tsp now). With such small amounts needed, it will last me a long time. It works great and I am so pleased that I went with this type of rennet.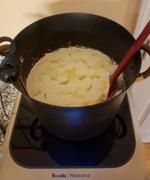 09/21/2020
George
United States
Great rennet powder
Last night, I was experimenting how to make fresh cheese. I put 3 teaspoons of rennet powder and 1 juice of lemon inside the whole milk that was pasteurized, not ultra-pasteurized, inside the big pot to heat the cheese. Then I put the curd on the cheese cloth that was on the colander and bowl, then I tied the cheese cloth, then I put it inside the refrigerator overnight. The next morning, the fresh cheese was delicious.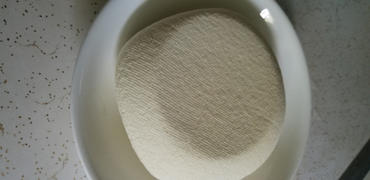 09/21/2020
George
United States
Great rennet powder
Last night, with my experiment to make homemade fresh cheese, I used 3 teaspoons of rennet powder mixed with a little water and the juice of one lemon. I added it to one gallon of whole milk that was pasteurized, not ultra-pasteurized, in a big pot. I put the curd in the cheese cloth and I left it in the refrigerator, overnight. Today, I tasted the fresh cheese and it was delicious.
07/14/2020
Bryton R.
United States
Works like a charm!
I'm continually impressed by how effective such small volumes of rennet are. I use about 1/16th of a teaspoon in each of the two-gallon (of milk) batches of cheese I have been making, and the curdle yield is far better than I was getting before, when using vinegar. I use the prescribed amount of rennet on the packaging, though I give it a more time to curdle because I'm keeping the temperature low enough to preserve the wild culture in the raw milk I purchase. Looking forward to trying my first batches! I'm aging my cheeses for at least two months, to meet the USDA(?) standard for safety when making cheeses with unpasteurized dairy. Cheers!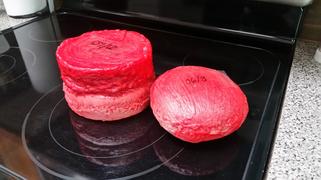 06/29/2020
Matthew W.
United States
Love this form of Rennet
I am really happy with this form of rennet and how it performs. We make a lot of cheese but I find that I cannot quite use up the pint bottle before expiry so the expiry on the freezer rennet is a much better time frame for us!