Our Story
This is how the magic of home cheese making began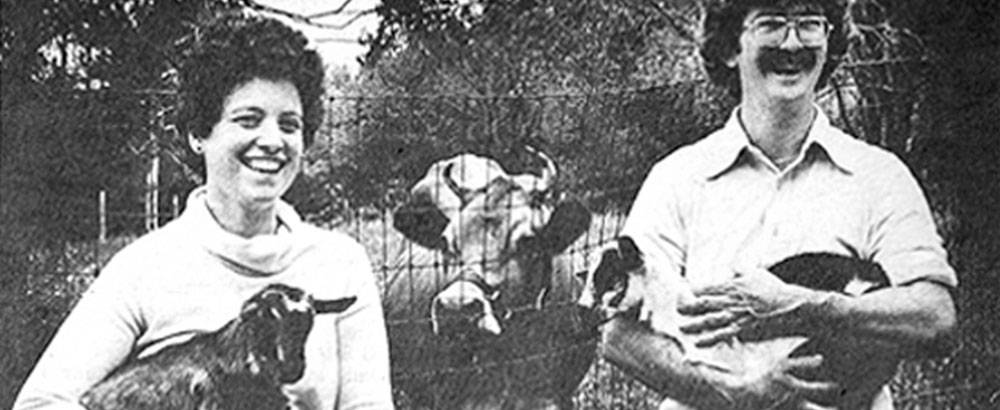 How do you make cheese? This was the question Bob and Ricki Carroll asked back in the 70's before there was such a thing as home cheese making. Intent on becoming more self-reliant, the newlyweds welcomed two dairy goats Mary-Lou, and Dinah to their backyard farm in Ashfield Massachusetts, and began searching far and wide for supplies, ingredients and resources. Working with what little they could find, they began to experiment. Thus began the cheese making journey of a lifetime.

A Mailbox Full of Quarters
It was a much different time back then, and with no Google or Pinterest to point the way, they began writing to embassies around the world in search of experienced cheesemakers. To their delight, they were able to find Rodney Wheeler and his mother, who invited them to their home in England. They jumped at the chance, and before leaving, took out an ad in the Dairy Goat Journal:
"For a catalog of cheesemaking supplies, send 25 cents"
On that first trip to England, Bob and Ricki ended up learning not only from the Wheelers, but from many cheese makers. Once home, they were surprised to find their mailbox overflowing with quarters from people requesting catalogs. And so, with a fistful of quarters, The New England Cheesemaking Supply Company was born.

Workshops, Books...The Cheese Queen
By 1979, Bob and Ricki were not only selling cheese making supplies, but happily teaching cheese making workshops in their kitchen. The workshops boomed. Their first six students all went on to become commercial cheese makers and soon people were flying in from all over the country, and even around the world. Ricki began giving workshops around the country and attendance grew from single digits to sold-out events, eventually earning her the title of "Cheese Queen."
An early workshop participant, Annie Proux, celebrated author of The Shipping News and Brokeback Mountain, envisioned a book written by Bob and Ricki and brought the idea to her publisher. The resulting book, Cheesemaking Made Easy, written by Bob in 1981, was later expanded by Ricki, renamed Home Cheese Making, and has become a bible for home and artisanal cheese makers alike, selling hundreds of thousands of copies.

Since then, this little company has been featured in numerous newspapers and magazines, Ricki and Bob had an appearance on The Today Show, Ricki helped start the American Cheese Society, and, after attending one of Ricki's classes, the acclaimed author Barbara Kingsolver wrote about the class in both Food and Wine magazine and in her book Animal, Vegetable, Miracle.
"I know, you don't have time. Who does? To calm the great American subservience to hurry, to convince us that an hour or two spent rendering up cheese in our own kitchens could be worth the trouble—what would that take? A motivational speaker, an artist, a devotee, a pal who builds your confidence? A Cheese Queen, maybe? The answer is yes, all of the above, and she exists. Her name is Ricki Carroll."
-Barbara Kingsolver

From Mother to Daughter, Community Grows
We are now a second generation, family owned company, with Ricki's daughter, Sarah at the helm. Staying true to our mission, we continue to To share the joy of cheesemaking through education, easy to use supplies and a supportive community around the world.  
Ricki's world of music has brought people together for over three decades, to sing, perform, relax and enjoy a community together. Her almost forty year career as an entrepreneur has brought her around the world, with song and cheese interweaving. Recently Ricki helped revitalize a Community Center in Ashfield, MA where she resides. This wonderful Community Center is now able to offer dance, yoga, drumming, artisan talks, functions and much more.
Everyone has the innate ability to use their individual gifts in a productive and satisfying way. We are so grateful for the unique gifts each and every one of you contributes to the world, and to our community as a whole.
---
A Community of Cheese Makers