Saint Marcellin Cheese Making Recipe
Saint Marcellin has a rich interior that develops pronounced aromas with a supple and melting texture. Traditionally made with goat milk, now it is primarily made with cow milk.

This cheese is lactic in nature, meaning the milk separation takes place slowly over a longer period (24 hours), with little to no help from the rennet.

If you have made a few cheeses at home, this recipe is a great way to venture into the realm of surface-ripened cheese. It's perfect for both the experienced beginner and the intermediate cheese maker.
Ingredients
2

Gallons of Milk (Not Ultra Pasteurized) - If using raw milk decrease culture by 25-40%

1

Packet C21 Buttermilk Culture or 1/16 tsp MM100 Culture

1/32

tsp Geotrichum Candidum

4-6

Drops Single Strength Liquid Rennet
Salt

1/4

tsp Calcium Chloride (for pasteurized milk)
Equipment
Good Thermometer
Knife to Cut Curds
Spoon or Ladle to Stir Curds
6-8 Saint Marcellin Cheese Molds
Draining Mat
Cheese Wrap or 6-8 3" Clay Dishes (for aging)
pH Strips (optional)
Instructions
Saint Marcellin Info
Reviews
Q & A
A Recipe for Making Saint Marcellin
If you've made a few cheeses at home this recipe is a great way to venture into the realm of surface ripened cheese. It's great for both experienced beginner and Intermediate cheese makers.
Heat & Acidify Milk

Because this milk will sit quiet for a long time, anyone with non-homogenized milk (raw or pasteurized-'cream top') should consider skimming at least part of the cream for making butter or cream cheese (you will see this below). Non-homogenized milk has a tendency for the cream to rise, forming two distinct layers, one of coagulated milk and one of coagulated cream. I skim part of the cream as you can see in the photo here, because I use a 4.6-5% Jersey milk and it is difficult to mix these back together once they set.

Begin by heating the milk to 72F. You do this by placing the milk in a pot or sink of very warm water. If you do this in a pot on the stove, make sure you heat the milk slowly and stir it well as it heats.

Once the milk is at 72F, the culture can be added. To prevent the powder from caking and sinking in clumps, sprinkle the powder over the surface of the milk and then allow about 2 minutes for the powder to re-hydrate before stirring it in.

The milk now needs to be kept at this target temperature for about 90 minutes. Hold the milk with culture quiet during this time to allow the culture to begin doing its work (you may need to stir every 5-10 minutes to keep the rising cream mixed in).

It will be very slow initially but will soon kick into its more active rate of converting lactose to lactic acid.

Coagulate with Rennet

Stir the milk well after it has been sitting to mix the cream back in.

Then add about 6 drops of single strength liquid rennet, diluted in 1/4 cup of unchlorinated water.

This is a very small amount of rennet because the primary coagulation is due to lactic acid development and not much enzymatic or rennet activity

The milk now needs to sit quiet for 22-26 hours while the culture works and coagulates the curd. This should be in an area that can help maintain the 72F temperature.

When the curd is ready, you will note that a thin layer (1/4-1/2"") of clear whey has risen to the surface, and the curd has pulled away from the edge of the pot, as well as perhaps a few cracks in the cheese body. The whey should also taste quite tangy at this point.

Note: Measuring the Acid in the set curd (optional)

pH of 4.6-4.5 will indicate the correct acid development in the whey when coagulation is complete.

Cut Curds & Release Whey

When ready the whey should have risen and the curds separated from the sides. Once you have determined the proper coagulation has occurred, it is time to cut the curd.

Note: If your milk has not been homogenized, the cream may have risen to the surface and formed into a thick layer of soured cream. This can be ladled into a lined cheese mold and drained, to make a rich cream cheese. Try simply tilting the pot for the thin layer of cream to slide to one side into an easily collected mass.

Since we are making a high moisture cheese intended to age quickly, the cut for this cheese will be very minimal and no cooking or stirring will be involved.

To cut the curd, make several vertical cuts at about 3/4-1"" across the entire surface, then at a right angle repeat the process, like a checkerboard (no horizontal cuts are needed).

I usually give the milk pot a quick twist to free up the cut then allow the cut curds to sit about 5 minutes until some whey rises in the cuts.

Forming the Curds

The curds can now be ladled into 6-8 sanitized Saint Marcllin Cheese Molds that have been placed on a draining surface. Doing this one ladle at a time in a round robin fashion will give each mold time to settle. You may need to wait a few minutes to place the last scoop, while the curds settle in the molds.

Note: Included in the photos above are the draining cream cheese (in the basket mold), and the jar of cream skimmed from the milk, which will be churned into a batch of butter.

While draining, maintain an average temperature of 72F. If the room temperature is too cool, Drain the cheese in a large insulated cooler.

Allow the curds to sit quietly for about 1 hour, then carefully flip the curds in the molds. This may be challenging, if they're too soft wait a little longer.

Notice the level of the cheese in the molds after the first turn above, compared to that of the full molds.

Flip the curds again 2-3 times, then allow to drain overnight at 72F.

Salting

The next morning, sprinkle ~1/4 tsp of salt to each cheese while still in the cheese molds.

Allow the salt to dissolve 4-6 hours, then flip the cheese in molds and salt once more.

At the end of the day, remove the cheese from the molds and rest on draining mats. They should continue to drain overnight.

Each final cheese will be about 3+ oz.

Aging

Much like little kids, Saint Marcellin requires a bit of supervision while aging.

The next morning, move the cheese to an aging space with 52F and 90-95%RH. I like to use covered plastic trays while aging to help maintain moisture.

While aging, turn 1-2 times daily, I find it best to turn onto fresh dry draining mats each time.

At about 5-7 days they will become ÔgreasyÕ This is some ambient yeast as well as the Geo complex. As mentioned in the ingredients list, I like using the Geo15 because it produces a yeast like surface that is thin and velvet like.

At about 12-15 days the cheese should develop a very light white dusting of mold. Now the cheese is ready to be placed into ceramic bowls and wrapped with breathable film, or simply wrapped in a breathable wrap without the bowls.

The cheese will be ready to enjoy after one month of aging. When fully ripe, the surface will have a thin rind with a bit of 'Fleur', and when cut, the interior should be creamy.

Note: If desired, the cheese can be aged in a drier aging space 75-80% and for a longer period. When aged in a drier space, the cheese will take on a firm rustic appearance and the paste will be much drier and stronger in flavor as the aging is extended.
Saint Marcellin
Saint Marcellin is a wonderful little cheese that has been made for several hundred years in the west of France. Its home is a quiet little village of the same name, in the valley of the River Isere, which runs from the Alps down to the Rhone, about 65 miles south of Lyon.
It is a traditional little cheese, originally made with goat milk, but now primarily with cow milk. It is lactic in nature, meaning the milk separation takes place slowly over a longer period of 24 hours, with little to no help from rennet.
Saint Marcellin is typical of many cheeses made daily on the farm, simply with milk cooled to room temperature, and no added heat applied, as well as little curd cutting or stirring. It ages quickly.
Today, the cheese is most often presented in a beautiful little clay dish to keep the very soft ones intact in their travels.
---
Learn About Saint Marcellin
Traditionally, this cheese was ripened with natural cultures from the farm, along with a native form of mold, known as Geotrichum.
Without the old farm and its ambient culture, we add the acidifying bacteria, as well as the special mold.
Many of you may now be thinking this sounds a lot like Camembert or Brie, with their bloomy rinds, but the Saint Marcellin is very different:
Smaller, at about 3 oz.
Develops acid very slowly over 24 hours, with little to no help from rennet.
Does not develop the fuzzy, mushroomy rind of the camembert/brie, but instead a very thin silky layer specific to this Geotrichum mold.
When ripe, they become very soft and usually need the help of small clay dishes to contain themselves.
Very creamy when ripe.
The soft Saint-Marcellin is distinguished by a melting texture, while the dry Saint-Marcellin is firm. The rind is hardly noticeable in the mouth, and its interior can be more than creamy, as the picture shows.
The fresh cheeses are tasty enough, but aging in either wet or dry cellars, or a combination of both, produces a very thin silky surface rind, and a soft full-flavored interior.
Different aging allows for two types of Saint-Marcellin:
The "soft" Saint-Marcellin, with its rich interior, develops pronounced aromas and a supple and melting texture. A result from a longer ripening.

Saint-Marcellin dry, is actually more to the local tradition and is characterized by a firmer dough and better preservation.

These often are sold in sets of twos and threes, tied together with a piece of raffia.
Customer Reviews
Write a Review
Ask a Question
Filter Reviews:
cheese
recipe
yield
coating
floor
Christmas
home
Brie
gifts
temperature
10/27/2019
Aviv

United States
Great creamy morsel of heaven
I made this cheese twice now, and it is so great! I opted for the creamier variation in a ceramic cup for aging and presentation - great flavor with crackers or crusty bread, as well as very nice presentation. (BTW - find these ceramic cups in Costco as one of the desserts, great reuse). The recipe is not difficult to follow, and I used Geo13 both times, and ready within 3 weeks or so. The yield was 10 ceramic cups from 2G of cow milk.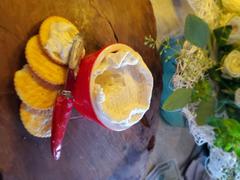 First time making St. Marcellin
This recipe was my excuse to try out some new Crottin forms, recent Christmas gifts. I used two gallons of fresh unpasteurized goat milk, starting at 11 a.m. on January 5. tracking both temperature and ph levels, the curd was ready for the forms on January 6 at 9 p.m. The initial yield was 3.5 lbs of curd in 9 pieces (forms). I flipped the cheeses per the recipe, and by the afternoon of Jan. 15 there was a fairly strong coating of white mold, so I wrapped 5 pieces in breathable cheese paper (CWCF-Mold Ripened paper). I think the cheeses got to this point faster than suggested in the recipe because I used whole, untreated goat milk. I intended to let the remaining 4 pieces age uncovered a bit longer, however on the 17th there were three spots of dark mold on one of them, so they all have been wrapped. All the pieces are stored in a plastic box in dorm refrigerator at about 48 degrees & 85% humidity. I was not prepared for the very strong odor put off by this cheese; open the refrig door for a brief moment and the smell races through the first floor of the house! One piece was shared with my neighbor the goat herder, and another consumed here at home. The cheese has an (apparently) edible surface skin similar to Brie, plus a tremendous light and creamy texture with none of the grit sometimes associated with cheese made from goat milk. Of the remaining 7 pieces, one will be shared this week and another next week with a pub theology group, two will be gifts while traveling this weekend, and the remaining pieces are not likely to live to be 6 weeks old. I'll make this again.
C
09/15/2018
Cheesereserves
Lovely Lactic Cheese Recipe--Two Ways
As indicated, I think this recipe is great for beginner to experienced cheesemakers. If you've made quark or other lactic-style cheeses, give this one a go. Not as many steps as some of the others, and your milk only heats to 72F. I use the geo 15 and bulk aroma mesophilic with beautiful results. I have made both versions of this recipe: more creamy, less aging, in clay dishes, and a drier, firmer paste version. Like two very different children from the same parents; both wonderful in their own way, but distinct. I lean towards the drier as my preference, but I do enjoy the younger with a bit of crusty bread. The longer-aged I tend to eat alone as a dessert cheese. It has a unique flavor profile that I had not experienced before--herbaceous, slighty sweet, nutty. Making this delicious cheese at home has proven a fantastic value.