Specials for VIP Cheese Makers
Thank You for Joining Our Community
You're The Cheddar Cheese to Our Apple Pie

Since 1978 we've been helping cheese makers around the world and it seems like every year is "whey" more exciting than the last. We couldn't quite figure out why that was, until we realized, it's because of you. You home cheese makers make our world go round. It may sound cheesy but it's true, without you our life would be as boring as a grilled cheese sandwich without the cheese...
With this realization we decided it was high time to say thank you for being the cheddar cheese on our apple pie. But then we realized just saying thank you wasn't enough we really wanted you to know just how much we love sharing this crazy cheese making adventure with you so...
We decided to get you a gift we searched far and wide and found just the right thing. But then we realized how much wrapping paper we would need to cover the big cheese wheel in the sky, which some people refer to as the moon. Since it would have been pretty detrimental to the environment, which we're super keen on protecting we decided to nix that gift idea. Then a light bulb went off and we realized the best gift of all is one that's handmade so we decided to make a book for you.
Without further ado we'd like to present our gift to you, it's a guide book for cheese making that we've filled it with recipes & make sheets. We hope you'll love it and use it and make "grate" cheese! But wait that's not all, we're making more. This is only the first of many gifts to come and since we want to be sure you truly love your gifts we'd like to hear what's on your wish list. Perhaps there's a recipe you've been dying to get or a tutorial you could really use. Send us your wish list and hold onto your hats because whatever you need just might be in the next cheese-e-book we make for you.
With Love and Cheese,
Sarah Carroll and the Whole Cheese Making Crew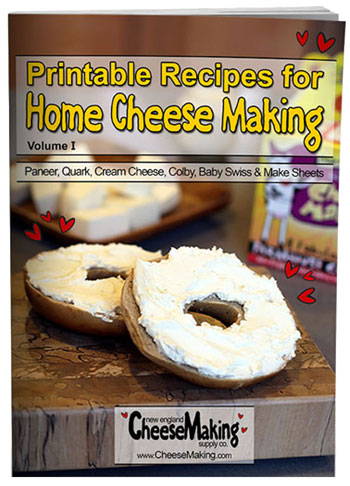 Printable Recipes for Home Cheese Making

Quark, Paneer, Cream Cheese, Colby & Baby Swiss. Plus our exclusive Make Sheets.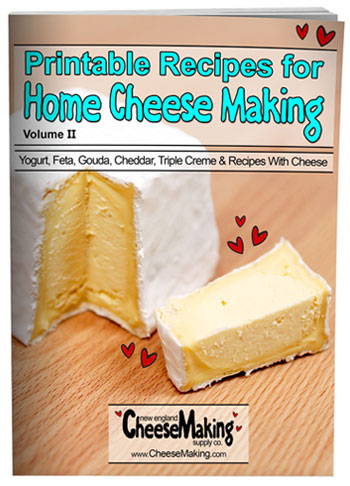 Printable Recipes for Home Cheese Making

Yogurt, Feta, Gouda, Cheddar & Triple Creme. Plus wonderful recipes with cheese.
---
A Community of Cheese Makers