Spruce Cambium Strips
Description
These spruce cambium strips are collected by first removing the bark from trees, then special knives are used to cut the inner cambium layer which is then cut to size and dried. These strips are harvested and made in France.
The famous spruce band, which makes cheese such as Mont d'Or so visually striking, is tied around cheese when very young, before the rind has begun to develop. The spruce cambium serves a practical function, to hold the ripening cheese together as it develops a melting, almost liquid texture, it also imparts striking aromas of rubbed pine needles and soft wood resin into the cheese. 
As the cheese ripens and this unmistakable aroma begins to develop, a delicate geotrichum bloom starts to form, which breaks down the firm paste of the cheese, giving a creamy texture and yeasty flavor. Fluffy white molds coat the cheese and act with the geotrichum to ripen the cheese and also give the rind an undulating or crumpled appearance.
Details
Contains
Features
Collected by hand, a thin, pliable layer between the bark and wood of a spruce tree.
Good for one time use.
Size
These are hand cut, small variations on size may occur.
Reviews
Q & A
Related Recipes
Customer Reviews
Write a Review
Ask a Question
Filter Reviews:
closest
strip
presentation
milk bloomy rind recipe
Tennessee
Dickel
tart flavor
whisky
cambium strips
flavors
Very Interesting and Subtle Way to Flavor A Bloomy Rind Cheese
Soaked the cambium strips in distilled water enhanced with Dickel-our favorite Tennessee whisky. And then wrapped them around our favorite cow's milk bloomy rind recipe. A subtle smoky tart flavor developed particularly on the outside closest to the strip. A great way to experiment with developing different flavors to your cheese recipes and a beautiful presentation.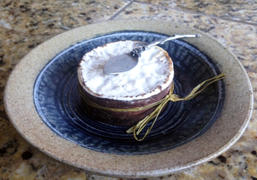 Couldn't wait
Been wanting to try these for a while. My wife laughs at me and asks what we are going to do with all this cheese...
C
11/21/2017
Cheesereserves
Wonderul Surprise!
Purchased for Vacherin d'Abondance, and perhaps will go on to make Mont d'Or. Very surprised by the lovely fragrance of these strips. I thought the spruce or "smokiness" might be overwhelming, but I was intrigued by the recipe. The inital nose I received was almost reminiscent of baked goods -- a most enticing aroma. Good investment to accompany a very interesting and informative recipe. Recommend both.
J
07/17/2017
Joan
More info needed
It would be nice to know before purchase if product is reusable. It would also be good to know how to adhere product to cheese-- string , rubber bands????
D
07/03/2016
danmouer
A Magic Ingredient
I reviewed these spruce cambium strips earlier when I purchased them to make a Mont D'Or style cheese (or, as I called then, a Winnemere Wannabe). That cheese convinced me to try these with another semi-soft: in this case a bit if a stinker based on Jim's Esrom procedure. These binding strips have become a magic ingredient for me!