MT1 Feta Starter Culture
Description
A Mesophilic/Thermophilic blend used for Feta and other white cheeses. Contains an equal balance of four cultures, producing a more robust flavor. Works especially well in high protein milks.
Details
Ingredients
Lactococcus lactis subsp. Lactis
Lactococcus lactis subsp. Cremoris
Streptococcus thermophilus
Lactobacillus delbrueckii subsp. Bulgaricus
Storage
Store in the freezer
Size
10 DCU
Brand
Danisco Choozit
Kosher Info
Kosher certificate available upon request
Allergens
| Yes | No | Allergens | Description Of Components |
| --- | --- | --- | --- |
| | X | Peanuts | |
| | X | Tree Nuts | |
| | X | Sesame | |
| | X | Milk | |
| | X | Eggs | |
| | X | Fish | |
| | X | Crustaceans | |
| | X | Shellfish | |
| | X | Soy | |
| | X | Wheat | |
| | X | Triticale | |
| | X | Mustard | |
| | X | Sulfites | |
Directions
Use approximately 1/8 tsp for 1-2 gallons of milk. This is an estimated guide for usage. Setting temperature, stage of milk and type of cheese will call for specific amounts to reach proper acidification rate.
Reduce culture amount by 25-50% when using raw milk.
Reviews
Q & A
Related Recipes
Customer Reviews
Write a Review
Ask a Question
Filter Reviews:
feta
flavor
culture
Greek
chance
NICE
fact
gallon batches
New England
Cheesemaking
12/14/2020
Tim T.
United States
Nice flavor to my feta
I used this starter to finally getting around to making some feta. The flavor was good for my first try. I am sure as I work on the process it will be even better. I will buy this again.
11/24/2020
Jason I.
United States
Fantastic Feta
I've made a few two gallon batches from pasteurized cows milk with the MT1 culture, each ones in a different storage brine recipe. I haven't really had a chance to dig into them yet as they're all still aging but from my test nibbles I can tell it produces the classic Greek Feta flavor I was looking for so its exactly what I was after when I chose the culture. I would certainly recommend this to anyone looking to make Feta.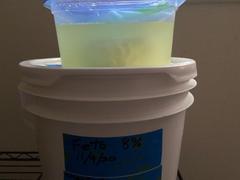 09/28/2020
Dixie L.
United States
Lovely texture and flavor
Nice, firm texture to curd after draining, and great flavor. I usually use MM100 which is good, but this is great! Very glad I decided to give this a go for my goat milk feta.
09/05/2020
Kelly
United States
Feta culture
I have been using this to make goat milk counter yogurt. Turns out mild flavored, drinkable yogurt. All cultures and advise has been perfect from New England cheese making co.
08/29/2020
Diane B.
United States
My feta cheese
This was my first time making feta and the culture worked perfectly. Thank you