MA 4002 Mesophilic and Thermophilic Starter Culture
Description
MA 4002 Mesophilic and Thermphilc starter culture is commonly referred to as a 'Farmstead culture.' This is a great choice for any cheese made with MA 11 because the added thermophilis will aid in ripening the cheese.
This culture is predominantly a blend of standard mesophilic lactic acid cultures similar to MA 11, which develops the primary acidity. This culture also contains S. thermophilis which serves as a ripening culture later in the cheese making process. The mesophilic cultures produce acidity during the first part of the process, after the cheese is salted and aging, the thermophilic cultures begin to work in a ripening capacity to break down the complex proteins into simpler components.
Details
Ingredients
Lactococcus lactis subsp. lactis
Lactococcus lactis subsp. cremoris
Lactococcus lactis subsp. diacetylactis
Streptococcus thermophilus
Storage
Store in the freezer
Size
25 DCU
Yield
Inoculates approximately 250 gallons of milk. Can be divided into 25 gallon batches for farmstead use, or 8-10 gallon batches for home use.
Brand
Danisco Choozit
Kosher Info
Kosher certificate available upon request
Allergens
| Yes | No | Allergens | Description Of Components |
| --- | --- | --- | --- |
| | X | Peanuts | |
| | X | Tree Nuts | |
| | X | Sesame | |
| | X | Milk | |
| | X | Eggs | |
| | X | Fish | |
| | X | Crustaceans | |
| | X | Shellfish | |
| | X | Soy | |
| | X | Wheat | |
| | X | Triticale | |
| | X | Mustard | |
| | X | Sulfites | |
Directions
Use approximately 1/2 tsp for 6-12 gallons of milk. This is an estimated guide for usage. Setting temperature, stage of milk and type of cheese will call for specific amounts to reach proper acidification rate.
Reduce culture amount by 25-50% when using raw milk.
Reviews
Q & A
Related Recipes
Customer Reviews
Write a Review
Ask a Question
Filter Reviews:
culture
variety
ease
New England
flavor
starter culture
cheesemaker
company
everyone
nothing
08/04/2020
Amber
United States
Great culture!
This is a lovely culture, very versatile and produces wonderful flavor in a variety of cheeses.
06/14/2020
Gary I.
United States
Mixing Mesophilic and Thermophilic Starters
I make about 70 lbs. of cheddar cheese each year for my own use, using New England Cheese Co.'s mesophilic starter. I've shopped around over the years and this company has the best starters. I don't use thermophilic starters much so last year I decided to experiment mixing my mesophilic starter with some older thermophilic starter. Eight months later I was shocked at the end result - a Monterey Jack type cheese. It was mild and melted very well, and using my basic cheddar recipe it was simple to make. The MA 4002 takes the hassle out of using a half package of each as it's already mixed.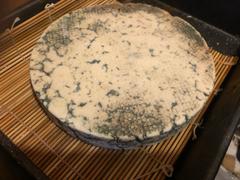 Best Place to Buy Cultures
I agree with the other reviewers. I had a LOT more cheese making success when I used NEC cultures-- and they get to me pretty fast and they've got nearly everything. I just used the 4002 to make Blue By You-- it's less than a week old, so it's hard to tell, but I feel sure the cheese will be great-- the only thing better than NEC's cultures are their recipes. They too are NEVER FAIL. I recommend this site to everyone-- like I'm some kind of groupie..... It's that good.
05/22/2020
Molly B.
United States
Excellent culture
I have only used this to make one cheese so far, but the culture seems to be working great in the cheese. If when my cheese is finished aging it did not turn out quite right, I will fully blame my lack of experience, not the culture.
05/12/2020
Teela
United States