Washed Rind Monks Cheese Making Recipe
This recipe is in response to what has been happening to the monastic cheeses produced for the past few hundred years, and their almost complete disappearance from our cheese counters here in America.

In his effort to support these cheeses, Jim Wallace applied his own adjustments to give us another of his unique and fabulous recipes.

Help keep the history of monastery cheeses alive by sharing this sweet, washed rind cheese with your friends and family, it is sure to be a favorite.
Ingredients
2

Gallons of Milk (Not UltraPasteurized)

1/4

tsp MA4002 or MM100

1/64

tsp C7 Geotrichum Candidum

1/32

tsp Bacteria Linens

1

ml (1/4 tsp) Single Strength Liquid Rennet
Salt

1/4

tsp Calcium Chloride (for pasteurized milk)
Equipment
Good Thermometer
Mini Measuring Spoons
Knife to Cut Curds
Spoon or Ladle to Stir Curds
M19 Large Tomme Cheese Mold
Butter Muslin
Draining Mat
3-4 lb weight
Instructions
Washed Rind Monks Cheese Info
Reviews
Q & A
Recipe for A Washed Rind Monks Cheese
This guideline is my version of a wonderful age old process. I have added a washed curd phase early in the process, by removing enough whey to slow the acid development and to leave a slightly moister and sweeter cheese.
Acidify & Heat Milk

For the culture choice (MM100 or MA4002), they both contain a combination of a Mesophilic aromatic style culture which will be the first to work.

However, the MA4002 contains a Thermophilic component that will aid more in softening the final cheese.

Note: Heating and acid development will be a two stage program here because the primary culture is one that does best in producing tiny amounts of gas, and its characteristic aromatics, at a lower temperature:

Heat to 75F
Then add the culture, geotrichum, and b. linens. To prevent the powder from caking and sinking in clumps, sprinkle the powder over the surface of the milk and then allow about 2 minutes for the powder to re-hydrate before stirring it in.
This is then allowed to rest quietly for 30 min.
Finally, heat to 88F, over a 10 minute period.
Then hold quiet for another 45 minutes at 88F.

The milk should be kept at this target temperature until it is time to increase for cooking the curds. The cultures will be very slow initially, but will soon kick into a more rapid rate of converting lactose to lactic acid. The surface ripening mold and bacteria will not become active until the cheese is salted.

During this time, make sure your molds and draining cloth are sanitized and ready for the final curds.

Coagulate with Rennet

Once the milk has ripened for the time above, bring it back to the 88F temperature, if needed, and add 1ml (approx 1/4 tsp) of single strength liquid rennet.

The milk now needs to sit quiet for 40 minutes while the culture works and the rennet coagulates the curd . The thermal mass of this milk should keep it warm during this period. It is OK if the temp drops a few degrees during this time.

Cut Curd & Release Whey

Once the firm curd mass has formed, it is time to cut, and release the whey.

Begin this cut with a vertical cut spaced about 3/4-1"" apart, and then at right angles, another vertical set of cuts. The cuts will look like a checkerboard when done.

Allow this to sit quiet for 5 minutes, while these heal and the whey rises in the cuts.

Then begin slowly cutting the mass into about 1/2- 5/8 inch pieces, trying not to break them any further. Do this as evenly as possible. When done, allow the curds to settle for 5 minutes.

Next, begin stirring the curds very slowly for about 10 minutes. After the 10 minutes, allow the curds to settle again.

Wash Curds

The whey now contains a substantial amount of lactose, which the bacteria can use to produce acid. Since we would like a sweeter cheese here, we are going to remove a substantial portion of the whey/lactose, and replace it with warmer water to increase the curd temperature and help in releasing more whey from inside the curds themselves. In other words, we are drying out the cheese.

Begin by removing about 30% of the milk volume in whey. The more you remove the sweeter the final cheese will be.

Next, begin to slowly replace the volume of whey removed with water, heated to about 125-130F, over the next 10-15 minutes. The final temperature should be about 95F.

At this point the diluted but warmer whey will aid in drying out the curd to the proper degree for placing in the form.

Continue stirring this for another 25-40 minutes, until the curds feel drier and will consolidate loosely in the hand. It may take a few trials to get this just right, since it is best determined by experience, so make good notes on temperature and stirring times as you go. This is a very subjective measure and depends partially on what you are looking for in your cheese. In essence, that IS what cheese making is all about.

When this point is reached, the curds can be allowed to settle under the whey.

Form & Press Curds

Once the curd is ready, remove the whey down to about 1"" above the settled curd mass. The sanitized forms should be ready on a draining surface to allow the whey to run off. Give the curds a quick stir to free them up in the small amount of whey left and begin to transfer all of the curds to the waiting form.

Fold the cloth over the surface and turn the curd mass over in the mold. A small amount of weight should be added here. About 4-5 lbs per cheese. I am using a gallon of warm water for my double batch with a weight just over 8 lbs for the two. They should be turned and rewrapped again at 30 min. Make sure they have a smooth layer of cloth under the follower to provide a smooth surface.

I also add a couple of pans of warm water to keep the temperature up to keep the bacteria happy and working. They are still reducing the milk sugars at this point and need to work for another 5 hours in the warm conditions. The cheeses should be unwrapped, turned and rewrapped about every hour until evening.

Finally, they can then be removed from the form and cloth, and be allowed to rest overnight for a cooler rest at 68-70F.

Note: At each turn the cheese will have dropped lower in the mold and the surface will become smoother,note the small holes in the side in the last picture of the final resting cheese.

Salting

You will need a saturated brine prepared for salting this cheese, find all of the details you need on brining here.

A simple brine formula is:

1 gallon of water
2.25 lbs of salt
1 Tbs calcium chloride
1 tsp white vinegar
Bring the brine and cheese to 50-55¡F before using.

The next morning they should be brined for 1.5-2 hrs per lb. depending on the final moisture and density.

Once brined, wipe the surface and leave to drain at 60F for 8-12 hrs before moving to the aging space.

Aging

The final cheese in form is kept at 60-65 for 2-4 days to allow aromatic culture components to produce a bit of openness with gas. You should notice some yeast and surface molds begin to develop (recognized by a slight yeasty/fruit-like smell and greasy feel).

You can then move to your aging space and drop to 52-54F and maintain a moisture of 85-90% for aging.

I usually place them on wooden boards for this.

Also prepare a light brine with 1 cup of cool clean water and 1tbs. of salt plus another pinch of geotrichum. This will be about a 6% brine. Let it rest overnight.

Washing the Rind

The next day you can begin developing the conditions for the washed rind.

Begin by turning your new cheese over and dampen a small clean cloth in the light brine and wipe the new top surface and side only. Then place back on the board with the washed side up.

You will continue doing this every day or two (depending on mold growth) for about 2-3 weeks.

You should notice a somewhat rosy/pinkish surface developing.

Once you have reached this point your protective mold/bacteria surface is ready.

You will need to simply turn the cheese every day or two for another 4-6 weeks. If the surface becomes dry, simply wipe with a cool clear water damp cloth. No more salt.

The final cheese will be ready when you can feel the interior softening somewhat like a Brie or Camembert. The longer you wait the stronger the flavor. However, if it goes too long it will give off ammonia smells and the taste becomes bitter.

So as you can see this timing is very subjective.
A Bit of History
For several hundred years now, the monks of Europe's monasteries have focused on self-sustaining practices, including growing and raising their own food, and cheese has been at the fore front as far back as the 9th-15th century.
However, the life style of the monk has had a unique influence on how that cheese was made.
Beginning in the wee hours of the morning, the long hours of prayer and other religious obligations consumed much of their time, thus leaving small windows of time for production. As a result, the products they made had to fit within these narrow windows.
This of course meant no long hours standing at the vat and stirring the curds, as well as hours brushing and cleaning cheese. Also, aging for months and years could not fit into the life of the monastery and its monks. So any cheese they made had to be taken from milk to final form with little to no pressing, and any maintenance in the aging must be quite easily and quickly handled. In addition, the final cheese should be ready for eating or sale in a short time frame.
What evolved was a number of wonderful Monastic style cheeses that had a very short time in going from milk to aging room. Also, the care of cheese was minimized once they realized that a little light brine wipe would create the perfect needs for a group of molds and bacteria that could produce a wonderful protective coat that was both tasty and 'aromatic'. This was the development of the Washed Rind cheeses which has continued for centuries. It is the high moisture and light salt, along with the cool aging temperatures that causes the rind to develop.
A few years back, Paul Kindstedt, Ph.D., from the University of Vermont, in his book Cheese and Culture: A History of Cheese, drew the comparison between the efficiency of the monks making cheese, and that of the farmers wives in Normandy making Camembert. The later being much more involved, and consuming much more of their time in making and aging the cheese.
---
Is there a Future for these Cheeses
Many of these cheeses have been given up by the monasteries and monks, either due to dwindling numbers, or impossible regulations from government. The French Revolution also took its toll on monastic life. Originally, we had Muenster (named for the monks themselves), Saint Paulin, Port du Salut, Epoisse, and Oka, as well as many other made in the monasteries by the monks. These have all either disappeared or been handed over to large commercial operations and exist in name only. Some of these even have the color painted onto the rinds to simulate the washing of the rinds.
Today, there are just a handful of small monasteries producing these cheeses, and production is handled by just a handful of people and a questionable future. One in particular is a single aging monk in the prairie provinces of Canada, who is the last maker of the original OKA cheese recipe. Word is that he was instructed to burn these original notes if he can not find a replacement, and he is now well into his 80s, with no new cheese maker.
One of the few monasteries that still produces the style of cheese is the Abbaye of St. Nicolas des Citeaux, in the Burgundy area of France. The Cîteaux's treasurer, Brother Jean-Claude de Metz says:
"We may be an Abbey, but we cannot completely escape the secular world with its economic realities and increasingly strict regulations. At Cîteaux, three million Euros were invested in 2010 to upgrade their production unit into an ultra-modern cheese dairy that meets sanitary standards, so that they could continue producing."
As of 2008, the Abbaye's cheese can no longer enter the US due to its higher moisture. It has become an illegal cheese like Reblochon.
Hope for this style into the future is now in the hands of the small farms and artisan cheese makers throughout the world.
Customer Reviews
Write a Review
Ask a Question
Filter Reviews:
cheese
flavor
rind
result
stages
holes
wash
accident
B. Linens
several
02/09/2021
Dale T.

United States
Missed it by That Much!
First try at this cheese. Realized after adding my rennet i had skipped over the whole thermophilic step. continued, and followed through with the recipe as written for the rest of the process. The result was a very nice, mild cheese with only tiny holes inside. Even the rind turned out mild in flavor with the cheese. I'll definitely try this one again and remember both ripening stages. However, it was a happy accident and I've got a very nice sweet and mild cheese to enjoy! I'll take it!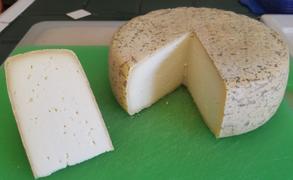 11/01/2019
Cynthia J.

United States
Made with a twist
Although this cheese was a little intimidating and time consuming, the end result was worth the work. Because my family loves the Trappist ales, I used a Chimay beer wash instead of Jim's wash. This cheese was very smelly (in the B. Linens good way), had a beautiful pink-tan rind, tiny eyes and an amazing earthy flavor. I am planning to make several of these cheeses to give away as Christmas gifts to those brave souls who will eat "smelly" cheeses.