KAZU Mesophilic and Thermophilic Starter Culture
Description
KAZU Mesophilic and Thermophilc starter culture is a farmhouse culture that can be used to make a variety of semi-hard and soft cheese.
This culture blend contains thermophilic culture, L. helveticus, which provide enhanced flavor and texture as the cheese ages. It will also produce a slightly "nutty" flavor found in aged cheese such as cheddars and parmesan.
Details
Ingredients
Lactococcus lactis subsp. lactis
Lactococcus lactis subsp. cremoris
Lactococcus lactis subsp. lactis biovar. diacetylactis
Lactobacillus helveticus
Storage
Store in the freezer
Size
50 DCU
Brand
Danisco Choozit
Kosher Info
Kosher certificate available upon request
Allergens
| Yes | No | Allergens | Description Of Components |
| --- | --- | --- | --- |
| | X | Peanuts | |
| | X | Tree Nuts | |
| | X | Sesame | |
| | X | Milk | |
| | X | Eggs | |
| | X | Fish | |
| | X | Crustaceans | |
| | X | Shellfish | |
| | X | Soy | |
| | X | Wheat | |
| | X | Triticale | |
| | X | Mustard | |
| | X | Sulfites | |
Directions
Use approximately 1/4 tsp for 2-5 gallons of milk. This is an estimated guide for usage. Setting temperature, stage of milk and type of cheese will call for specific amounts to reach proper acidification rate.
Reduce culture amount by 25-50% when using raw milk.
Reviews
Q & A
Related Recipes
Customer Reviews
Write a Review
Ask a Question
Filter Reviews:
culture
flavor
batches
gallon batch
Toma Ossolano
Covid
04/10/2020
Michael l.
United States
Quick order
Order was fast and correct during the trying Covid times. Thanks for what you do.
03/25/2020
Michael S.
United States
02/24/2020
Alex H.
United States
Multiple usage
Grat mix. You can make many kind of cheese with this meso thermo starter.
Very versatile
This is my most used culture. My cheddar, Cheshire, hoop style which most of the time I flavor with different herbs and spices. All my cheeses are made with fresh raw goat's milk. From my experience herbs and spices work really well if used inside and outside of the cheeses before I vacuum pack them. They don't acquire the famoud "goaty" smells or flavors that is typical of raw goat milk products. I age some cheeses 2 to 3 years which turn out delicious. I have even use this to make chevre chesse when I was out of the chevre pack which worked just fine with only a light difference. Renae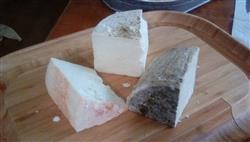 Nutty goat cheese
Made an aged goat cheese with your typical p. candidum and g. candidum rind. While the cheese was slightly less gooey that using a straight mesophyllic culture, there slight nutty flavor made it quite delightful. Wife wife actually preferred this version of the original recipe. I highly reccomend.