Cheese Making Classifieds
These cheese making classifieds are offered, free of charge, to help cheese makers buy, sell and trade.
To add a listing, for up to six months, send your copy, 50 words or less to: ads@cheesemaking.com. Please let us know if your listing is ready to be removed early.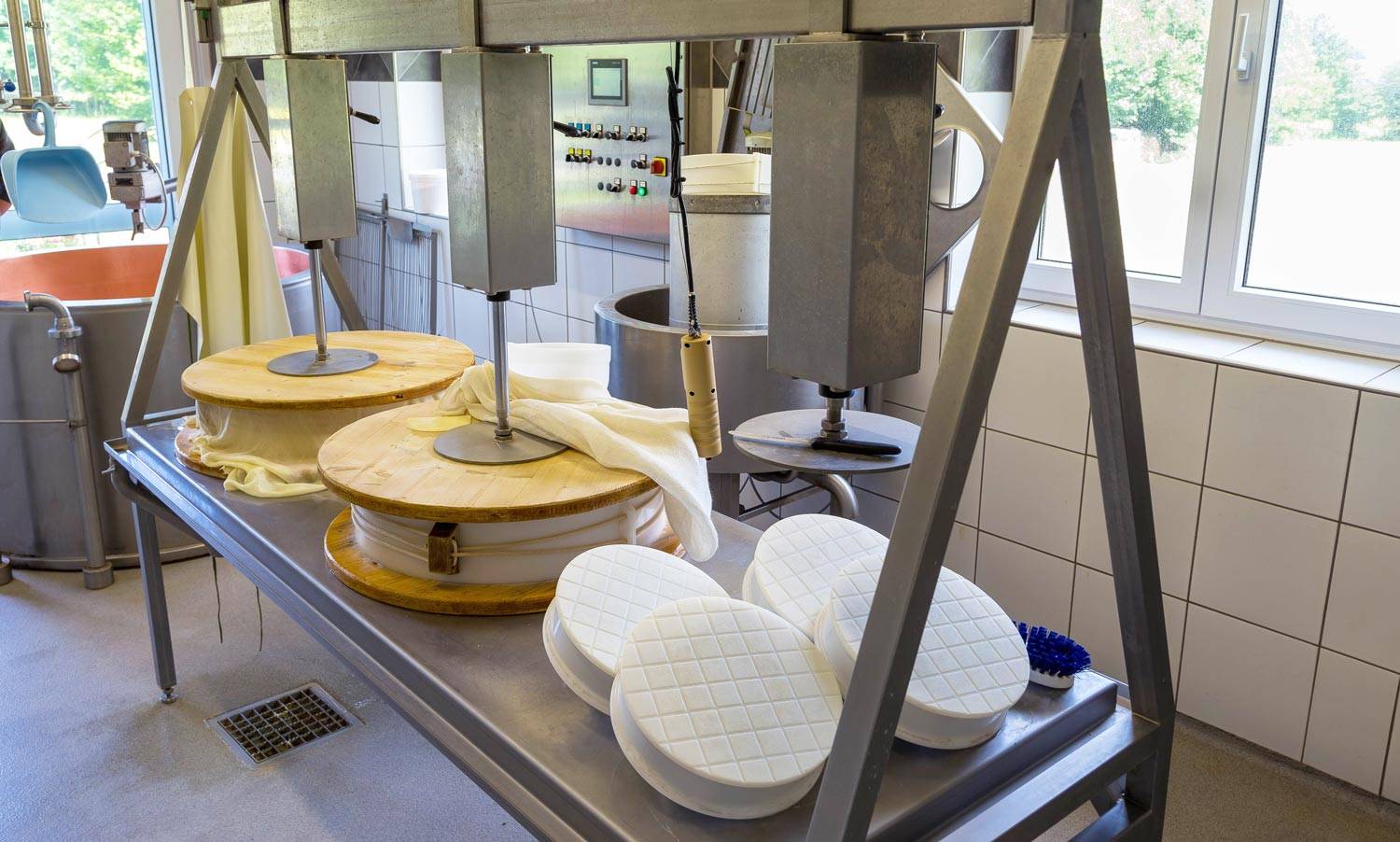 I'm interested in starting a cheese making club in the New Orleans and North Shore area of Louisiana
If you want to meet other cheese makers and learn from them, contact Bob Albers - bobalbers@bellsouth.net
---
San Diego, California
Queso Diego. Meetings are held on the third Tuesday of each month at 6:30pm and most meetings focus on a featured discussion topic and are led by members and local experts. Annual membership dues of $20 per year are requested and are used to cover the costs of running the club, along with materials and cheese samples for meetings. Website:  http://quesodiego.org/, Facebook:   click here.
230 Gallon DariKool Ice Bank Bulk Tank
230 gallon DariKool ice bank bulk tank for sale. Hooked up and working. U shaped interior tank. We are downsizing. $2500. Photos available. Contact sweethomealyce at yahoo.com (posted 8/30/18)
---
Butter Churn
360 gal butter churn which operates on a 480 volt cycle. Produces 725 lbs per 1/2 including load/unload time. Contact 229-352-2343 for details. (posted 8/30/18)
---
Cream Separator
Large capacity; McCormack-Deering; late 1940's; motor-driven; complete (except cleaning rod accessory). Works great! original Owner's Manual included. $600.00 Local pickup only! For questions, pictures, or directions please call 541-382-0173 OR email eguenther at bendbroadband dot com (posted 8/13/18)
---
100 gallon Damrow Vat Pasteurizer (CA approved)
Hot Water Jacketed. 4.5'w x 3.5'h (approx.). 240v Agitator with 100v Outlet. Front Lid. 1 2/2" Leak Detect Valve. Spray Ball. Long Stem RTD. Ready to use/removed from plant and ready for shipping. Modesto, CA 209-538-4558 walter at nicolaufarms.com (posted 8/1/18)
---
McCormack-Deering Cream Separator
75 Gallon cheese vat / vat pasteurizer, portable milk pump and bucket milker. For details and pictures, go to wovenmeadows.com/for-sale/ Located in Saranac, NY. 518.293.5174 bigcheese at wovenmeadows.com (posted 7/31/18)
---
Micro-Dairy/Creamery Liquidation
Spokane, WA Older 40 gallon water-heated vat pasteurizer, CimaPak custom clear cup Chevre modified atmosphere packager/packaging (have yogurt tooling also), tilting steam kettles, Dutch Belted cows, milking machine, dairy/creamery supplies. Email for complete list: beth at cablecreekfarm.com (posted 7/31/18)
---
Moulds for Sale
Barely used cheese hoops. 11 x 2300 gram Manchego moulds with follower and pattern strip, $25 ea; 9 x 1000 gram Manchego moulds with follower and pattern strip. 20 x 7" brie moulds $8 ea. Located in Central California. Jack. 415.606.8559 (posted 7/19/18)
---
A legal 4 gallon pasteurizer (3-A Approved)
$2,000 (Seattle). PMO compliant 2 pen chart recorder with digital indicating thermometers, airspace heater, agitator, temperature controller. Lightly used for 2.5 years. It works perfectly. Purchased from Micro Dairy Designs for $4,900. Natalie 206-406-4229 (posted 6/30/18)
---
Cream Separator
Milky brand, made in Austria, fully electric, large capacity cream separator. This is an efficient and very well designed machine. It runs on a standard 110 volt plug. It was $1700 new. It is in great condition. $950. Vermont. Delivery may be available. 802-989-2813  mthfarm at gmail.com (posted 6/23/18)
---
Mini-compact Stretching Machine
This CMT machine will stretch and mold curd for various pasta filata cheeses. This machine comes with all the necessary attachments. New Jersey. We are asking $17,500. If interested please call or text us at 908-319-3356. (posted 6/22/18)
---
30 gallon Jaybee vat pasteurizer in pristine condition
With all connections, airspace heater, agitator and Anderson 300 chart recorder, product and airspace thermometers. Perfect first pasteurizer. Photos available. $13,000 or $10,000 without chart recorder and thermometers. Ann Arbor, Michigan. Contact Kelli at kelli.conlin at gmail.com  (posted 6/13/18)
---
Small scale milking and dairy processing equipment
MicroDairy Designs 30 gallon Vat pasteurizer with all parts, Grade A approved Ecoflex packager, Masterflex milk pump, 10 gallon butter churn, 205 gallon Sunset bulk tank with compressor, Surge milkers. Email mthfarm at gmail.com or call Lindsay at 802-989-2813. Tunbridge, VT. Delivery available. (posted 5/30/18)
---
200 gallon Dari Kool bulk tank for sale
$2,500 obo. Rectangular, stainless steel exterior, bridge & cover top, vertical agitator, 1.5" #15 outlet, Freon refrigeration/steam heat, 60" long x 47" wide, stainless steel bottom & legs with adjustable ball feet. North Carolina. anneanne380 at yahoo dot com (posted 4/26/18)
---
Barley used (2 summers) CIP milking system for sale
For sheep or goats, w/ 4 milkers, headgates for 6, compressor, piping. Also, 10 Lacaune ewes, 4 ewe lambs and 2 rams, verified OPP free. $13,000 for all, but will sell separately. Fluffy Bottom Farms, Chelsea, Michigan. kelli.conlin at gmail.com (posted 4/19/18)
---
18 month old complete goat cheese fromagery and double 24 milk parlor with all supplies
Includes boiler and tanks, Anco 250 gallon pasteurizer, cheese press, 500 gallon vat, brine tank, ageing cave, 2 coolers and freezer 16' x 52'. Setup for 400 goats. Kimberly, Idaho. Will try to help with freight.  jimprimm at hotmail.com (posted 4/9/18)
---
MicroDairy Design items for sale (2 years old)
45 gallon Vat with chart recorder, Dual Bulk Tank 30gal each chiller with chart recorder, Sanitary Pump, Bottle and Cup Sealer. Custom made SS Drain table. Everything works, located in Texas. Email jbbecker99 at yahoo.com or call 214-697-9601 for pictures and pricing. (posted 4/4/18)
---
Pneumatic Cheese Presses for Artisan Cheesemaker
$395 / new. Pictures can be seen on ebay (item #162933273816). Ideal for 2-4 stackable molds. Call 620-960-9068 for more info. (posted 3/7/18)
---
Convert refrigerator for cheese making purposes with this Johnson Controls Model A19AAT-2C controller
Overrides refrigerator thermostat. New, never used. $50.00. Contact Sandy at slp1nh at comcast.net (posted 3/1/18)
---
30 gallon Micro Process Design vat pasteurizer with Anderson chart recorder
Certified for use by NYS. Also a yogurt incubator and three door glass fronted cooler. This can be purchased as a complete set up to start yogurt production. Located in North Lawrence, NY. Call or email Jessica at 518-353-1514 or jlprosper26 at gmail.com (posted 2/26/18)
---
40 gallon Market Forge Tilting Steam Kettle with new heat source
Very Clean, Solid Condition, Meets all current dairy license requirements. Includes: spray faucet, heat source and plumbing, paddle and brush. $2800. Location: Harrison, Maine 207-653-6546 (posted 2/13/18)
---
19x feta style moulds
$14/ea. Will sell individually. You pay shipping. Bought from FromageX. 220mmx110mmx165mm. Used for two seasons. info at twentypacesva.com (posted 2/6/18)
---
25 AOC Reblochon-style molds with follower disks
Happy to send photos as requested. $150 for the lot + shipping. Call or text Matt at (603) 455-3303. (posted 2/2/18)
---
Sure 130 gallon Qual Tech Vat pasteurizer
Very good condition. Located in Northern California. Call Tim at 530 514 3837. (posted 2/2/18)
---
Small artisanal cheese facility for sale
Two cheese vats with agitator 200 and 300 gal, 600 Muller bulk tank, 80 gal kettle, molds, 1 and 7 pounds, SS pipes and pumps, SS tables, accessories, all to make Mexican fresh cheeses, and more equipment. mcallenmetro at yahoo.com (posted 1/30/18)
Antibiotic Tester and Pneumatic Press
Looking for a Charm E-Z unit for antibiotic residue testing. Also searching for reasonably priced 2-4 head pneumatic cheese press. Located in SC. Contact 864.421.3524 or christian at blueridgecreamery.net (Posted 8/30/18)
---
Microdairy Pasteurizer
4 gallon, meets licensing requirements, four years old but never used as we have decided to only make raw milk cheese. Asking $3500. Email karimfarm at outlook.com or call 802-477-2941 (Posted 8/24/18)
---
30-50 Gallon Cheese Vat
Southern Oregon creamery looking for a used 30-50 gallon cheese vat. (541) 855-3399 or solomon_arts at yahoo.com (Posted 8/23/18)
---
60 Gallon Steam kettle
Our 30 gallon kettle has been a wonderful cheese vat but we are looking to upgrade. Please call us at 802-477-2941 (Posted 8/16/18)
---
Looking for a 200-300 gallon cheese making vat
Preferably a combo vat to pasteurize and make cheese in. Cream separator and curd mill as well. Please email edenvalleycreamery at gmail.com or call Jenny at (585)738-2651 for information. (Posted 1/16/18)
---
I am looking for an electric controlled 30 to 40 gallon cheese vat
Contact Mike at hillsidefarmspsg at yahoo.net or 907-518-9187 (Posted 1/16/18)
For Sale: Jersey cow and 5-month-old heifer calf
Cow has sweet demeanor, is halter trained, and has been hand milked. Both raised organically (not certified) and 100% grass-fed. $1,400 for the pair. I also have hand milking equipment for sale at discounted price.
Please contact Kelsie Meehan: 518-810-6431 or kelsie.meehan at gmail.com (posted 8/16/18)
---
ADGA Alpine dairy goats in Montana
High production long lived goats raised at 6,000 feet. These are tough, hard working does and bucks. Excellent conformation and bloodlines. We breed for long term milk production. Herd is negative for CL, CAE, TB and brucellosis.
website: https://sites.google.com/site/gardendairygoats/Wendy 406 599-0048 or email gardnersmt at yahoo.com (posted 8/1/18)
---
Small herd of Jersey cows
For details and pictures, go to wovenmeadows.com/for-sale/ Located in Saranac, NY. 518.293.5174 bigcheese at wovenmeadows.com (posted 7/31/18)
---
East central Oklahoma: Dutch Belted cows for sale
Superior grass-based dairy genetics, rare/endangered breed. A2 Beta Casein, trained, gentle, bred and milking now. Beautiful correct belted bull prospect for sale. Call, text or email for details and photos. Craig Massey. 918-807-0155. knightsmount at earthlink.net  (posted 6/11/18)
---
We have four bred East Friesian dairy ewes for sale
They'll lamb around April 1. We have been breeding and selecting for hardiness on pasture. Three ewes are bred to an East Friesian / Tunis ram and one of the ewes is bred to a pure East Friesian ram. $450 firm. If you buy all 4, $400 / each. We're located in Marshall, NC. Buyer responsible for shipping. 828.545.9202 (posted 12/5/17)
Organic Jersey cows wanted in Wells, Vermont
Must be low SCC. 802-645-0865 (posted 3/19/18)
Creamery Manager Wanted 
25-cow organic grass-fed A2A2 Jersey dairy, making pasteurized milk, yogurt, skyr, butter, gelato. Duties include microbiological testing, record keeping, inventory management, production planning. Housing provided. Salary depends on experience. Larson Farm and Creamery. Wells, VT. 802-645-0865 (office) 802-884-5288 (mobile)   www.LarsonFarmVT.com (posted 6/20/18)
---
Abbot Hill Creamery in Wilton, New Hampshire is seeking an apprentice from April to April
to support making and marketing of over fourteen varieties of cheese for wholesale, farmers markets, and farm store sales. Please contact Benjamin -  bjonas.meier at gmail.com with a resume and references to learn how you might grow with us this season.(posted 2/14/18)
---
Sheep Dairy Internship, March-November, 2018. Meadowood Farms, Cazenovia, NY
We raise dairy sheep, steers, and market lambs in a pasture-based system. Our farm calendar is seasonal, and gives everyone opportunities to learn about and be part of lambing, milking, pasture management, livestock handling, equipment operation, marketing, and breeding. Details: www.meadowoodfarms.com. (posted 1/31/18)
---
Assistant Cheesemaker
Asgaard Farm & Dairy is a farmstead goat creamery located in Au Sable Forks within the breathtaking Adirondack State Park. We create a variety of pasteurized and raw milk cheeses. For more information on this job as well as a Creamery Intern position, please go to our webpage:   http://asgaardfarm.com/assistant-cheesemaker (posted 1/2/18)
Looking to rent a cheese room for making cheese 2 days a week
Duration is the next 6 months while our new facility is being built. We are located in Canterbury CT near RI and Mass border. Will travel up to one hour. Contact: missjulie at meadowstonefarm.com (posted 4/4/18)
Goat Cheese Company and Farm for Sale in Metro DC Area
Established goat cheese company and farm for sale in Metro DC area. Includes 59 acres, main house and two employee cottages, 12 goat milking system, holding tank, pasteurizer, cheese making tank and approximately 700 goats. Interested should contact david.dasso at yahoo.com or 703-679-0417 (posted 9/10/18)
---
Lovely turnkey micro-dairy cheese making facility and historic home
23 miles north of Ithaca, NY near Cayuga Lake. 11.67 acre beautiful small holding, newly fenced, new barns, currently we milk Dexter cows and make probiotic, raw milk Kefir Cheese. Our business is for sale too! www.kefircheese.com or 315-406-2894 (posted 5/1/18)
---
150 acre dairy farm in NW PA
Includes 5 bedroom/2 bath house, 50 cow dairy barn with hayloft & elevator, workshop, machinery sheds, chicken coop, pasture, hay/cropland, woods, pond, stream and fast internet service. Also available: second home on 2 acres, cheesemaking equipment, bulk tank, pipeline milker, and farming equipment. ppfproperties at gmail.com or 814-664-0289. (posted 1/30/18)
Many people love coming to my homestead in Jacksonville, Florida to learn how to make cheese
I have taught hundreds of people the art of cheese making here. In this self-paced online course, you will learn how to make four different kinds of dairy products: Greek Yogurt, Chevre, Gouda, Cabra Al Vino. Call me or text me at (956) 410-0433. (posted 3/19/18)
---
Experienced cheese maker and teacher who has taught over 1000 students in the Seattle area currently opening a commercial creamery in southern Oregon's Rogue Valley
I offer public and private classes in soft cheese, bloomy rind, and hard cheese making. For more information- www.roguevalleycheesemaking.com. (posted 7/14/18)
---
Red Gable Cheese Workshops
One & two day cheese making classes for beginning and intermediate cheese makers or the curious foodie. Our small class size provides detailed hands on instruction for soft, pressed and bloomy rind cheeses using both cow and goat's milk. Prescheduled and private classes available. www.redgablecheese.com  (posted 2/2/18)
---
A Community of Cheese Makers