Clear Cheese Wax
Description
Cheese Wax is specially made for coating cheeses. It helps prevent unwanted mold growth and retains moisture while cheese is aged. This wax is soft and pliable, unlike pure paraffin wax which becomes brittle, causing it to crack easily.
One pound will wax approximately 12-20 cheeses when brushed on.
If dipping dipping your cheese to wax it, instead of brushing the wax on, we recommend starting with at least 5 pounds of wax.
Details
Ingredients
A formulation of paraffin and microcrystalline wax
Food grade coloring
Storage
Store in cool place, away from high heat.
Brand
New England Cheesemaking Supply Company
Allergens
| Yes | No | Allergens | Description Of Components |
| --- | --- | --- | --- |
| | X | Peanuts | |
| | X | Tree Nuts | |
| | X | Sesame | |
| | X | Milk | |
| | X | Eggs | |
| | X | Fish | |
| | X | Crustaceans | |
| | X | Shellfish | |
| | X | Soy | |
| | X | Wheat | |
| | X | Triticale | |
| | X | Mustard | |
| | X | Sulfites | |
Directions
Waxing Homemade Cheese
It is safest to melt wax in a double boiler so that it is not subject to direct flame. Never leave melting wax unattended. Wax can explode at high temperatures. Heat wax to 210ºF. Wax can be brushed onto a dried and chilled cheese with a natural bristle brush (anything synthetic will melt), or you can very carefully dip your cheese into the wax pot one side at a time (it can get very slippery). Two thin coats are preferable to one thick coat. Be sure to fill up any air spaces as mold needs air to grow.
When you are ready to eat your cheese, the wax is simply peeled off and can be strained through Butter Muslin to be reused over and over again.
Waxing Store Bought Cheese
Wow, wax is flying off the shelf here! Many people are trying to prepare for a different type of future. Here is our short explanation of waxing store bought cheese.
Usually cheese bought in the grocery store is an already aged to perfection finished product. Waxing it in small pieces may cause some problems. If a cheese is not turned on a regular basis gravity will cause all the moisture to fall to the bottom causing a mushy mess under the wax. We would suggest you buy whole wheels or make your own cheeses and after waxing them, turn over at least once a week to prevent problems. We also suggest you air dry your cheese for 2-3 days prior to waxing.
Reviews
Q & A
Related Recipes
Customer Reviews
Write a Review
Ask a Question
Filter Reviews:
cheese
layer
problem
piece
farmhouse cheddar
advice
pinholes
rubber gloves
dips
instructions
11/01/2020
Marie H.
United States
The Clear Choice
This wax performs as expected. It applies easily either by dipping (my preference) or with a brush. And it forms an adequate sealing layer to my cheese (farmhouse cheddar). And since it's clear, I simply label with a piece of tape and brush a thin layer of wax over the tape which guarantees the label stays on but is still legible. See pic.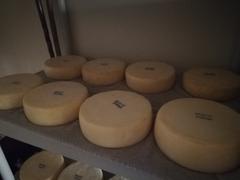 09/11/2020
Deborah E.
United States
Clear Cheese wax
Really like the clear cheese wax. Love being able to actually see the cheese and have no added dye.
A
06/13/2020
Arron
United States
Great!
This was my first cheese wax and it worked perfectly!
Fresh
This wax I purchased smelled fresh. Received just what I expected. Price is in line with others selling.
05/12/2020
Natalie E.
United States
Works well, I like red better.
It works well, just like the other wax I purchased in red. My only problem is that being clear it was hard for me to tell where I had brushed and where I had not. That's my issue though, not a quality issue.