Hygrometer and Thermometer
Description
This hygrometer and thermometer by ThermoWorks is perfect for testing the humidity in a cheese cave. Each unit includes a wall bracket, remote sensor, and operating instructions. This hygrometer is a professional tool at an affordable price. It records Min and Max temperatures and can be set to display Fahrenheit or Centigrade. With large 1 inch digits you'll have no trouble reading the current display. 
Mount your hygrometer right to a wall with a convenient wall mount or set it onto a solid surface with the fold-out stand. This unit can display two separate temperature readings using a sensor on a 10 foot cable (included) to also measure temperature in a remote location. The humidity sensor is housed in the hygrometer body so it can only monitor moisture at the base location. It will not read humidity in the remote location.
Note: It is important to use a hygrometer that provides an accurate reading. Many digital hygrometers are not intended for high moisture measurement. We've tested, and rejected, multiple units before finding this accurate hygrometer and thermometer.
Details
Features
20 to 99% RH Range
Indoor 32 to 122°F / 0 to 50°C
Outdoor -58 to 158°F / -50 to 70°C
Accuracy ±3% RH at 77°F (25°C) | ±2°F (1°C)
Max/Min memory
Reading update every 10 seconds
Battery type AAA
1" display digits
3.9 x 4.3" (79 x 66mm)
Remote sensor wire 9.8' (3 meters)
°F/°C switchable
Foldaway stand
Mounting bracket
Brand
ThermoWorks
Reviews
Q & A
Related Recipes
Customer Reviews
Write a Review
Ask a Question
Filter Reviews:
humidity
thermometer
numbers
temperature
cheese
cave
refrigerator
equipment
experience
size
10/17/2020
Cynthia J.
United States
Monitoring Cave
My problem when aging cheeses was knowing the humidity in the refrigerator. Temperatures were never a problem. Thermometers are easy to find. Hygrometers not so much. This hygrometer/thermometer makes monitoring the cheese refrigerator easy. The large numbers are easy to read. As noted in an earlier review, you can adapt the thermometer for use outside of the refrigerator, but not the hygrometer.I checked the thermometer against another thermometer and it is accurate.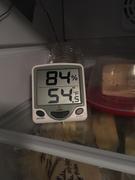 10/05/2020
William H.
United States
Thermometer
I have a thermometer that I received to help keep the temperature and humidity levels in my cooler as close to desired ranges as possible. The thermometer/hydrometer is easy to use and the large numbers on the face make it easy to see through the glass. I can't wait to try my first attempt at making cheese..... this should help me to achieve the results I desire
09/18/2020
Deborah E.
United States
Hygrometer/thermometer
Purchased for our wine/cheese refrigerator and so far it is working great. Nice size screen, easy to read and see.
03/31/2020
Jeff S.
United States
01/06/2020
Natalie E.
United States
Must have !
Fits easily in the covered container to check humidity! Very simple to use. I didn't want to start making aged cheeses until I knew I could have better control of aging conditions. My fiancé would give it one star as this piece of equipment was an accomplice in taking over the beer fridge. Ha!