Geotrichum Candidum (GEO17)
Description
Geotrichum Candidum (GEO17) mold powder will produce a white to creamy surface color and plays a significant role in the ripening process for surface ripened cheese including soft ripened and washed rind cheese. It influences the appearance, structure and flavor of Brie and Camembert, along with a variety of goat cheese. It can also help prevent the skin from slipping off the surface of your cheese.
In red smear cheeses it helps neutralize the cheese surface and stimulates the development of desired, acid-sensitive flora such as P. Candidum.
Geotrichum can also be used in conjunction with Brevibacterium linens to create ideal conditions for the formation of a surface smear on washed rind cheese.
Details
Ingredients
Geotrichum Candidum (GEO17)
Storage
Store in the freezer
Size
10 DCU
Yield
40-80 gallons of milk when adding directly to milk
Brand
Danisco Choozit
Kosher Info
Kosher certificate available upon request
Allergens
| Yes | No | Allergens | Description Of Components |
| --- | --- | --- | --- |
| | X | Peanuts | |
| | X | Tree Nuts | |
| | X | Sesame | |
| X | | Milk | |
| | X | Eggs | |
| | X | Fish | |
| | X | Crustaceans | |
| | X | Shellfish | |
| | X | Soy | |
| | X | Wheat | |
| | X | Triticale | |
| | X | Mustard | |
| | X | Sulfites | |
Directions
Adding Directly to Milk
Add 1/16 tsp to 2 gallons of milk at the same time you add culture. Use in conjunction with P. Candidum, in a ratio of 1 part Geotrichum to 4-5 parts P. Candidum.
Spraying on Cheese Surface
For large batches of cheese, it is more economical to apply the mold powder with an atomizer.
Add the following ingredients to an atomizer (spray bottle) and set in a refrigerator overnight before use.
1/8 tsp Geotrichum candidum
4-8 oz Non-chlorinated water
1/8 tsp salt
1/8 tsp sugar
After use, store the atomizer solution in the refrigerator, it will keep for 60 days.
When applying mold powders with an atomizer, the moisture, temperature, and air circulation must be monitored to avoid a wet cheese surface.
Reviews
Q & A
Related Recipes
Customer Reviews
Write a Review
Ask a Question
Filter Reviews:
Brie
stuff
methods
problems
work
others
anyone
Camembert
flavor
New England
07/18/2020
Mika P.
United States
Works like it should
Ordered this for my Brie and it has worked perfectly. Brie is turning our nicely and looks and smells like it should so far. I'm excited to try it!
05/01/2020
Alexandra W.
United States
Brie cheese essential
Holy Brie this stuff is good
01/14/2020
Thomas W.
United States
Great for Camembert
Cheesemaking.com offers 3 different versions of Geo Candidum, and this one offers the most flavor of the bunch. I've also worked with the Geo 13 which offers a more robust flavor, so if you are wanting the fresher dairy/butter flavor to come through, use that. A dab will do you, I've only tried this mixed into the milk with the culture, not as a wash. Make sure you salt the outside of your cheese well when using this to make sure you don't get any colorful companions to the Geo on the outside of your cheese!
10/11/2019
Jamie K.
United States
Geotrichum Candidum (GEO17) Review
The Geotrichum Candidum (GEO17) i purchased from New England Cheese Making Suppy Co. was right on. I made a few Camembert cheeses and the mold performed perfectly. Within 7 days I had beautiful white mold covered cheeses. I have been very pleased with all the products I have purchased and would highly recommend New England Cheese Making Supply Co. to anyone trying their hand at cheese making.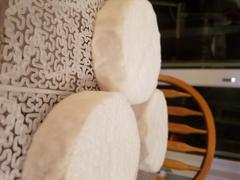 10/01/2019
James L.
United States
Not used yet!!
Have not used it yet but if it works as well as the others I should not have any problems.