Blue Cheese Mold
Description
This Blue cheese mold has an open bottom and is a wonderful choice for making a variety of blue cheese. The mold comes complete with a follower, making it versatile for a variety of hard cheese as well. We suggest placing a cheese mat underneath this mold for best results.
Details
Dimensions
7 7/8" W x 7 1/2" H
Features
Open bottom
Material
Food grade polypropylene
Country of Origin
France
Reviews
Q & A
Related Recipes
Customer Reviews
Write a Review
Ask a Question
Filter Reviews:
mold
recipe
package
type
bite
blue cheese
sour cream
chèvre
ankle weights
sour dough toast
06/20/2020
Gary I.
United States
Nice mold
I made two beautiful blue cheeses with this mold, but how much blue cheese do I need? I also use it for a type of chèvre I make with one package of mesophillic starter. 12 hours at 86 degrees, hanging for another 12 hours and then I put it in the mold with 25 lbs of ankle weights for 8 hours to help it drain. The results are excellent with a spreadable cheese with a very nice bite to it. I spread it on sour dough toast. We also use it when a recipe calls for sour cream.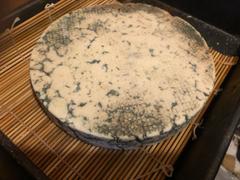 Too large for ripening box
Good sturdy product - but the cheese comes out at 8 dia x 1 1/2" which is too wide for my ripening box!! If using for a 2 gallon recipe recommend using the M222 mold that will fit very nicely in a 7x12" plastic box. Will be ordering an M222 to give me a 6" dia x 2 1/2" cheese. Check your ripening box before ordering this product!
Bleu d'Auvergne Cheese Mold
I ordered this mold to adapt and use for brie because of its diameter. I cut a 1 1/2 in. ring off the bottom of the mold and I re-attached that shallow ring to the large upper piece with a wide rubber band cut from an inner tube. When the brie curd drained down into the bottom 1 1/2 in. of the combined pieces, I simply removed the top piece and was able to easily handle the 1 1/2 in. cheese.
Order the right size
I bought this recently but have not had the chance to use it yet. Just wanted to say that it is much bigger than I thought it would be. Just make sure you check the measurements before ordering.