MD 88 Mesophilic Starter Culture
Description
MD 88 Mesophilic starter culture can be used in combination with other mesophilic cultures to enhance the flavor in a variety of fresh and soft ripened cheese including Brie/Camembert, Chevre and Blue.
This culture is not typically used by itself, because it will not produce enough acid during the cheese making process. Instead, it is used to enhance the cheese by providing a buttery flavor and small eyes in cheese such Edam or Havarti.
Details
Ingredients
Lactococccus lactis subsp. biovar diacetylactis
Storage
Store in the freezer
Size
50 DCU
Yield
Inoculates approximately 250 gallons of milk. Can be divided into 25 gallon batches for farmstead use, or 8-10 gallon batches for home use.
Brand
Danisco Choozit
Kosher Info
Kosher certificate available upon request
Allergens
| Yes | No | Allergens | Description Of Components |
| --- | --- | --- | --- |
| | X | Peanuts | |
| | X | Tree Nuts | |
| | X | Sesame | |
| | X | Milk | |
| | X | Eggs | |
| | X | Fish | |
| | X | Crustaceans | |
| | X | Shellfish | |
| | X | Soy | |
| | X | Wheat | |
| | X | Triticale | |
| | X | Mustard | |
| | X | Sulfites | |
Directions
Use approximately 1/2 tsp for 6-12 gallons of milk. This is an estimated guide for usage. Setting temperature, stage of milk and type of cheese will call for specific amounts to reach proper acidification rate.
Reduce culture amount by 25-50% when using raw milk.
Reviews
Q & A
Related Recipes
Customer Reviews
Write a Review
Ask a Question
Filter Reviews:
culture
Cheesemaking
flavor
Mesophilic
acid producer
MA11
goodness
Aroma B
abundance
role
09/20/2020
Gary I.
United States
MD 88 is Great
I have two staple cheddar cheeses I make with my goat milk, one with mesophillic starter and one with mesophillic & thermophilic, both of which I add 1/4 teaspoon of MD 88. Aged for four months produces a fantastic cheese; some people claim to be the best they have ever tasted. MD 88 is a must.
06/07/2020
Scott E.
United States
It's more buttery than butter (if you choose)
I used this to culture some butter, and it does indeed give a great, larger-than-life buttery flavor! My SO commented that "it smells like movie popcorm butter!" which is quite right. So far, it's made our butter "more buttery than butter," as White Zombie would probably not sing. But it excels at infusing buttery flavors into any cheese, butter, or other dairy product you're making. If you want "buttery," this is it.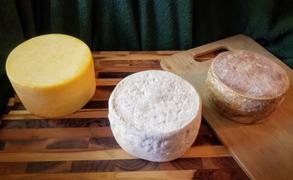 Pure buttah!
I used this along with Aroma B to culture butter, and it produced an abundance of buttery flavor. My SO commented, "It smells like movie theatre popcorn butter!" Just a larger-than-life buttery goodness. I've also added it to cheeses in which I wanted a rich buttery flavor, and it works well there, too. It's not really an acid producer, so you'll want a primary mesophilic (or thermophilic) culture along with it to make cheese. MA11, Kazu, MA400x, ThermB, and Therm C will all fill that role just fine.
04/20/2020
Roberta B.
Canada
Great product.
I have been using this for the past year in my cheesemaking and am very pleased with the results. It is a very consistent product and keeps very well.