Fine Mesh Cheese Mat
Description
This fine mesh ripening mat for cheese making is used when air drying a variety of cheese, especially soft, mold ripened cheese including Chevre, Brie and Camembert. Because this mat has a fine mesh, it will leave less texture on the cheese surface, and is less likely to pull mold as cheese is flipped when aged.
Using this mat will allow whey to drain and air to circulate when cheese is draining, air drying and aging.
Details
Features
Fine mesh polypropylene cheese mat | 1.4 x 1.6 mm
Size
Small | 8 x 8"
Large | 8 x 39.75"
Care
Mat should be boiled, to sterilize, before each use.
After use, rinse in cold water to remove any curd/cheese, then wash with not water and a neutral alkaline cleanser or dairy wash. Commercial detergents are not recommended.
If needed, soak mat in a wash solution before cleaning.
If mat retains any odor after cleaning, hang outdoors in the sun, this is the traditional method used in Europe.
Reviews
Q & A
Related Recipes
Customer Reviews
Write a Review
Ask a Question
Filter Reviews:
rind cheeses
everything
mesh
food handling
pattern
mats
bottom
bamboo mats
form
cheese mat
09/21/2020
Autumn
United States
Works Great!
I love everything I've ordered form Cheesemaking.com. This mat is wonderful. The very fine pattern on my cheeses is barely noticeable. Easy to wash and sanitize. I think I need a few more actually!
09/20/2020
Farris W.
United States
Small Fine mesh cheese mat
Initially I ordered this to serve as a draining mat for a small mold. I quickly found out it is equally useful as a topper for the drying of cheese. I place the cheese on a reed mat, top it with the small fine mesh mat and then cover with a cheese cloth. I also alternate the position to bottom to help air the reed mat.
07/05/2020
PEDRO P.
Brazil
Muito Bom
Muito bom o produto
06/07/2020
Scott E.
United States
Quite fine texture, and fits in common Tupperware/Rubbermaid plastic containers
The texture is quite fine, with maybe a millimeter between "strands." Unlike the medium plastic mat, this will fit in a standard 'FreshVent' container, which is my usual container for natural-rind cheeses. It works really well and actually, compared to mats with less-dense texture, it imprints much less texture on the surface of the cheese. I'll be buying more of these.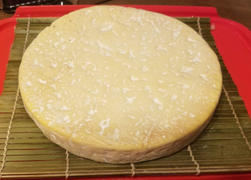 05/17/2020
Gavin
United States
Great for draining
I've used this for Camembert and the results were outstanding. Can't recommend enough.