Tel-Tru Thermometer
Description
This Tel-Tru thermometer, made in the USA, from the highest-quality stainless steel is both accurate and easy to use. Complete with a sturdy pot clip and large two inch dial, checking the temperature of your milk is quick and easy. Often used by the pros, because of its accuracy and durability this thermometer is a must have for home cheese makers.
Tel-Tru is known as one of the world's premier thermometer manufacturers.
Details
Features
Manufatured in USA
2" dial
5" or 12" stem option
0 to 220°F
-10 to 100°C
Pan clip
Recalibration nut
±1% Full span
Glass lens
Care
Sanitize before use
Wash stem in hot soapy water after use
Brand
Tel-True
Directions
How to recalibrate
Since the cheese making process happens at temperatures similar to our healthy body temperatures, a good quality medical thermometer can be used to calibrate your thermometer.
Run warm water between 88-98F into a container deep enough to immerse both thermometers.
Place thermometers in the water, check temperature readings once they have stabilized.
If your new thermometer is not reading at the same temp as the medical thermometer, locate the nut found under the dial head.
Using a wrench, turn the nut clockwise or counterclockwise as needed until the needle reads the same temperature as the medical thermometer.
Repeat this process as needed.
Reviews
Q & A
Related Recipes
Customer Reviews
Write a Review
Ask a Question
Filter Reviews:
thermometer
cheese
clip
milk
things
cheese making
Quality
temperature
side
heat
11/18/2020
Lynn R.
United States
Best thermometer
I ordered a second thermometer because the Tel-Tru is the most acurite of all. I sometimes do more than one batch of cheese. I would recommend it.
11/16/2020
Hugh M.
United States
First use
The clip failed to balance the thermometer and it fell out of the pot Lesson learned the hard way. It broke
11/04/2020
Beth S.
United States
Works So Far
I bought my Tel-Tru thermometer a couple months ago and have made ricotta, mozzarella, yogurt, and a couple other things using it so far. Overall, I'm happy and have had a consistently similar temperature reading when comparing it to my other digital and non-digital thermometers. I like that you can purchase it in two lengths and the clip has so far held fine on my pot. The 12" length is a bit too long for my pot, but the face is not adjustable height wise on the clip (that I can figure out--I'll edit review if I find it to adjustable), so make sure you buy the right size. Otherwise, it seems accurate, the face is nice and big, and it's never botched a bath of anything yet!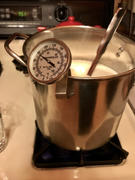 10/12/2020
Levi A.
United States
Nice
Seems good overall not sure how accurate it is checked it against several other thermometers
10/11/2020
Charles D.
United States
Best effort in accurate temperature control!
I invested in two of these thermometers so that I can manage cheese and bath temperature accurately. I have a temperature in my Anova bath on the sous vide, then a constant culture or curd temperature with one thermometer. Then adding so much water at said temperature to cook the curds at will accurately with my second thermometer. Two thermometers is my saving grace! They are accurate instantly and reliability is paramount!