Croute Fleurie Cheese Wrap (White)
Description
This two ply cheese wrap is used for white mold ripened cheese including Camembert, Crottin, Tomme and Brie. This white, two layer wrap is breathable which is ideal for a delicate bloom and proper moisture when aging cheese.
The inner layer is designed to pull moisture away from the surface of the cheese. The paraffin coating prevents candidum mold from growing into the paper, which would result in tearing of the cheese surface when un-wrapping. 
The outer layer allows gas to be exchanged while controlling moisture loss, allowing white mold to remain active, not excessive.
Details
Contains
Features
Paraffin coated, thin, white parchment paper bonded to 20 micron opaque, white, micro-perforated, polypropylene.
Size
7 7/8"
9 7/8"
13 3/4"
17 3/4"
Directions
Wrap with dull, parchment side towards the cheese. Age and store as directed in your recipe.
Reviews
Q & A
Related Recipes
Customer Reviews
Write a Review
Ask a Question
Filter Reviews:
Camembert
wrap
Brie
cheese
French
list
end product
moisture
rind
everything
10/11/2020
Daniel L.
United States
09/12/2020
DM L.
United States
Nice!
These are so easy to use and make my cheese look so presentable. They age beautifully inside these perfect wraps!
08/14/2020
Daniela P.
United States
Best wrap ever :)
Aloha! this wrap is just what you need for mold-ripened cheeses. It keeps the cheese breathing and at the same time allows it to mature and increase the flavor. I'm a camembert and brie fanatic and I made with cow and goat milk ...when I find raw milk, but I loved to produce a vegan version with cashew. I add an example in the picture. I bought 2 formats of the wrap, the smaller is to cut my cheese and share it with friends. Cheesemaking recipes are inspirational and I order all the supplies from them. Everything arrives quickly and well packaged and considering I live in the middle of the Pacific it's amazing.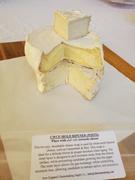 07/14/2020
Bobbi S.
United States
Cheese wrap.
Easy to use and works nicely.
06/06/2020
Anonymous
United States