Ricki's Basic Cheese Making Kit
Description
Beginner cheese makers, this kit is for you. With a little effort and a lot of fun, you can make homemade cheese in your own kitchen.
This kit comes complete with ingredients and equipment to make 8 different types of cheese, including Farmhouse Cheddar, Gouda, Monterey Jack, Feta, Cottage Cheese, Colby, Parmesan and Ricotta.
Start now and make this into a new hobby or even a family tradition. This kit is fun for all ages, simply add milk and enjoy.
Details
Contains
Basket cheese mold
Dairy thermometer
1 yd Cheesecloth
Mesophilic starter culture
Thermophilic starter culture
10 Vegetable rennet tablets
1 oz Calcium chloride
Recipe booklet
Features
Make 8 different types of cheese
Great for beginners
Additional recipes included for using cheese
Storage
Starter cultures and rennet tablets should be stored in the freezer. In the freezer, cultures will last 2+ years and rennet tablets will last for 5+ years.
Calcium chloride should be stored, tightly sealed, in a cool location away from direct sunlight.
Brand
New England Cheesemaking Supply Company
Reviews
Q & A
Related Recipes
Customer Reviews
Write a Review
Ask a Question
Filter Reviews:
ingredients
recipes
instructions
milk
cheddar
Cheese Making Kit
Monterey Jack
everything
some
cottage cheese
05/19/2020
Tanya
United States
Patiently waiting to taste
The kit contains almost everything to make a variety of cheeses. The instructions are good for a beginner. The cheese basket lacks a follower and plates, saucers, bowls were either too large, or left depressions in first cheese. So finally hppened on a wooden flat bottomed salad bowl for my next cheese. For aging the instuctions say to wax the cheese which was also not included. Creativity came with making a homemade cheese press and weights (with help of bathroom scale). And created my own molds. But I have been making cheese the entire month since I received the kit. I am hooked on making cheese unfortunately I haven't tasted any since they are all in the aging process. Today a triple creme cheese is being made and I will have opportunity to taste that in a couple weeks.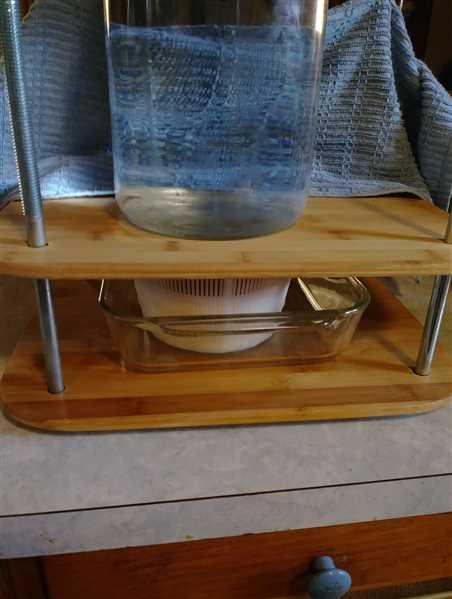 05/18/2020
David F.
United States
The perfect start!
The basic cheese making kit was the perfect way to start home cheese making! The instructions were very easy to follow and I have fallen in love with cheese making!
05/18/2020
Anonymous
United States
New cheese maker
Just got after waiting about 10 days my Basic Cheese Making Kit which was a blast to use and learn how to make cheese. I always thought I would like to make cheese because I love it and grew up hand milking cows on a farm. The kit made it easy and was complete so it was easy to get started. I am now making cheese every week and can't wait to try new types. The kit was a great way to get started.
05/17/2020
Rachael A.
United States
05/15/2020
Kim P.
United States