Cheese Press
Description
This cheese press is proudly made in the USA and built to last a lifetime. Both easy to use and care for it is a wonderful investment for any cheese maker.
Built with a hard wood (maple) base and top bars, rubber feet to protect your kitchen counter and stainless steel components, this press is both beautiful and durable.
When pressing, weight is increased by simply pressing down on the top bar. The weight is automatically regulated with stainless steel springs and can be measured, on the easy to read pressure gauge, from 0 to 80 lbs.
With this press you can easily press a variety of delicious hard cheeses including, but not limited to, Cheddar, Gouda, Parmesan and Monterey Jack.
Details
Dimensions
6 1/2" W x 12" L x 18" H
Includes:
Cheese press
Rectangular polypropylene follower
Stainless steel drip tray
Features
Made in the USA
Press is hard wood and stainless steel
Fully assembled and ready to use
Easy to use
Directions
Check Pressure Gauge
After shipping the pressure gauge may not read '0' as a result of spring compression during shipping. To re-set the press, simply release and remove the top locks and allow the springs to decompress.
Do not store the press with springs compressed.
The springs and pressure gauge strip are designed to work together for proper pressing weight.
Recognizing Proper Pressing Weight
The proper amount of weight for pressing should be specified in each cheese making recipe. However, this can sometimes lead to over or under pressing, due to the final cheese moisture or fat content of the curds.
Excessive cloudy/milky whey or even butterfat leaking with the draining whey or on the cheese surface when turning, are signs of over pressing. Higher fat cheese requires less weight in early pressing stages when butterfat is still in a liquid state.
Under pressing will result in unconsolidated curds in the final cheese. This can be identified with open curd spaces on the rind or excessive open spaces in the cheese body.
A tight smooth rind with open space in the cheese body can be from applying excessive press too soon. This would seal the surface and trap moisture inside. This is usually accompanied by a cheese leaking moisture in the aging room.
Reviews
Q & A
Related Recipes
Customer Reviews
Write a Review
Ask a Question
Filter Reviews:
mold
molds
thing
cultures
pressure
press
mess
springs
06/26/2020
Elliot B.
United States
From a beginners stance
I decided to jump head first into the wonders of cheese making. Start with basics but get all the stuff needed first. So a press was on the top of my list. Of the basic cheeses to start with Farmhouse Cheddar was of course on the menu. Using this press was very easy, is a little frustrating. Its hard to gauge how to get to the pressure you need. Over pressing then having to release to get to where you need. Also when the cheese fights back it easy to thing the locks are not working. Watching in slowly move to a lesser pressure, not thinking about the cheeses roll in all this. That being said I would definitely suggest this model to anyone. I does a great job, and cleaning it is VERY easy. I may buy a dutch press next just to see if I personally prefer one or another. I am hook on the hobby now and may want to press more than one at a time.
Great Product
I could not be more pleased with the product: solid construction, easily cleaned, and easy to operate. This has definitely taken my cheese making to the next level!
05/24/2020
Marilyn M.
United States
Problem with the rectangular follower
The press is good and seems very well made. I have used it a few times and have a problem with the rectangular follower. It is too large and I have to compress the springs to a higher than recommended pound of pressure to get the locks on the top yolk.
05/14/2020
Deb w.
United States
Absolutely THE BEST press out there!!!
I acquired this press from a friend. In 40 years of making goat milk cheeses I have tried just about every press out there. This press is in a class by itself far above all others for these reasons: 1. Adjust pounds of pressure easily/accurately to make consistent quality cheese. No more guess work. 2. Stainless steel drip pan drains whey away from press & keeps counters from becoming a mess. 3. Ample width of press accommodates wide molds that others don't. 4. Ample height allows for large molds that others don't. 5. Highest quality workmanship and materials, efficient design with minimal parts to clean. And it will last a lifetime. 6. Quick, easy and efficient to get cheeses in/out of the press, no endless turning of knobs/bars every time you need to turn the cheese in the press. You can do it in seconds. Do it right the first time and don't waste your money on other presses. This one can't be beat. And it's made in USA.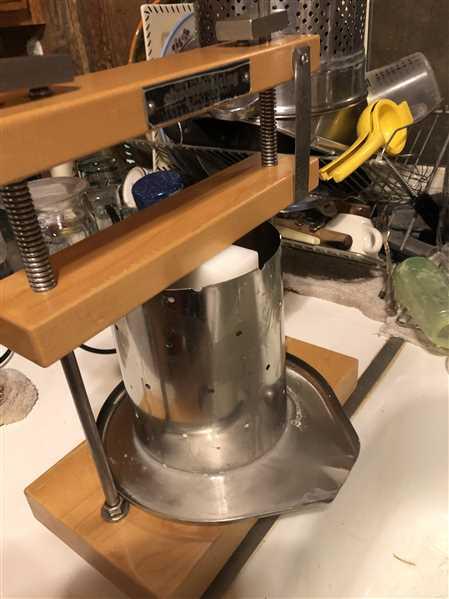 05/04/2020
Megan .
United States
Great product
Easy to use; done the job perfectly; made my first cheddar cheese with it, waited to shortest amount of time to taste and was so delicious I could hardly stop eating! Love the 3 cultures that came with the package Having so much Fun and most of all My Family and Friends enjoy devouring the results!!