Tomme Cheese Mold
Description
This sturdy Tomme cheese mold is ideal for Tomme style or semisoft cheese, including Reblochon, Munster, Blue, Tomme, and Trappist style cheese. Each mold comes complete with a follower for even pressing.
Small: This mold is ideal for small Tomme style or semisoft cheese including Reblochon, Munster, or Trappist style cheese. These molds are not tapered so they cannot be stacked on top of each other.
Large: The top of this mold is slightly wider than the bottom wider so several molds can be stacked on top of each other for light pressing. When using the follower, this mold will easily handle up to 100 lb of pressing weight, for a higher pressed Gruyere style cheese. Turning the cheese several times with no weight towards the end of the molding stage evens out the top and bottom diameters so it ends up with a nice little bulge in the side.
Details
Dimensions
1-1.5 lb | 5 1/4" W x 2 1/2" H
4-5 lb | 7 1/2" W x 3 1/2" H
Features
Closed bottom
Material
Food grade polypropylene
Country of Origin
France
Reviews
Q & A
Related Recipes
Customer Reviews
Write a Review
Ask a Question
Filter Reviews:
cheese mold
mold
molds
cheesemaking.com
mozzarella
curds
cheddar
wheel
Quality
kind
03/20/2020
Fredy A.
United States
Tomme cheese mold
Purchased the large mold as I was finding my 2 lb molds wanting. So far so good made a farmhouse Cheddar yesterday and the mold worked fabulous. The mold has holes both on the sides and bottom which help drain the cheese faster than my other molds which only have holes on the bottom.
03/10/2020
David
United States
Great Mold
Like all the other molds purchased from cheesemaking.com, this is a great cheese mold. The Tomme Cheese Mold is great for doing doing alpine style cheeses where you want a low, wide profile. It also works well for Gouda. The tapered mold gives rounded corners and a nice little bulge in the center of the wheel after flipping the cheese a few times from pressing. It's the perfect size for 4 gallon batch of cheese (although you may have to do some initial light pressing to get all the curds to fit). This is a 4 gallon batch of Blue Gouda.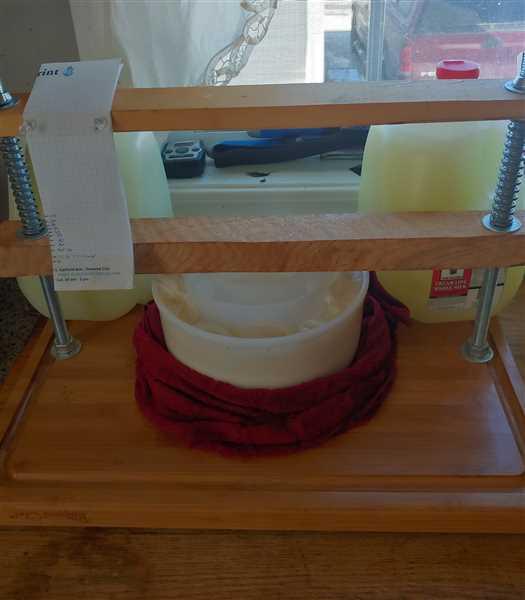 02/15/2020
Todd L.
United States
Tomme Cheese Mold
It was my first attempt to work with this mold for Munster cheese. The small amount of curds were not enough weight to compress the mold below. I did not get good results, but then I am new at cheese making and am learning by mistakes perhaps. I open my Colby on 2/29/2020 and am curious what went on under the red wax. I will keep experimenting with all my molds. It is actually fun!