Yogurt Starter Culture (Creamy)
easy to use, pre-measured yogurt culture
"This is my favorite! It makes creamy, delicious, fresh yogurt every time."
–Claudia, Happy Cheese Maker
Description
A delicious, creamy yogurt that is simple to make and wonderful to eat. Works very well with store-bought milk and goats milk.
For a Greek Style yogurt, simply drain your homemade yogurt, in two layers of Butter Muslin, for 1-2 hours.
Details
Ingredients
Lactose
Streptococcus thermophilus
Lactobacillus selbrueckii subsp. bulgaricus
Lactobacillus delbrueckii subsp. lactis
Storage
Store in the freezer for up to 2 years
Yield
Each of the five packets will set 1 qt - 1 gal
Brand
New England Cheesemaking Supply Company
Kosher Info
Kosher certificate available upon request
Allergens
| Yes | No | Allergens | Description Of Components |
| --- | --- | --- | --- |
| | X | Peanuts | |
| | X | Tree Nuts | |
| | X | Sesame | |
| X | | Milk | |
| | X | Eggs | |
| | X | Fish | |
| | X | Crustaceans | |
| | X | Shellfish | |
| | X | Soy | |
| | X | Wheat | |
| | X | Triticale | |
| | X | Mustard | |
| | X | Sulfites | |
Directions
Heat 1-4 quarts of milk to 185ºF, then cool to 112ºF. Pour milk into a yogurt maker or large container. Add yogurt culture and mix well. Let the milk incubate for 5-12 hours or until the yogurt has thickened to desired consistency.
For a thicker yogurt, before heating add 3 tablespoons milk powder for each quart of milk.
Note: If you don't have a yogurt maker, simply wrap your covered container in a blanket or towel to keep the milk warm while incubating.
Re-culturing: Instead of adding yogurt culture, add approximately 1 tablespoon of prepared yogurt, per quart of milk.
Re-culture every 7-10 days to keep the yogurt bacteria healthy and active.
After multiple rounds of re-culturing, your yogurt may not fully set the milk. At this point, start the process over with a fresh yogurt culture.
Reviews
Q & A
Related Recipes
Customer Reviews
Write a Review
Ask a Question
Filter Reviews:
culture
starter
batch
yogurt
milk
goat milk
flavor
process
granola
some
07/05/2020
Anonymous
United States
The best starter
This starter has a great flavor and texture than the other starters. Everybody I sell to, LOVES it when I make yogurt with this culture. I give this product a BIG thumbs up.
07/03/2020
Jacob F.
United States
Great yogurt
I was making yogurt with store-bought yogurt as a culture and having it last around 3 batches. With this culture, I have had a superior product that has lasted 8 batches so far.
06/28/2020
Jaime G.
United States
The Best For Goat Milk Yogurt
I'm really impressed with this culture! It really thickened my goat milk yogurt. It didn't make it as thick as yogurt made from cow milk but it's the thickest I've ever been able to get it with just milk and culture. This is my go to yogurt culture from now on.
RD
06/21/2020
Rori D.
United States
A Good Change
I've always made Greek style yogurt in the past using a store brand as a starter. The end result was always very tart and finding a useable organic brand required driving an hour. This starter culture worked beautifully, cut down on time, and produced a creamy yogurt. The taste is wonderful.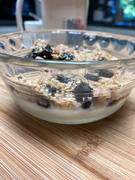 06/20/2020
Jenny R.
United States
Easy and kid approved!!
This company is amazing!!! The creamy yogurt culture is truly awesome!!! Super easy to use, it turned our goat milk into thick, beautiful yogurt! The kids ate it so fast I had to make a batch daily!!! Yummo!!!!!