Yogurt Starter Culture (Sweet)
easy to make, great source of probiotics
"I just made yogurt for the first time, it's AMAZING and so simple!"
–Susan, Happy Cheese Maker
Description
A sweet and creamy yogurt that is simple to make and wonderful to eat. Works very well with store-bought milk and goats milk.
For a Greek Style yogurt, simply drain your homemade yogurt, in two layers of Butter Muslin, for 1-2 hours.
Details
Ingredients
Lactose
Streptococcus thermophilus
Lactobacillus delbrueckii subsp. bulgaricus
Lactobacillus delbrueckii subsp. lactis
Lactobacillus acidophilus
Bifidobacterium lactis
Storage
Store in the freezer for up to 2 years
Yield
Each of the five packets will set 1 qt - 1 gal
Brand
New England Cheesemaking Supply Company
Kosher Info
Kosher certificate available upon request
Allergens
| Yes | No | Allergens | Description Of Components |
| --- | --- | --- | --- |
| | X | Peanuts | |
| | X | Tree Nuts | |
| | X | Sesame | |
| X | | Milk | |
| | X | Eggs | |
| | X | Fish | |
| | X | Crustaceans | |
| | X | Shellfish | |
| | X | Soy | |
| | X | Wheat | |
| | X | Triticale | |
| | X | Mustard | |
| | X | Sulfites | |
Directions
Heat 1-4 quarts of milk to 185ºF, then cool to 112ºF. Pour milk into a yogurt maker or large container. Add yogurt culture and mix well. Let the milk incubate for 5-12 hours or until the yogurt has thickened to desired consistency.
For a thicker yogurt, before heating add 3 tablespoons milk powder for each quart of milk.
Note: If you don't have a yogurt maker, simply wrap your covered container in a blanket or towel to keep the milk warm while incubating.
Re-culturing: Instead of adding yogurt culture, add approximately 1 tablespoon of prepared yogurt, per quart of milk.
Re-culture every 7-10 days to keep the yogurt bacteria healthy and active.
After multiple rounds of re-culturing, your yogurt may not fully set the milk. At this point, start the process over with a fresh yogurt culture.
Reviews
Q & A
Related Recipes
Customer Reviews
Write a Review
Ask a Question
Filter Reviews:
yogurt
milk
culture
starter
batch
packets
results
New England
flavor
freezer
09/18/2020
Cara L.
United States
yogurt starter (sweet)
This makes the best yogurt ever.
09/17/2020
Anonymous
United States
Fun to Try!
I was great to get and use, I just wish the instructions were a bit more clear. Fun to try though!
09/08/2020
Ruth M.
United States
sweet, easy for goat milk!
Goat milk yogurt made w this culture - Y5 - is consistently sweet & delicious!
09/08/2020
Stan H.
United States
WOW Easy to use with great results.
When I received an email that New England Cheese Making was giving away yogurt culture I jumped at the chance to claim mine. The reason? My wife eats yogurt about 5 times a week. Just follow the directions on the package and you can't go wrong. The results you get are well worth the time and trouble. MUCH better than store bought. I usually ad 2 tablespoons of powdered milk to get a more firm set to the yogurt. For topping I use either blueberries (my wife's favorite), or pineapple. I heat either one in a pan, add about a Tbsp of sugar, then heat to reduce the amount of water. When it gets to the consistency I want I then dissolve 1 Tbsp of corn starch in 1 Tbsp of COLD water. This is then added to the fruit mixture and simmered until it gets to the right thickness. I wait until it cools to add it to the top of the chilled yogurt. My wife loves it. Stan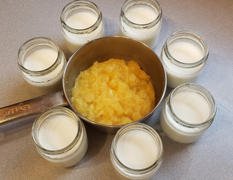 09/05/2020
Joel A.
United States
sweet yogurt
very easy and dependable. i have been using for many years. i use with 2% milk.