Pocket Thermometer
Description
With an easy to read dial that ranges from 0-220F (-20-100C), this is a great economical dairy thermometer for making cheese at home.
Details
Features
1 1/2" dial
Stainless steel stem
0 to 220°F
-10 to 100°C
Storage sleeve
Recalibration nut
Glass lens
Care
Sanitize before use
Wash stem in hot soapy water after use
Directions
How to recalibrate
Since the cheese making process happens at temperatures similar to our healthy body temperatures, a good quality medical thermometer can be used to calibrate your thermometer.
Run warm water between 88-98F into a container deep enough to immerse both thermometers.
Place thermometers in the water, check temperature readings once they have stabilized.
If your new thermometer is not reading at the same temp as the medical thermometer, locate the nut found under the dial head.
Using a wrench, turn the nut clockwise or counterclockwise as needed until the needle reads the same temperature as the medical thermometer.
Repeat this process as needed.
Reviews
Q & A
Related Recipes
Customer Reviews
Write a Review
Ask a Question
Filter Reviews:
milk
temperature
thermometer
everyone
company
temp
purchase
heat
kits
side
08/15/2020
Anonymous
United States
good quality pocket thermometer
I'm very happy with the pocket thermometer I got. It is sturdy and can be easily cleaned and stored. I recommend this for everyone who wishes to have a thermometer for making cheese.
07/22/2020
Michelle Z.
United States
Works perfectly
Great item. Arrived quickly. Used it to make my very first mozzarella. I plan to order from this company again.
06/05/2020
Paula P.
United States
Pocket thermometer
I'm a home, and novice cheese maker, the one thing that held me back from delving into cheesemaking was getting an accurate temp on my milk, and this gives me the confidence that I needed! It goes right back into my cheese supply drawer so it is always handy and dependable
01/06/2020
Natalie E.
United States
Great customer service!
Maybe I'm spoiled because I've used a digital one for years to make yogurt and accustomed to seeing an exact temperature. On this little guy each hash mark is 4 degrees I think? It probably doesn't matter to be more exact though or they wouldn't have it in the kits. My first one was not accurate when compared to my digital, but in line with the amazing customer service, it was replaced immediately. It was spot on for a couple batches then started drifting a few degrees off when I tested it. Disclaimer- I had a 6 year old here all week and it may have been handled less than gently. :D I'll use this one to keep an eye on the water pot under my milk or in the water I heat to wash curds.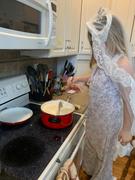 Handy Thermometer
I am on a limited budget, so buying all my cheese making devices and ingredients to makecheese can be expensive. I went with this based on my budget for my hobbies. It worked like a charm i place in the middle of the raw goat milk to get my temp. I feel putying a thermometer on the side of my metal pan will give a false reading. It has worked like a charm i get the milk 5 degrees from my target temperature and turn off heat. Bring my milk right to the target temp. Very handy for checking temperature and easy to store and clean for next time. I am very happy with my purchase!