Cheese Making Recipe of the Month
Well, aren't we British this month? We would like to say we decided to feature cheeses from Great Britain because of the Royal Wedding, but the truth is, old chap, it was just a wee bit of a coincidence. Suzanne and Jim both chose their own cheeses, independently. So therefore and heretofore, we officially crown this May "Hopping Over the Pond" month.
What is Cheshire Cheese Anyway?
Cheshire cheese may actually be the oldest cheese originating in England. It was so popular, the French adopted it as their own and called it Chester. Traditionally, it was sweeter and softer than Cheddar with a flaky texture. In the 1800's it was often made a deep red color by adding a lot of annatto to the milk. (Later the amount of annatto was reduced and the cheese became the light orange color we typically see today.)
The largest Cheshire cheese ever recorded weighed 300 pounds! In 1907, Mr. Percey Cooke made 20 of them that size (on order from a gentleman who was writing about the makers of Cheshire cheese). According to John Ehle in The Cheeses and Wines of England and France:
At the time these twenty cheeses were made, there was a question as to whether they would mature to the center, and before they were cut considerable expectancy was generated- I dare say for the book as well as the cheeses. Each of them was found to be cured throughout.  
Let's Make Cheese with Suzanne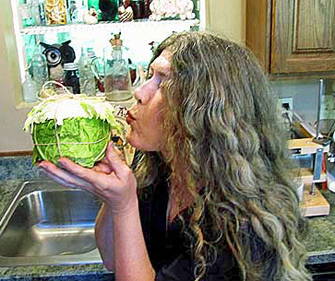 Caerphilly is one of the cheeses featured in our newest publication, The Cheeses and Wines of England and France by John Ehle. He tells the story of how the miners in Wales and southwest England used to wrap their Caerphilly in cabbage leaves and eat them both together in the mines.  
In 1972, when Ehle wrote his book, he said there was no Caerphilly cheese to be found in Caerphilly. Fortunately, now that artisan cheeses are popular everywhere, there is renewed interest in this tasty, crumbly cheese. A good place to try it would be at The Big Cheese Festival in Caerphilly, Wales (near the castle) at the end of July.
Shortly after the book came out, we posted a blog article in March about Caerphilly and Suzanne decided she had to try it. Did anyone doubt that she would succeed?
Suzanne had hardly made any cheese at all when she accepted our challenge. Now, she's a master home cheese maker. With the help of her mother and daughter cows- Beulah Petunia and Glory Bee, Suzanne makes any little old cheese her Southern heart desires at the drop of a hat (bonnet?). In fact, she's now teaching cheese making classes at her Stringtown Rising Farm!
It's all there at Chickens in the Road, of course, Suzanne's daily record of her "Life in Ordinary Splendor." Oh, and don't miss her giveaway.
Any Experience with High Humidity?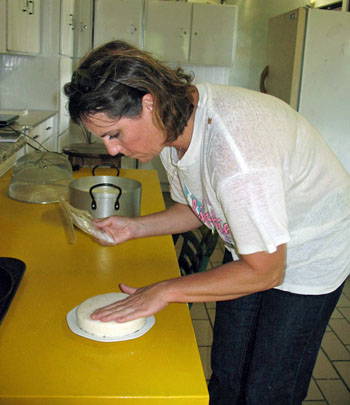 Janie Zencak went to Namibia, Africa to teach cheese making:

Janie and her 14 year old daughter, Victoria, were invited to make the trip to Namibia this last winter to teach the staff at a Cheetah Conservancy to make cheese.  (See our blog article)  While she was there, she ran into a problem and we decided to ask you if you have any ideas:
One circumstance that we ran into that I am not sure how to solve is that with the humidity in the summer, the boiled, sterilized cheese cloth takes so long to dry that it becomes inoculated with the local wild yeasts, and then your cheese gets destroyed.
If you "cover it" in any way, it just doesn't dry. Only fresh cheese cloth works, at least when the humidity is so high. Maybe this June they will be able to dry it quicker during the dry season (their winter). That remains to be seen.
Send ideas for Janie to Moosletter@cheesemaking.com
---
Responses to Skyr Request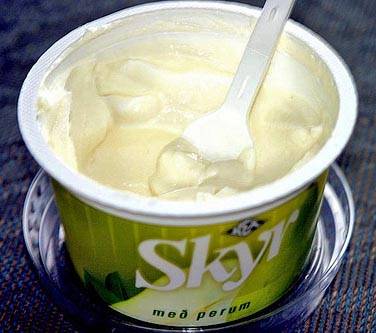 It is actually very easy and it is highly recommended to use older skyr as a starter which you can get at specialty grocery stores. Use about a 1 Tbs of skyr for each gallon of milk you have. From what I and several other folks I've known who make it, have been able to determine, even those in Iceland use older skyr as a starter.
I found my recipe and VERY detailed instructions in The Compleat Anachronist issue No. 143 2nd quarter 2009, Skyr and Mysa: Viking Curds and Whey, by Mary Ellen Reitz, MD
Jen Bishop
Larkin is being confused by American packaging ...
"Skyr style yogurt" is just skyr, it is not yogurt at all. The thing is, Americans don't know what skyr means, but they do know what yogurt means, so the product is labelled "yogurt" even though it is really a type of cheese.
You can buy skyr that is imported from Iceland to use as a culture from Whole Foods.
There is an excellent recipe/instructions here:
My husband is from Iceland so we are pretty knowledgeable about Icelandic foods.
Rebecca McFarland 
---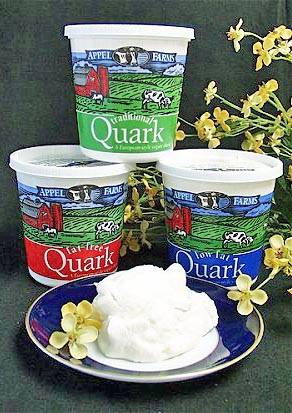 In the German speaking countries (Germany, Austria, Switzerland), Quark/Topfen is highly recommended as a compress to alleviate inflammation. I don't know how it works, but it does work. Say you strain a muscle, slap some on, then wrap a towel or plastic wrap on it. The injury will improve. Those are those old wonderful remedies that are slowly lost to buying an over-the-counter "pill" instead.
Elisabeth Reisch
Elizabeth Reisch's Quark/Topfen Strudel
Makes 2 Strudel
Filling:
1/2 C unsalted butter
¾ C sugar (or you can cut down on this if you're watching your sugar)
5 egg yolks
16 oz (1 lb) Quark/Topfen
Pinch of salt
Grated lemon peel from one lemon (only yellow part of the rind)
½ C sour cream
1/3 C raisins (soak overnight or lightly boil them for a few minutes in spicy rum, like Captain Morgans)
5 egg whites
Dough:
Grab some phyllo dough from the refrigerator section of the grocery store. When you use this dough, brush some butter between the individual layers of dough. For each strudel, don't be shy, use about 5 layers.
Whip sugar, butter, salt and grated lemon peel until creamy. Blend in the yolks, one at a time. Add the raisins, sour cream and the Quark/Topfen. Then gently fold in the egg whites. Start by first folding in about 1/3 of the whites. Then fold in the rest.
Spread the mixture on the filo dough about ½ inch thick. Don't spread all the way to the edges. Leave about 1.5 inches or more free. Then roll your filo dough into what looks like a baguette, folding under the tips of the loaf (so the filling will not come out). Place onto a greased cookie/baking pan with the edge of the filo dough side down (so the filling won't ooze out). Brush with a bit of beaten egg, poke some holes in the top with a fork or tooth pick, and bake at about 350 F for about 50-60 min. If the dough expands too much and the filling comes out, relax, it still tastes great.
Variation: Baked Quark/Topfen Cake

Sometimes, I don't want to make 2 Strudels. So, I make one Strudel and one cake. I take half of the mixture, pour it over a graham cracker crust (either in a pie form or in a round cake form that has a removable bottom) leaving room in the pan to allow the cake to expand upward, and then bake this for about 40 min at 350, or until golden brown on the top.
For the cake, remove from the oven and immediately take a knife to loosen the cake sides. Let cool. This cake will hold in the refrigerator for a week. You can also make a sweet pastry dough bottom, bake it for 12 minutes, then pour the mixture on top and bake for another 40 minutes or until golden brown.
I think these dishes taste even better on day 2 and day 3, but usually nothing is left after day 1.
These will be better than anything you can get in the world's best pastry shops in Vienna. Remember, things made from scratch always include better ingredients than any pastry/bakery would be able to afford to use.
---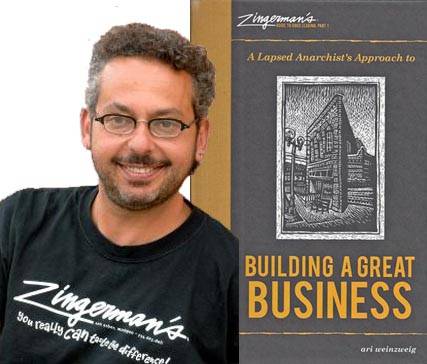 A Lapsed Anarchist's Approach to Building a Great Business

By Ari Weinzweig of Zingerman's
This is our newest book and it's a real departure from our usual selections because it wasn't written specifically about cheese making businesses. We made a rare exception in this case, because this is a book with wisdom for anyone and everyone who reads it.
It's written in a friendly, "just between me and you" style, but it contains every single bit of advice you will ever need to start and maintain a business. (Of course, as Ari says, "Ya gotta wanna!")
---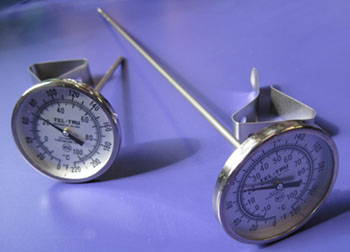 Tel-Tru Thermometers Made in the USA
5" and 12" with Clips

These are great stainless steel thermometers with 2" dial heads for easy reading. We have less expensive versions, but the quality of these thermometers is well worth the price.