Cheese Making Recipe of the Month
This is Jim's favorite cheese - mild and nutty but rich and smelly. Gordon Edgar in "Cheesemonger" recommends it to his customers as "a gateway to the stinky cheeses." Once you've tasted it, it's hard to go back to the blander varieties.
This is not a beginner cheese to make because the aging process is somewhat complicated. However, when you're ready to tackle it, you will find that Jim has gone into great detail about every step.
Meet a Fellow Cheese Maker
Denis and his grandson, Eamon (5)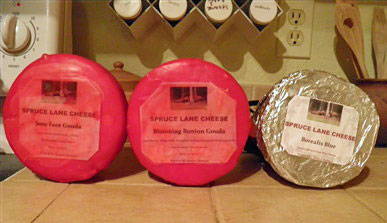 Denis's two goudas and his Borealis Blue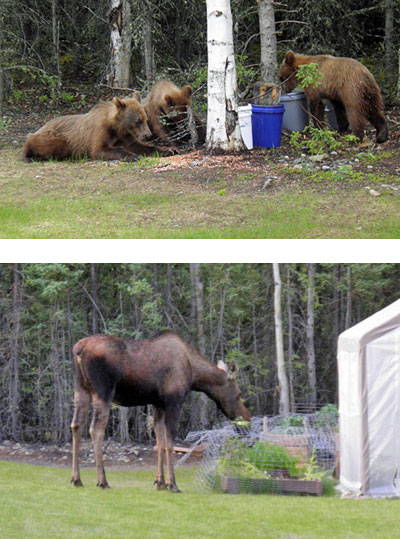 Denis Barnard - Delta Junction, Alaska
Denis just started making cheese two years ago, but he has already won awards at the Deltana Fair- Grand Champion for a flavored cheddar last year and First Place for his flavored goat cheddar this year.
He started making cheese when he and his wife, Angie moved from Utah to Alaska:
About 2 years ago, I had the urge to simplify my life. Angie and I were trying to eat healthier and find more purposeful ways of life.
Knowing about the sources of our food was integral to this process but we found it increasingly difficult in a fast paced, frenetic lifestyle.
For almost 40 years, I had been working in clinical laboratory and healthcare administration. So we decided to retire and join my son and his family in Alaska.
We take advantage of the summer by planting all sorts of vegetables. The growing season is short but intense due to the fact that we have so much daylight during the summer.  
The winters on the other hand are very cold (often -20 to -40) with ever decreasing daylight. By the time winter solstice arrives we have about four hours of daylight.
Despite the harsh conditions, winter presents an ideal time for cheese making. Things definitely slow down and it is a great time to sit by the fire, read, or make cheese.
Indeed. Denis has been making a Stilton-type of blue cheese sprinkled with Fleur de Sel that he calls Borealis Blue, Fromaggio Urbiaco (which is soaked in wine), flavored cheddar, gouda, and soft goat cheese.
One of our predictions for the New Year is that Denis will win a lot more awards!
News From Fellow Cheese Makers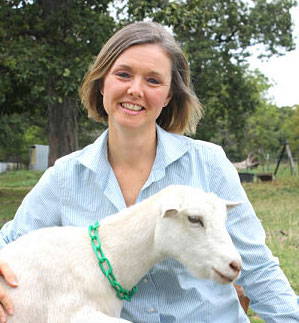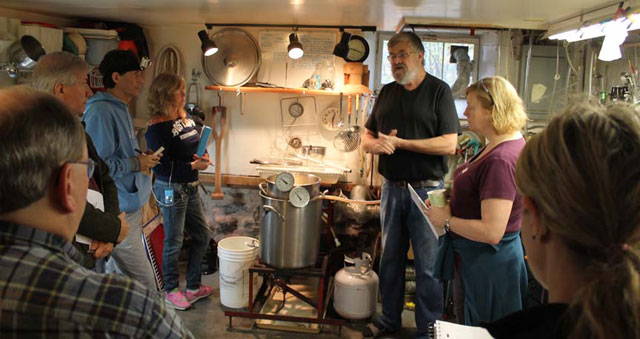 Deborah's picture from Jim's workshop
I took Jim Wallace's cheese class in October and totally loved it! I thought you might like to see my blog post about it Antiquity Oaks.
We've been making cheese for ten years, and we have even been teaching beginning cheese making classes for five or six years here in Illinois. But we realized that books and our own trial and error could only take us so far when it came to our aged cheeses.
As I told Jim when we arrived at his home, we had ten years worth of questions about what caused the curds to do one thing or another. It is also very important to me to understand the science behind cheese making now because I'm working on a book about raising goats and making cheese with their milk, including hard cheeses, and I want to be able to explain why things happen and why you have to do the things you do when making cheese. Jim's class was everything we were hoping it would be -- and more!
Deborah Niemann-Boehle, Cornell, Illinois
---
Ian Anderson (in green shirt) tasting cheese with his guests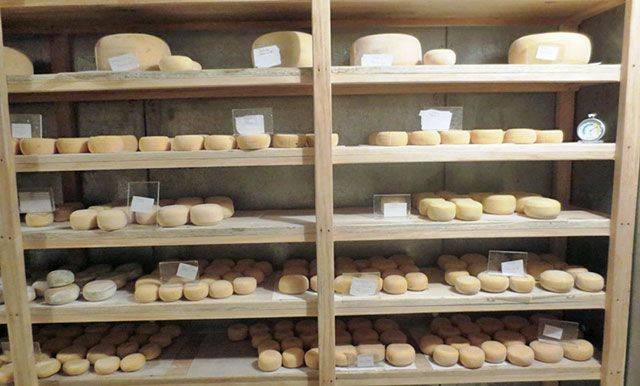 Season's Greetings from under the rainforest canopy, in the jungles of Belize! We have been very busy here - making cheese in our new make room, aging the cheese in our new aging room and eating cheese and drinking wine in our new cheese tasting room (pictures enclosed).
This was our 2012 adventure and now we're all ready to host our January, 2013, "Adventure in Cheese Making" classes with cheese masters Dr. Larry and Linda Faillace of Three Shepherd's Farm in Vermont. There are still a few openings available. Cave's Branch Jungle Lodge
Ian Anderson, Belmopan, Belize
Guests at the viewing and tasting window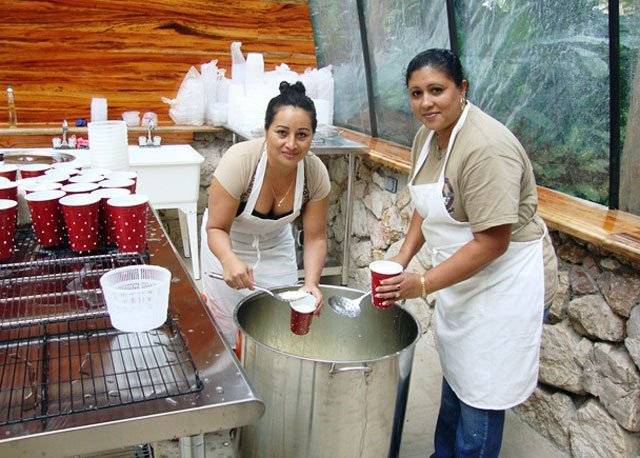 First batch of cheese being made in the new cheese house
---
---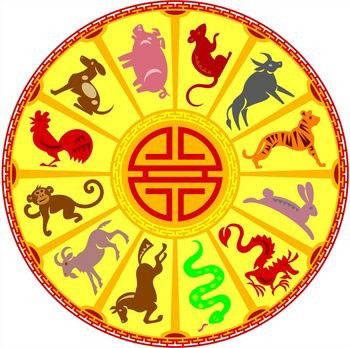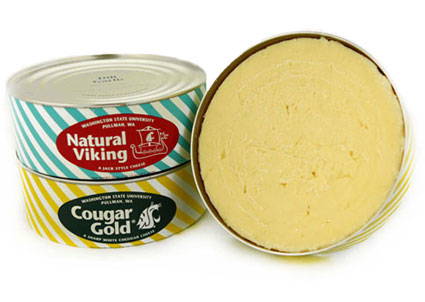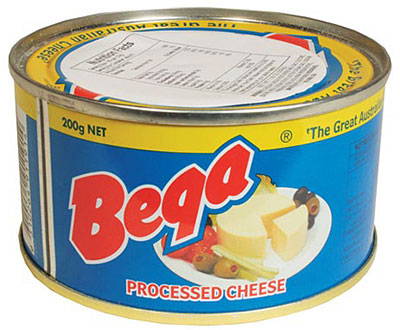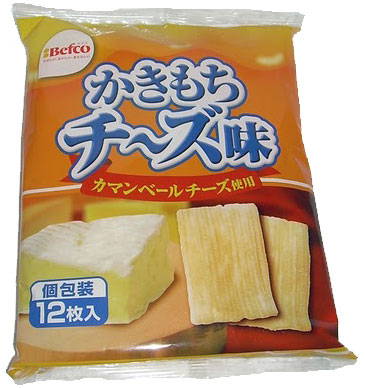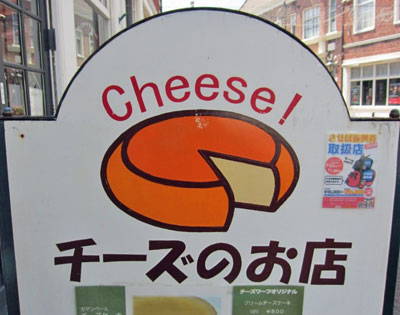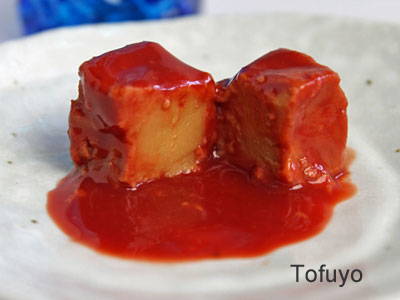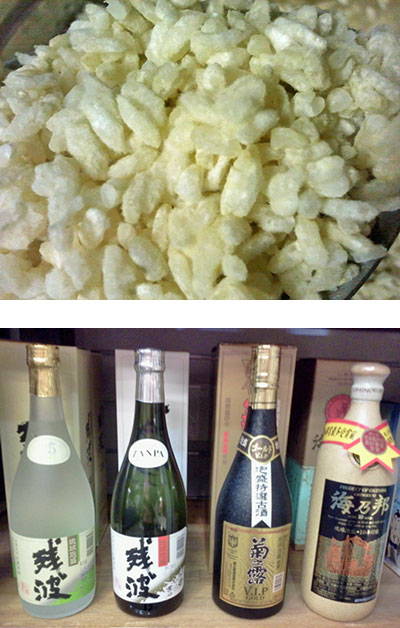 Kome-Koji (top) and Awamori (bottom)
Japan, a Cheese Desert (no, that's not a misspelling).
I live in Japan. I've been here continuously since 1976. At first, I lived in Tokyo, then moved to Sapporo (Hokkaido) and now Naha (Okinawa).
You may know of the Chinese "zodiac." Each year is represented by a different animal/mythical beast. My birth year was the year of the mouse. (Actually, it's usually translated as "rat," but I prefer mouse.)
Well, as you know, any mouse is lost without cheese, and I must admit that I did have a hard time. Imagine my elation when, one day, I came across a can of Camembert. It cost me an arm and a leg, but I had a craving.
I managed to find some halfway decent wine and some French bread with no crust (you can't have everything!). I opened the wine to let it breathe and did the same thing with the cheese.
But when I removed the lid, I couldn't believe it. The poor cheese seemed to be made out of some ceramic material.
The poor thing was dead, bereft of life, it had gone to the great delicatessen in the sky. It would melt no more.
There was a label on the bottom of the packet that had contained the tin. It said, in French, Italian, German and
English: DO NOT FREEZE.
It said, in Japanese: FREEZE.
The bread and wine were some consolation, but my craving got worse.
I tried various things as a substitute; natto (which I like and has almost a cheesy, fermented fragrance), kusaya (fish fermented in its own juices - actually surprisingly good), but it wasn't quite the same. Every time I went abroad I'd stock up, but it would disappear in a week or so.
Little by little, cheese began to appear in Japanese supermarkets and department stores. Some of it very good, but all of it way overpriced.
I thought of making cheese, but internet shopping wasn't really around then and I couldn't find rennet or any of the things I would need, so I resigned myself to it.
Cheese was a luxury item. For Christmas and birthdays.Then, when we moved to Okinawa, after a brief spell of befriending US military personnel and getting them to sign me in on base so that I could do some shopping, I found Tofuyo.
Do you know this? Tofuyo is fermented Tofu. It's very close to a blue cheese.
I enjoyed eating this and did some research to find out how to make it.
Actually, it's not difficult to make at all. It just takes time. You part dry the tofu and marinate it in a mixture of kome koji* and awamori.** After six months, the flavor begins to develop.
But, again, this wasn't cheese.
Recently I started to bake my own bread. And NOTHING goes with a nice hunk of bread like REAL cheese!
I made some simple ricotta-like cheese with vinegar and, encouraged, I shopped around for the "makings."
I managed to find a tiny tube of rennet, ridiculously overpriced and had some success. That's when I found your page on the internet. I'm glad I did.
John Davis, Sapporo, Japan
*Kome-koji is a mold (Aspergillus oryzae) applied to the steamed white rice in order to break down starch molecules into sugar molecules, which can then be processed by yeast cells for fermentation.
**Awamori is an alcoholic beverage indigenous to and unique to Okinawa, Japan. It is made from rice, and is not a direct product of brewing (like sake) but of distillation.
---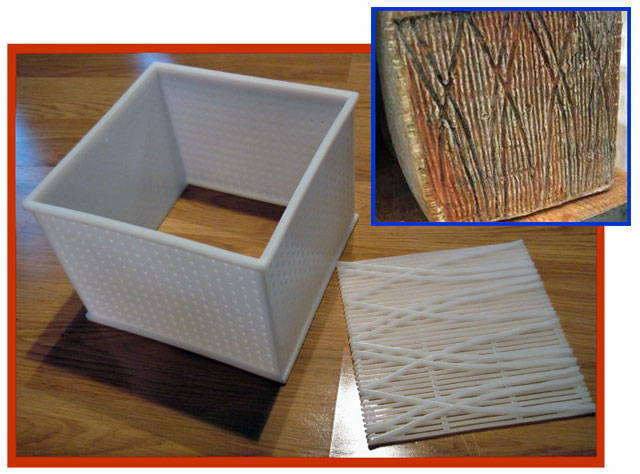 This is the only mold we sell that comes with a cool draining mat. It has a pattern inscribed on one side and little pegs on the other side to hold the cheese off the surface.
If you're going to be trying Jim's recipe, this mold is the way to go. You can use other molds, but we feel that if you're going to take the time to make a more advanced cheese, you may as well reward yourself with a beautiful pattern on the finished product. (Besides, your cheese will look way more impressive when you serve it to your guests!)
---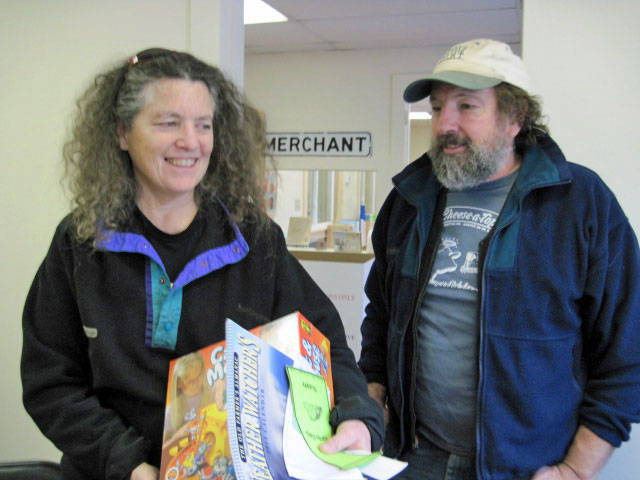 Ricki and Jamie came with a new game for the staff to play after lunch.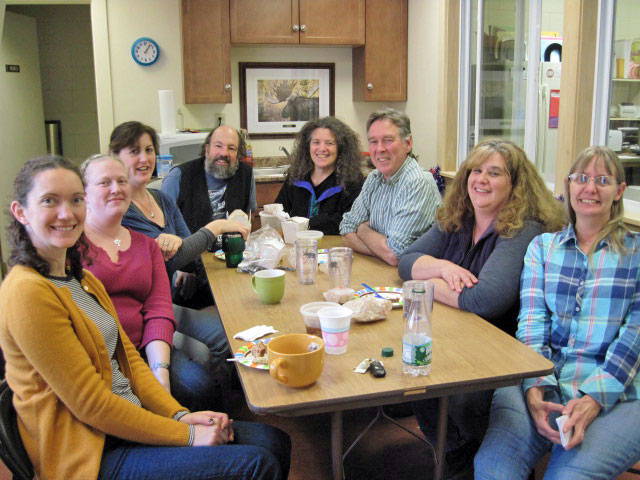 The Royal Staff (left to right) Sarah, April, Angie, Jamie, Ricki, Jeff, Alison, Kathy
The Cheese Queen declared the day before Thanksgiving a royal half holiday (YAY!). We closed the shop at noon and celebrated the occasion with Chinese food, a dessert buffet (we all brought one), movies and games. It was our thanks for getting your orders out lickety-split!
---