Cheese Making Recipe of the Month
Saint Nectaire has been produced since the 1600's. It was christened "Saint Nectaire" by King Louis XIV. This is one of the great cheeses made in the Auvergne region of South Central France. Originally influenced by Dutch cheese makers, there are some 'Gouda like steps' but no comparison in the final flavor and texture.
When aged in the cellar, an herbal, earthy and fresh mushroomy/cellar aroma will be present. When brought to room temperature and cut, the interior soon sags, revealing a creamy paste, but never runny. The flavor highlights richness from local milk and a deep clean flavor of earth, similiar to fresh picked mushrooms, but with a wild edge.
Cheese Making Questions & Answers
Cheese Cracking When Air Drying
Q. What makes my cheese crack during the drying out process?
A. You are likely drying at too low a moisture or in too warm a room. Imagine the cheese body with higher moisture protected by the surface rind. In a dry room, the surface shrinks but not the interior. As it shrinks, there is less rind to cover the cheese and the rind becomes stressed. The only solution for it is to find a weak spot and crack.
---
More Cheese Cracking When Air Drying
Q. Last weekend I made cheese for the first time, a wheel of farmhouse cheddar. Everything seemed to go well, and after two days of drying the cheese, a nice rind had begun. Today, on day five, I planned to wax it. But, when I checked it this morning, the cheese had formed a crack around the bottom and was oozing a little. By this afternoon there was a crack in the top also, and the bottom was getting moister.
My drying area is 67F. Is that too warm? Is there something else I might have done wrong?
A. There are two things going on here. The drying space is too dry and the surface is drying faster than the cheese base.
The cheese is weeping because you transferred the curds before they were dry enough. This leaves plenty of lactose for fermentation to begin late and the result is weeping whey as it is released.
---
Can Fresh Cheese be Brined
Q. Can fresh cheeses, like Oaxaca, be brined to keep longer?
A. Typically, fresh cheeses, do not have the salting and stabilization of a cheese like Feta.  They would not hold up well in a brine.
---
Can Store Bought Blue Cheese Inoculate Roqeuforti
Q. If I do not have any penicillium roqueforti culture left to use to make my blue cheese, can I just go to the local supermarket, buy a wedge of blue cheese, break off a small piece, crumble it into some milk and add this to my curds? Won't this transfer the roqueforti mycelium to my new batch?
I was also thinking that I could touch a (sterilized) skewer to a finished blue cheese (thereby picking up some of the roquefortis fungal spores) and then I could pierce a fresh cheese with it in order to transfer the spores.
A. The problem with this is that you never know how viable something like that is. It has been through the retail chain and that is not going to make for a strong beginning for a new cheese. It has been active for a long time already and will certainly not be a strong starter like the fresh mold spores.
---
Does Clabbered Milk Need a Culture
Q. When I was a child in eastern Kentucky, my grandmother always had a gallon jug of cream sitting on the back of her coal stove, allowing it to ferment. I have tried it many times with raw milk and I have had no success. Do I need to use a culture? If so what do I need?
A. 'Clabbers' is made from the natural bacteria in milk. When our grandparents made it, it always came from a stable dairy environment, perhaps many generations old and from equipment and spaces used over and over. This is what caused the product to become stable. These days, there are just too many hands and regulations that have gotten in the way of a stable and good dairy bacteria, even with raw milk.
You can develop a culture with raw milk, but it will take several trials and a few generations for the bacteria to sort themselves out. There is a big difference between 'sour' milk and clabbers.
---
Meet a Fellow Cheese Maker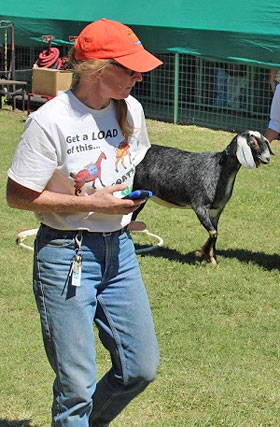 Wendy Woodward from Snowflake, AZ
This is a little bit of a departure from our usual format, because we posted our blog interview with Wendy Woodward of Witch Hazel Dairy earlier this month.
All during the interview process (via email), Wendy and her family were caring for an elderly goat (Robin) who passed shortly after we published the interview.
We had a conversation with Wendy about caring for elderly goats and we thought you might be interested in reading it. We just posted it today and the link below takes you there.
News From Fellow Cheese Makers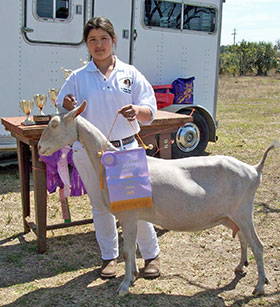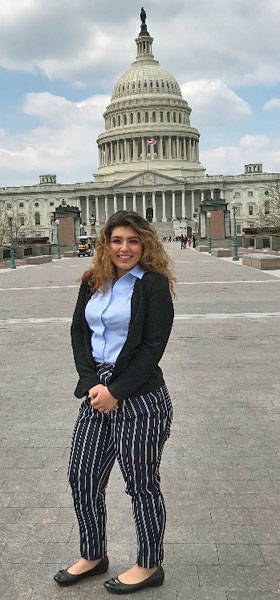 Mia Received a 4H Scholarship
In April, Maureen sent us this happy update:
Can you believe Mia is now 19. She graduated and is in her first year of college at Quinebaug Valley Community College, and has been hired as a Spanish (and math and English) tutor there.
She just came back from Washington D.C. on a 4H scholarship for the National 4H Conference, representing the State of Connecticut.
They had round table subjects that were presented to various representatives and hers was given to the Dept. of Education regarding bullying in schools.
She was offered an internship in D.C while there.
And to think this all started with a couple of dairy goats, and your Mozzarella kit.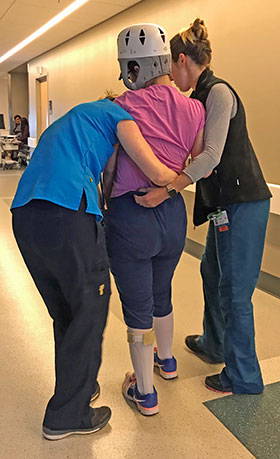 We wanted to share Mia's wonderful accomplishments with you here in the Moos-Letter, but when we contacted Maureen, we found out that a month after Maureen sent us her update, Mia was in a terrible car accident.
She was in a coma for over a month and a half and now she is in rehab.
Her recovery will take some time, but she is totally exceeding all expectations. Maureen thinks she will probably be at the rehab until August.
Mia loves to get cards. She still has some trouble opening her eyes, so, her mother reads each one to her.
---