Cheese Making Recipe of the Month
It's a word that conjures up visions of pyramids, cannonballs, logs, layers of ash and that fresh, light flavor we love so much. As Jim points out, there are many, many varieties and in this country, the word, chevre, applies to virtually any fresh cheese made from goat's milk.

Chevre is extremely easy to make at home. (Ask anyone who has done it.) In fact, we have managed to make it even easier by combining the starter culture with the rennet in one small packet (C20G).

With this and Jim's detailed instructions, what are you waiting for?
Meet Fellow Cheese Makers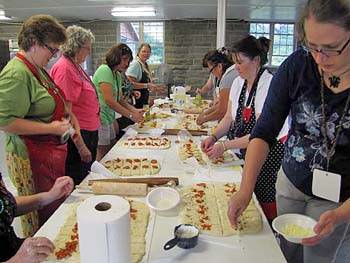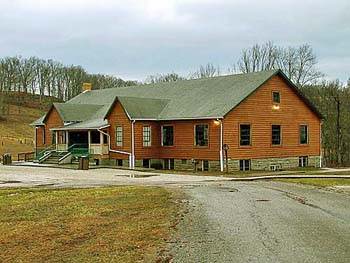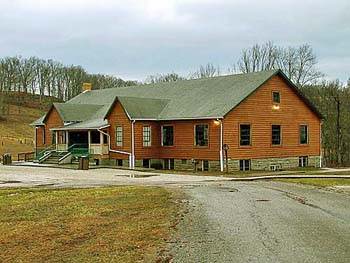 Suzanne's Biggest Challenge!
Teaching Mozzarella to 40 Excited Guests at Her 1st Annual Chickens in the Road Retreat
Well, you could say Suzanne did not actually meet our challenge this month by making a new cheese, but we gave her a pass because of the enormity of her undertaking!  
Not only did she teach a lot of people to make cheese, she also taught them workshops in a variety of other back-to-basics skills over a two day period. (The picture at right shows folks using their mozzarella to make pepperoni rolls in a bread making class.)
Suzanne held her retreat at Camp Sheppard in Roane Country, West Virginia. The picture at left shows the main building, but there are bunk houses and other lodges, as well.
The day after the retreat, Suzanne hosted a party at her farm- Stringtown Rising. So, it was a busy 3 days for the lucky participants, and judging from their comments at her forum, they loved it. (They always seem to refer to our 30 minute recipe as "Magical Mozzarella," which we think is very cute!)
Next month, after Suzanne has recovered from her latest challenge, she will be back to more "pressing" matters - making a new cheese ...
News From Fellow Cheese Makers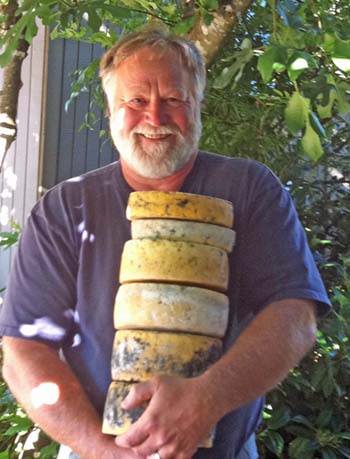 Wine Maker + Cheese Maker = Happy Man!
Hi there,
You would think making 40,000 cases of wine a year would satisfy my desire for making things, but I get great pleasure in making cheeses for friends and family in my spare time.
I got started when my daughters gave me your book for Christmas 15 years ago and have never looked back. Thanks for supporting all of us cheese makers around the country and helping to keep this beautiful food art alive.
Rudy Marchesi
Note: Rudy is the owner/winegrower of Montinore Estate in Forest Grove, Oregon. His orchard is a Demeter Certified Biodynamic Farm. This means his entire farm is certified organic, he sets aside 10% of his land for biodiversity, and his crops are grown with natural fertilizers from the land itself. 
He also teaches cheese making classes at Kookoolan Farms in Yamhill, Oregon. His classes are popular, as you might guess, so, for the rest of this year they are full. However, you can register now for his spring workshops.
---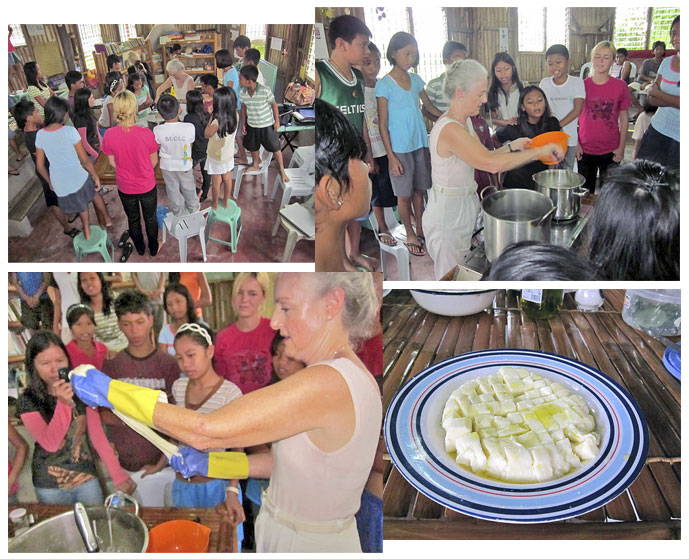 Making Mozzarella in the Philippines
Note: We did a blog article in June about Joanne Bulova who makes cheese in Jamaica (and sells it in Kingston at a shop called "Uncorked." She sent us this update:
... At the moment I am in the Philippines for 3 weeks visiting my son and daughter-in-law, who live here. I'm attaching some pictures of teaching cheese making to a group of Filipino kids at a Saturday program for rural children called the Bright Lights Community Learning Center. And the cheese we're making is Ricki's 30 minute mozzarella! We're using whey to stretch the cheese since microwaves are not available. The milk is fresh raw cow's milk.
The learning center is a voluntary Saturday program set up by an adventurous American woman (Diane Pool) who arrived here on her boat and decided to stay. It's run on the principles of the open classroom school: the children choose their activities, the older ones help the younger ones, and there are two staff members to provide guidance.
She (Diane) is hopeful that the children may be able to do the cheese making and actually market their product.
Joanna Bulova
---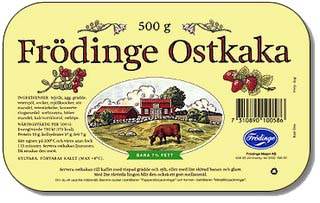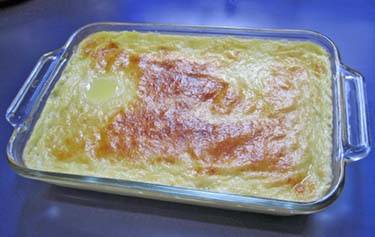 Swedish Curd Cake (Ostkaka)
I've been making several of your fresh cheeses and my friends and I love them!!!! I'm writing because every month you have some great recipes and I have my great grandmother's cookbook from 1934.
She was an immigrant from Sweden and this cookbook was put together by her church. (I can't even read some of the recipes because they're written in Swedish, but thought you might like this one.)
Heather Flavell
SWEDISH CURD CAKE (OSTKAKA)
2 qts. milk

1 rennet tablet

4 eggs

1/2 c. sugar

2 Tbs. flour

salt to taste

cardamom seed, crushed
Dissolve rennet tablet. Add to lukewarm milk. Allow to stand until the milk cuts and forms like cheese. Drain off water (whey). Add the beaten eggs, sugar, salt and cardamon seed. Add flour mixed in a little milk. Bake in a moderate oven.
The directions are a bit vague but since this is like a custard, it would bake until set about an 1-1.5 hours.
Hope you like it and thanks for all you do.
Note: We tried this recipe and it's delicious. However, it's important to cut and drain the curds, or the result will be too watery. We have another (slightly different) recipe for ostkaka in our RECIPE section (on the left hand nav bar of our home page). It's one of the "recipes submitted by our customers" 
---
Finally, a New Dairy in Town!
Hi there,
I live in Placerville, CA (northern California gold country). I am beyond thrilled to let you know that our county has opened up the its first dairy since the seventies! It's a small goat ranch called Jollity Farm.
A husband and wife run it, and they just recently completed all of the steps required to sell their cheese at the retail level in California! They are at our Saturday morning farmers' market each week, and their cheeses are to die for. The owners are the nicest people you could meet.
Thought I'd pass along a bit of cheese news to you.
Sander Thomas
---