Cheese Making Recipe of the Month
Why in the world do we sprinkle ashes on goat cheese? It doesn't sound very appetizing!
Some folks actually shy away from tasting a cheese when they find out there is ash on it. However, we can assure you that this ash is food-grade.
We use it with goat cheese for several reasons: (1) it lowers the acidity of the cheese and supports the growth of good molds (like p. Candidum used with Camembert) (2) it protects the surface of the cheese from unwanted molds, and 3) it enhances the taste of the final cheese.
Of course, for those of us who care about the way our cheese looks, the appearance of the black ash against the white cheese is simply gorgeous.
Jim's tutorial about using ash is a great opportunity for you to try a new technique. So, order your ash, get some goat's milk and we'll meet you at the corner of Smart and Sophisticated!
Meet a Fellow Cheese Maker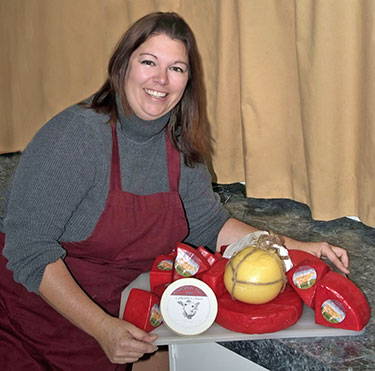 Tiffany Rich at WoodSpryte Farm
Dimondale, Michigan
Tiffany Rich has made an amazing variety of cheeses from her cow's milk, and recently she has added her own sheep's milk to the mix.
She and her husband, Mike at WoodSpryte Farm raise Finnish Landrace (FINNS) and they are currently getting about 1/2 gallon of milk per day from their ewes.
Tiffany taught herself to make cheese when she and her husband first decided to buy a cow.
She had taken a local cheese making workshop, but she still didn't understand the chemistry involved in the process of turning milk into cheese.
So, she did some research, learned the basics and now she loves sharing it with others by teaching her own workshops. She feels very strongly about the need for teaching:
I have found people are WANTING to connect, but are afraid to make the leap. Knowing there are others out there to help them thru, makes them really move forward and begin.
It's very exciting to see someone's expression when they see their first HOME products and to feel their excitement with them.
Too many are only interested in making money - what they don't understand is they will never be as rich as those of us that spend our time sharing our gifts with others.
The next generation is quickly coming, and we must teach them and share our PASSIONS.
Tiffany is certainly an inspiration to the lucky students who take her workshops! If you would like to meet her (and the sheep), come to Farm Dayz, October 20th from 10am - 4pm.
News From Fellow Cheese Makers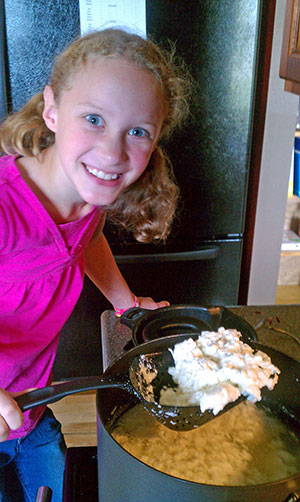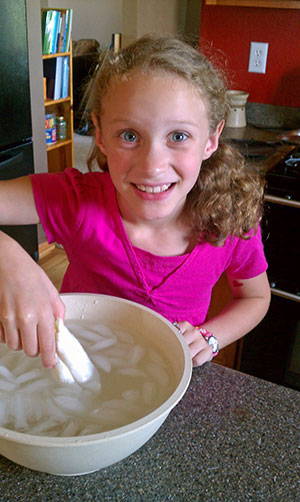 Home Schooling with Mozzarella
My husband and I and our three daughters (10, 8 and 5) are moving from Wisconsin (cheese capitol!) to Singapore (NOT cheese capitol).
I found your cheese making kit (30 Minute Mozzarella) online and **WOW**! My 8 year old and I just made some homemade mozzarella cheese.
It was inexpensive, by far the most delicious cheese we've ever had, a 30 minute chemistry lesson (we are homeschoolers) and LUNCH. What more can a mom ask for?
My daughter reminded me that we are invited to a friend's house this Saturday and we decided to make some mozzarella balls that we can give to them as a hostess gift along with some garden fresh tomatoes and basil. Who wouldn't want a gift like that?!
Attached are some pictures of Helena (my daughter, 7 1/2) making cheese (too cute not to share).
My husband asked "okay, but it this costing us an arm and a leg?" - ha! I reminded him that the 6 oz ball of crummy mozzarella he bought a few days ago cost $4.50. Our milk cost about $2 a gallon, the kit cost about $1 per pound of cheese that I make for a total of $3.00 for a POUND of cheese... and I know exactly what went into it (plus a 30 minute chemistry lesson).
Can't wait to tell all my homeschool moms about your site! We are always looking for "cool" things to do with our kids. Looking forward to purchasing more kits in the future. Got any suggestions on what the "next best" one for us would be? (They're all good!)
Brenda Chryst, Racine, Wisconsin
---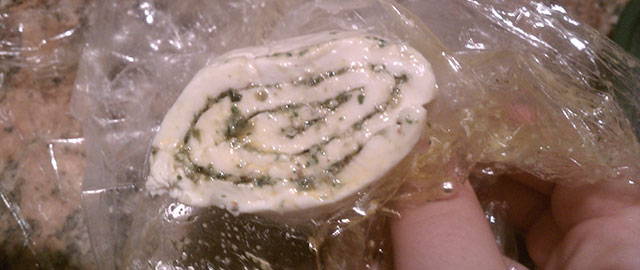 Thanks Ricki! My mom (Joanne, who is a chef) and I had a blast making mozzarella with the 30 Minute Kit. We made one regular and one rolled with tomato pesto!! They were soooo yummy!
Tess Lewin-Jacus, Lynbrook, New York
---

Another Take on Coffee Cheese, but with Goat's Milk This Month
(In the September Moosletter, we posted a recipe for Coffee Cheese, sent to us by Laplander - Anna-Lena Forsberg. Then, we received this interesting variation.
We haven't had a chance to try either one yet, but we're looking forward to it with great anticipation.)
Just this morning, I made leipäjuusto or juustalopeia (hoos-tah-lo-pee), which is what the Finnish cheese is called. The recipe is a bit different, but not much.
As a breakfast dish or dessert, it's traditionally served with Lingonberry jam. I use raw goat milk to make mine.
Juustoa (juustalopeia) Cheese
1 gallon raw milk
1 Tbsp corn starch
1 Tbsp sugar
1/2 tsp salt
1/8 tsp liquid rennet (I use slightly less for double strength rennet)

Heat milk to about 85F.
Mix dry ingredients together with 1/2 cup milk and stir into warmed milk.
Add rennet to 1/4 cup cool water, and stir thoroughly into warmed milk.
Cover and let set for about an hour until clean break.
Then cut into 1 inch curds (you don't have to be fussy, which is one reason I love this cheese), and pour off the whey.
Drain in colander lined with fine cheesecloth (butter muslin).
Either hang to drain or work the curds occasionally to get the whey out.
When most of the whey has been separated, press the curds into a cake pan and cook under the broiler until lightly browned, pouring off the whey occasionally.
Watch closely as it will brown quickly. If desired, flip and brown the other side as well.
Then bake at 400F for 15-20 minutes.
Serve with Lingonberry jam or other jelly. Can be frozen and reheated.
Joy Metcalf, Northport, Maine
(Note: After Joy sent us this recipe, she posted it at her blog- Crooked Shade Farm)
---

When the teacher becomes the student!
Cheese making at the Queens house has become a family affair. Ricki decided this month to have a cheese making class for the office staff and to have Jamie teach it while she participated.
Everyone had loads of fun and it was another fantastic learning experience all around. Of course, Ricki had to exhibit a great deal of patience at times because she was so eager to jump in and tell of her own cheese making adventures.
Patience prevailed and the complete 35 year history of New England Cheesemaking Supply Company became the hot topic at lunchtime. What a glorious day!
---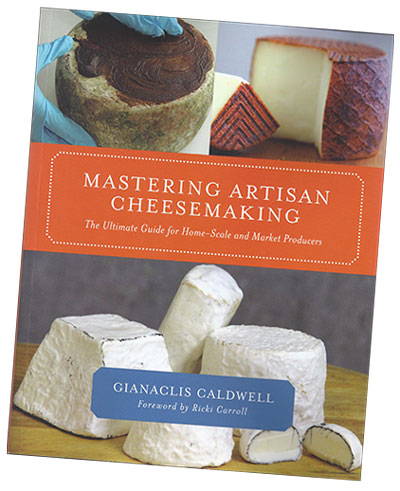 Mastering Artisan Cheesemaking
By Gianaclis Caldwell
(Forward by Ricki Carroll)
When does Gianaclis ever sleep?!! She raises goats, makes cheese, speaks at cheese conferences and she's written 2 fabulous books - Mastering Artisan Cheesemaking, The Ultimate Guide for Home-Scale and Market Producers.
We really don't know how she does it all, but we love this book because it really is "the ultimate," with everything you will ever need to know about making artisan cheese.
As our Cheese Queen says to Gianaclis in her foreward, "Thank you for opening new doors so we can collectively delve deeper into this magical, rewarding, ancient art of cheesemaking."
---
---