Cheese Making Recipe of the Month
Made with Live Cultures
You have probably made 30 Minute Mozzarella because it's so easy and fun. However, Mozzarella was traditionally made with either Mesophilic or Thermophilic cultures as the starter. When you make it this way, you can expect it to have more taste because the bacteria in the cultures produce flavor as they convert the lactose to lactic acid.
Jim gives instructions for using 3 different kinds of milk; vat pasteurized milk, higher temperature pasteurized milks (with which some folks are currently having problems) and raw milk. He also gives directions for changing the recipe so the cheese is either firm (for pizza) or soft (deli style).
Cheese Making Questions & Comments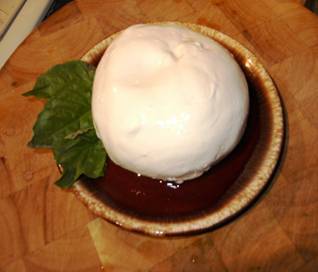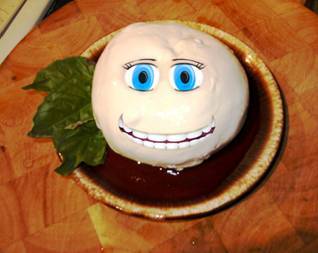 I looked around for cheese making supplies but could not find a source locally. Being snowed in this winter for days at time I needed something creative to occupy my spare time. A friend of mine decided to make sausages so I thought why not learn to make cheese.
Your kit 30 Minute Mozzarella had everything to get started with easy directions; I was a little unsure of how it was coming out during the process but I just gave the mix a little more time to curd (as was stated in your directions).
I was so happy with the results I had to let people know of the accomplishment:
I sent a picture to my sister and she had to throw her 2 cents in (we go back and forth with recipes).
Charles Tucci
---
My wife got me two cheese making kits for my birthday, they arrived the end of January and we are having a blast. Thanks for making cheese making easy. Shhhhh neighbors think I'm a genius..and a real culinary talent.......lets not spoil it for them......
Brian Markowitz
---
Being a cheese lover, but now on a restricted diet as a neuroendocrine cancer patient (with multiple intestinal resections and no gall bladder anymore), I am happy to report that the "fromage blanc" culture works just fine using lactose free "milk" as well. It turned out about like regular cream cheese, but without the lactose of course, which some of us can't tolerate.
Jeff Drifmeyer
---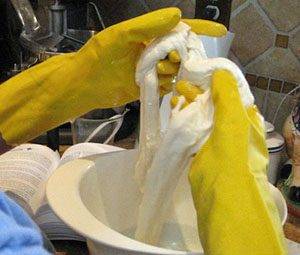 My wife gave me a cheese making kit a few years ago, along with your larger book, and I've been making cheese almost every week since. We get a gallon of raw Jersey milk from friends nearby. Not knowing any better, I've made both the recipe for 30 minute mozzarella as well as ricotta from the whey. I imagine you have to be careful writing about raw milk but I am writing just to say that it can be done.
I add 1&1/2 teaspoons of citric acid to the milk, heat it to 90F, add 1/4 tablet of your rennet, cut the curds around 6 minutes later this time of year, (longer some other times) and gradually heat the curds to 135F using an old microwave which isn't as powerful as the modern ones.
I add 1&1/2 teaspoons of kosher salt after a couple of 1&1/2 minute runs in the microwave and keep adding the whey to the ricotta pot. It is quite white toward the end. I work the mozzarella and stretch it into two layered balls before putting them in ice water. The ricotta pot gets up close to 200F, I add 1/8 cup apple cider vinegar and carefully ladle it through your cheese cloth. I get close to a cup of wonderful ricotta.
Herb Ferris, Windsor, Vermont
---
I recently visited all my local dairies and all of them declined to sell raw milk. I do get raw goats milk but I need raw cow and sheep milk. It seems Arizona requires you to hold shares in a cow since it seems to be illegal to sell raw cow's milk.
Paula A Crinklaw, Apache Junction, AZ
Reply to Moosletter@cheesemaking.com
---
Let's Make Cheese with Suzanne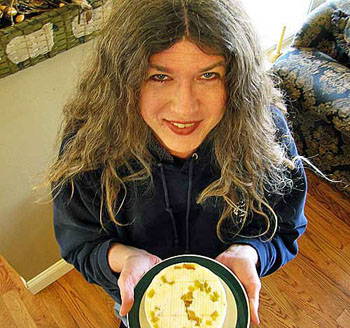 Where's the challenge this month? Queso Fresco is rediculously easy to make. It doesn't even get aged. Do we win this month? Has she broken her perfect record?

Well, before we accuse Suzanne of taking the easy way out, we have to admit that we love this cheese and it is the most popular cheese in South America. It can be used in almost anything. So, we'll probably give her credit for this one. What do you think?
Cheese Makers Tools and Tips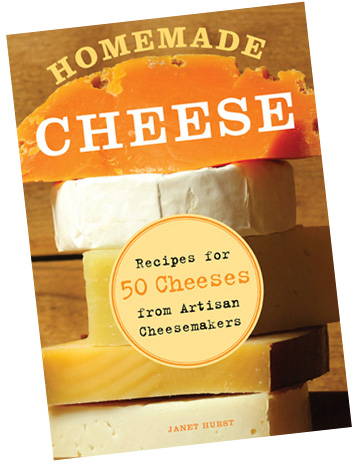 Homemade Cheese: Recipes for 50 Cheeses from Artisan Cheesemakers
We have always had a large collection of cheese making books, but lately we've been expanding our library significantly. We think this new book by Janet Hurst (2011) is special because she features recipes contributed by successful, professional cheesemakers.  

You may already have a cheese making book or two on your shelf, but how many is enough? This one has lots of interesting reading about well-known cheesemakers along with the recipes. So, it's a good read for a cold winter day and a reference book, as well.  
---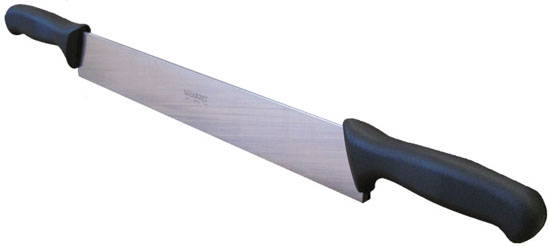 Double Handle Cheese Knife
This is the knife you need for those fabulous cheeses you aged (with or without wax). We think it will also look great hanging on your kitchen wall. (In other words, you will impress your friends with this one!)
---