Cheese Making Recipe of the Month
Gouda - A Cheese from the North Country

The distinguishing characteristic of Gouda cheese is that it is a relatively sweet cheese. This is accomplished by removing some of the milk sugars early in the process to keep excess acid from being produced by the bacteria culture. Shortly after the milk has formed a curd and cut, about 1/3 of the whey is removed and replaced with hot water to heat the curd.
The reason for this goes back to the days of the wooden vats in which the cheese was made. These vats could not be heated, so hot water was added to increase the temperature of the curds and release more whey from the curds.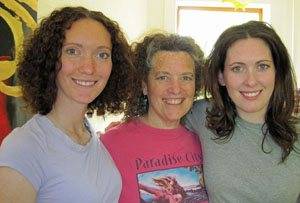 I have to be honest here and admit to the whole world that I, myself, am not on Facebook. The truth is that I didn't even know about Facebook until my daughters showed it to me recently. Up here in the hills of Ashfield, I live an easy-going, low-tech lifestyle.
Last month, however, my daughters- Sarah (on the left) and Jenny (on the right) decided to prove to me how great it could be by going ahead and putting the business on Facebook.   I saw how much fun it is and now they are completely in charge.   I still don't completely understand how it works, so I asked my daughters to explain the process:
How can folks sign up?
If anyone would like to sign up, just visit The New England Cheesemaking Supply Company page on Facebook and press our "like" button to become a fan. You will then get connected and begin receiving live feed from our page which includes two weekly blog entries along with many cheesy links, stories, photos and adventures.
Can anyone contribute?
We love hearing from all of our fans. When there's a new post it will go directly onto our wall and can make for some great conversations. If you have any photos or videos to share, those can be added to Facebook as well. We really do love seeing new posts and getting to know our cheese makers just a little bit more. Happy cheesemaking to all!
---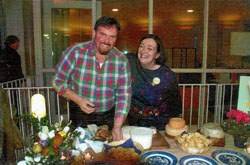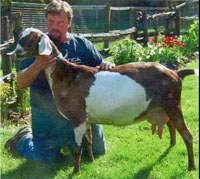 The Farmstead at Mine Brook

Home to Goat Rising & Jersey Maid Cheese
Award winning cheesemaker, John Miller shared with us his pride at being given the honor of supplying the 6th (cheese) course at the prestigious WGBY Gourmet Wine Lovers Dinner at the Marriot in Springfield, MA.
It was a very exciting evening! There were 250 diners and each one had 14 wine glasses arranged around his/her plate. By the time John's course was served, the room was getting quite noisy. However, when John stood up and talked about his farm, you could hear a pin drop in the room. Folks were fascinated by his account of making cheese.
Before the dinner, John and the chef arranged his cheese on platters for each of the 30 tables. John had chosen 3 of his cheeses for the event:
Jersey Maid Reblochon- said to be the finest domestic Reblochon- rich and buttery with a long deep note of roasted grain on the finish.
Jersey Maid Neige en Ete, "Snow in Summer"- a mold-ripened triple cream that was the Gold Medal winner in the 2008 World's Jersey Cheese Competition.
Goat Rising Maroilles- a luscious chevre combined with a special mix of herbs, including dill, jalapeno and lemon zest.
We'll soon be doing an interview with John and a tour of his farm for our blog. His cheese is sold at many retail outlets in the area, at his farm store and at his website.
Contact him at: (413) 339-8500 or info@goatrising.com.
---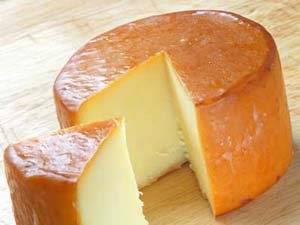 I'm looking for information about making smoked cheese. I have found LOTS of information about the smoking process, and available smokers, but I can't find information about what types of cheese are best smoked and WHEN do you smoke them? Do I wait until it has aged some? If the cheese is ordinarily waxed, can I wax it after I smoke it? Any information that your other cheese makers could share (recipes page) would be great!

Jamie
---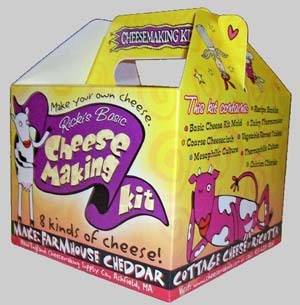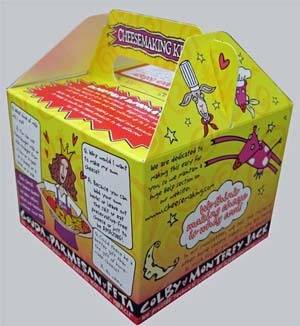 Basic Cheese Making Kit (K1) is Boxed!

We have been meaning to do this for years and now, we finally have! So, if you have already given your friends or family the Mozzarella Kit, here's your next gift! It has the ingredients to make 8 cheeses: Farmhouse Cheddar, Cottage Cheese, Ricotta, Gouda, Parmesan, Feta, Colby and Monterey Jack.
---