Cheese Making Recipe of the Month
Canestrato - Italian Basket Cheese
Jim loves this cheese and his enthusiasm for it translates into a lot of history and a highly detailed recipe. Last year, he went to Sicily where he tasted this cheese and tracked it's origin. His detailed recipe includes directions for making it with either 2 or 6 gallons of milk.
Meet a Fellow Cheese Maker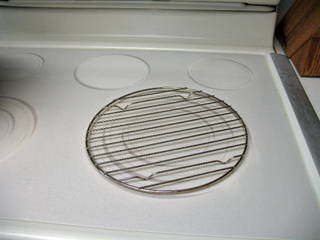 Conserving Water in the Desert
Hi,
I live in the desert where water is precious so when I make cheddar and am raising the temp slowly I feel very guilty about the gallons of water I needed to use. Here is what I came up with. I found the round cake cooler at a yard sale, it fits right under my pot. I can turn on the stove and this makes the pot far enough away from the element that it will heat the curds, but not too much.
Tara Tarbet in Utah
---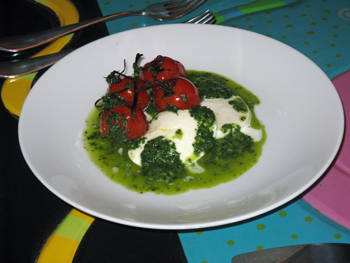 I don't know if you share recipes with people of what to do with their cheese (seems like a cool idea). I made something last night I thought was so fantastic and completely simple ... Sliced fresh mozzarella with roasted small tomatoes on vine, drizzled with basil olive oil (I blanched the basil) ... Thought you might be interested. Love your cheese kits!    
-Kathi
Later, she wrote; Please feel free to use the photo in the Moosletter, I'd be very flattered. Such an easy idea, I roasted the small tomatoes on the vine at 400 for 15 minutes or so, until they got nice dark spots, and made the basil oil by blanching a bunch of basil and pureeing it in olive oil ... The blanching step isn't necessary, but it really helps the color a lot!
---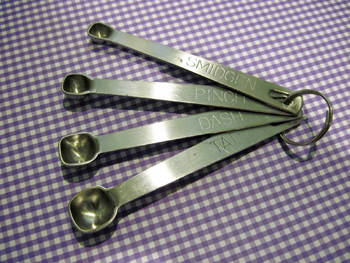 Iddy Biddy Little Measuring Spoons!
Ricki's daughter, Sarah- the Cheese Princess found these spoons for us and we really don't know how we did without them! They are stainless steel and these are the measurements:
Tad: 1/4 tsp
Dash: 1/8 tsp
Pinch: 1/16 tsp
Smidgen: 1/32 tsp
---