Cheese Making Questions & Answers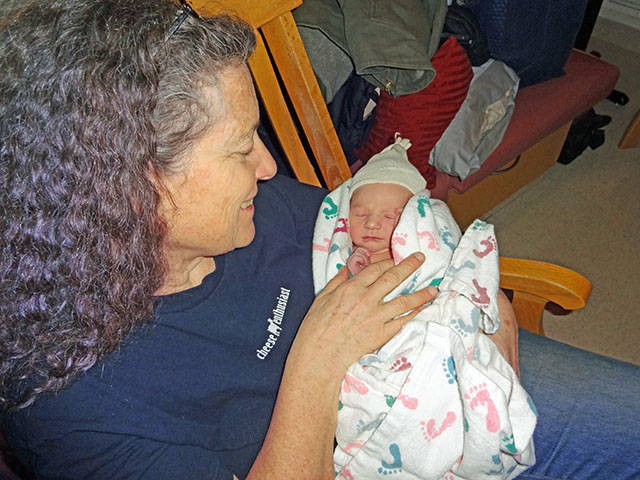 Cheese Queen with royal grandchild, Jocelyn
Before we continue with this special issue, we are thrilled to share with you the arrival of our Cheese Queen's first grandchild - Jocelyn. She weighed in at 8 pounds 2 ounces and 20" from her head to her tiny little toes.
Sarah (the proud mother) has a regular column in this Moosletter called "Sarah's Specials." So, in the January 1st issue she'll tell you more about her (and Mark's) very special baby.
---
In case you missed our October issue, we launched our 35th Anniversary Essay Contest. We were excited about it, but we never dreamed we would get 35 entries! They were all 500 words or less about how making cheese changed their lives. The grand prize was a Cheese Press (E28).
Thanks From Ricki:
Thank you everyone for sending us your essays. While reading these I cried, laughed out loud and felt connected with awe and wonder. I am truly humbled at seeing just how far the reach of human kindness goes. I wish I could have given everyone a first place prize, because every one of these essays is a winner in my mind and it was incredibly difficult to choose just one.
There were so many stories I could identify with; the first goats, lots of milk, community sharing, family, excitement and trepidation, all ages experiencing the magic and the fascination of this art. There are stories of love and of necessity, stories of getting back to our roots, stories from the corporate world to the farmer, stories of returning to the traditional ways of our ancestors. I am humbled by the breadth of experiences and I want to honor the threads holding us all together by this art and science called cheese making.
Through all of these essays there was one that stood out for me and the rest of my staff here at New England Cheesemaking Supply Company. It was written by Taylor Luttrell-Williams, a 14 year old living in Texas. Taylor talks of community, Farmer's Markets, workshops, common threads and giving back to his town. He also speaks about learning; history, geography, science and biology, perseverance and preservation.
My hat is off to Taylor in his exploration of life, his maturity and his sense of the world around him. So, to Taylor we will be sending a new cheese press and I give him a large shout out for taking the time to teach and to learn, to give and to receive and the courage to share it with us. Thank you Taylor.
Again, I want to say a huge THANK YOU to everyone. You took the time and effort to write these amazing stories and for this I am so grateful. I want you to know they were all read with respect and admiration. You are all so magnificent, THANK YOU, THANK YOU, THANK YOU!!!!!
With Love and Peace,
Ricki, aka: the Cheese Queen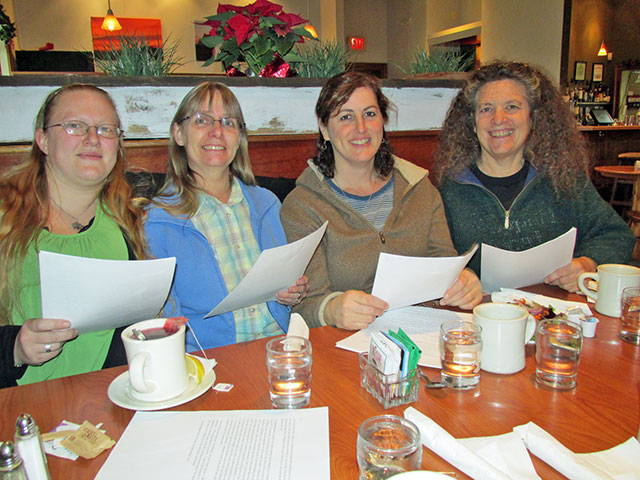 Judges - April, Kathy, Angie, Ricki
Our Team of Judges:
You may have spoken on the phone to any of these judges because they all do a little of everything- shipping, taking orders, and responding to e-mails. They are all extremely conscientious so it was important to them to do a good job with their formidable task.
The judging actually took them quite a bit of time. On the much anticipated day, after they had read and scored all the essays, Ricki suggested they adjourn to a nearby restaurant for lunch. There, the judges tallied the points and chose their winner. After further discussion, they were unanimous in their decision.
The judges want all the participants to know that it was an honor to read each of their entries and they are looking forward to learning more about their lives in future blog articles.
---
35th Anniversary Essay Winner