Cheese Making Recipe of the Month
During the past few years, there has been a resurgence of interest by home beer brewers in making their own cheese. That's why many home brewing websites now have cheese making sections.
Naturally, do-it-yourselfers want to merge their beer with their cheese, and so, this is also becoming more and more popular. One way of doing this involves washing the cheese with beer during the aging process.
Another technique - the one Jim describes in this recipe, involves adding beer to the curds before salting and molding. The result is a cheese with the distinct taste of beer. When made with a dark stout, the beer keeps it's color and the cheese has a beautifully marbled appearance (as seen in the Cahill's Irish Porter Cheddar shown above).
News From Fellow Cheese Makers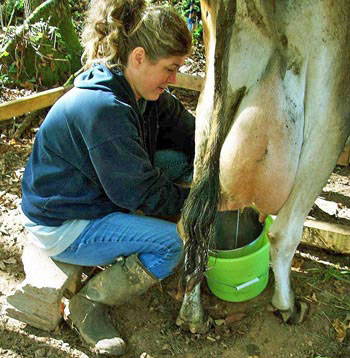 Suzanne McMinn Challenged Herself This Time and Won!
Many of you remember the "Cheese Challenge" we started in 2010 with Suzanne McMinn, creator of one of the most successful blogs ever - Chickens in the Road. Suzanne made a different cheese every month for a year with milk from her beloved cow, Glory Bee.
When we first met her, via e-mail, Suzanne was ready to learn cheese making. She had been a romance novelist in her forties who decided to move her 3 children to rural West Virginia, where she had "roots." She had always wanted to live in a place where there were chickens in the road.
She ended up building a farm with her romantic interest, "52" (named by Suzanne because that was his age when they met). Her blog about her life on this farm became wildly popular, as she shared her experiences milking her cow, making cheese and learning a hundred other skills for self-sufficient living.
Unfortunately, while her blog became more and more successful, her romance fizzled.
But, Suzanne went right on accepting challenges in her life - she wrote a fascinating book about all this and it was just released in October by HarperCollins - Chickens in the Road-An Adventure in Ordinary Splendor.
We were already fans of her website, and we felt like we knew her, but we didn't really know Suzanne until we read her book. The whole time she was writing monthly "challenge" articles about making cheese, she was trying to meet a larger challenge - to keep her relationship with 52.
What happened? Well, she still doesn't quite know and we don't completely understand it either. The road to their farm had chickens it it, but it was a very rocky road indeed ...
---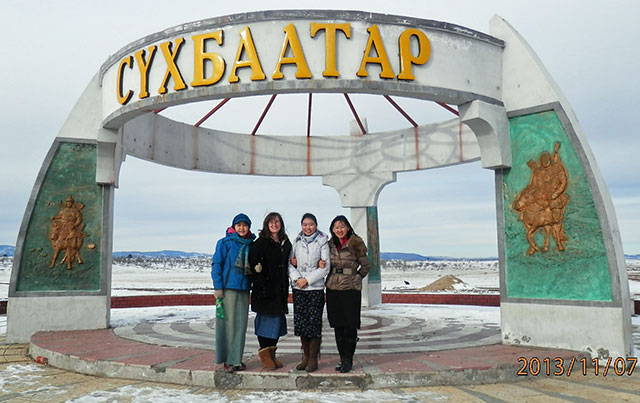 Becky with friends, Eebee, Lkhamaa, and Boloroo
Wanted to tell you that I read your cheese making book and another friend here and I got together and made a batch of cheese a couple of weeks ago. (She's done it lots of times, but it was my first!) She had your C101 (mesophilic culture), so through her I learned that I'd need that, so proceeded to order from you.
Lots of talk (I'm a gabber!), but the gist is that I'm really excited about trying out making cheese with Mongolian milk!
It's lag time on milk right now, the animals are drying up for the winter mostly, but those that give extra feed are able to supply small stores with milk (I mean REAL milk, too - fresh from the cow - it's from that day's or the night before's milking).
We have a great opportunity over here to do some fresh cheese! I am determined that I am going to learn to do mozzarella - I'm a novice, but when next spring rolls around and the milk becomes abundant (and half the price of now), I'll be experimenting! Mozzarella cheese is very limited in availability here. I'm very excited about the chance to make some cheese for my family that we will all enjoy. I'll be saving money, and I get to use amazing fresh Mongolian milk!
Thought you might get a kick about your products reaching to this neck of the woods:).
Becky Muller, Ulaanbaatar, Mongolia
Becky's family has lived there since 2000 with her husband, Jason, and their 5 children - 4 girls and 1 boy.
PRESSES - Whatever Works!
Note: We sell presses, of course, but we love to hear from folks with their own ideas. This month we happened to get two notes from customers with very different approaches ...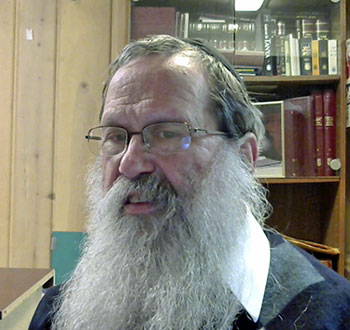 Joseph's interesting solution
A Very Simple Solution...
I am attaching a picture of my cheese press.
I use weights for weight lifting - 1 1/4, 2 1/2, 5 & 10 pounders to make combinations for the weight I need at the various stages of pressing.
Problem - They slip and fall off the tomme mold.
-
Solution - I put the press in a narrow stock pot that I use to cook the milk. The walls of the pot hold the weights from slipping off.
I was still worried that the top weights, which are higher than the pot walls, might slip off, so, I put an 8" sheet metal duct that fits snugly in the pot. I leave the seam open to make it fit the diameter of the pot and to be easier to handle the weights at the open side.
I can cut the length/height of the duct, as I'm not going to stack the weights that high. ( It's on the to-do list.) The weights can't go anywhere and the price is easy on the wallet. I thought I'd share.
Joseph Grossbaum, St. Paul, Minnesota
---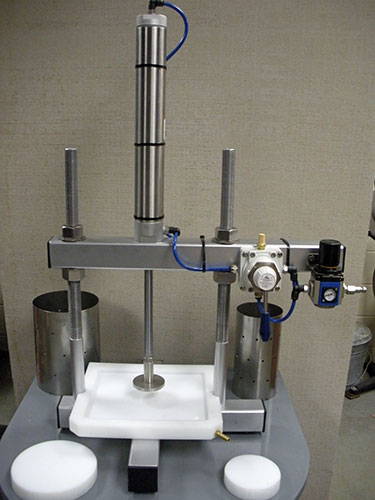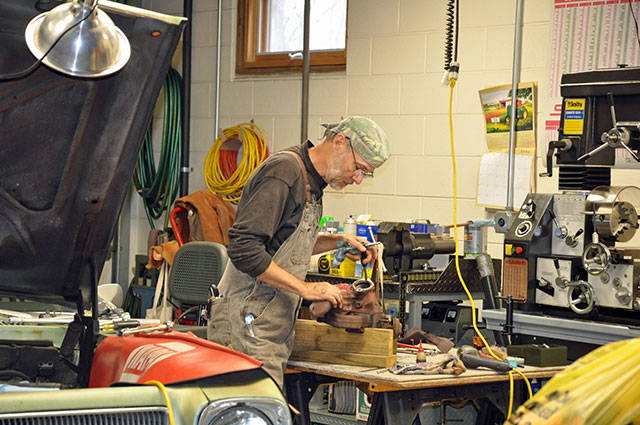 Fred in his natural environment.
A Not So Simple Solution...
Hello.. a few weeks ago you gave me some information about pressing weights vs mold diameter. Well I finished my press and thought that you might want to see my design - a techie's answer to cheese pressing.
As a life long "techie" I was not happy with those "wooden contraptions" used to press cheese. I applied some of the best commercial press ideas into my own design.
Basically, using compressed air (or Nitrogen) to power the press, you can then adjust the regulator and frame for any cheese pressing requirement. Using the multiplication factor of the cylinder for an input of 125PSI will deliver almost 400PSI to the mold/hoop, or whatever the pressure requirement for the cheese.
Down side is you need to have a metal lathe and a welder to make this ...
Fred Usack, Carter County, Tennessee
Note: If you don't think you can make a press like Fred's, we sell those "wooden contraptions!"
News From Fellow Cheese Makers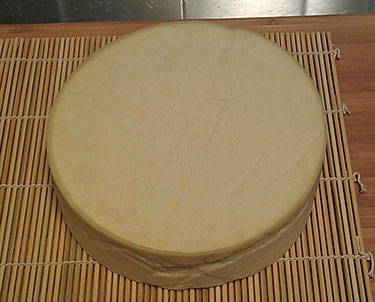 George's farmhouse cheddar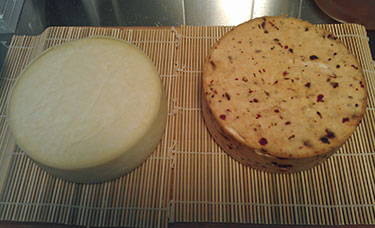 George's cheddar and pepper variation
Attached (at right) is a picture of the first batch of cheddar cheese I made using the farmhouse cheddar recipe in your book Home Cheese Making.
I had a little challenge getting it to curd as I think my thermometer was off and it was not warm enough.
However, I decided to follow through the process anyway. I'll know in a month or so how it worked!
In the additional picture (below), the cheese on the left is another farmhouse cheddar. The one in the right is also using the farmhouse cheddar recipe which I modified based on the pepper variation for the stirred curd cheddar.
By the way, my first batch of cheese was your un-cooked curd cream cheese (also in Home Cheese Making). It presented a little bit of a challenge to find the 1/2 and 1/2 that was not ultra-pasteurized.
However, I discovered that the house brand at Whole Foods, 365 Everyday Value, is specified as HTST pasteurized (high temperature, short time) and made delicious cream cheese.
I could not believe how simple it was. It also then made amazing cheesecake!
George Murphy, West Hartford, Connecticut
---