Cheese Making Recipe of the Month
Most of us are not currently living in Rome, but now we all have a great way to celebrate the Italian culture with this wonderful cheese.  

Jim's wrote his recipe for the version of Romano we are most familiar with in the US - Vacchino Romano, made with cow's milk. Other kinds include Pecorino Romano (sheep's milk) and Caprino Romano (made with goat's milk).

Jim loves all the Italian cheeses and he has been going to the Slow Food Cheese Festival in Bra, Italy for many years. So, he's become quite an expert at making these cheeses and there's a lot (to say the least!) to be learned from his recipes.

He has included some important information on the addition of lipase to the milk (see our blog article - About Lipase). He feels that although, in general, it is over used by many home cheese makers, for this cheese it is VERY appropriate.  
Meet a Fellow Cheese Maker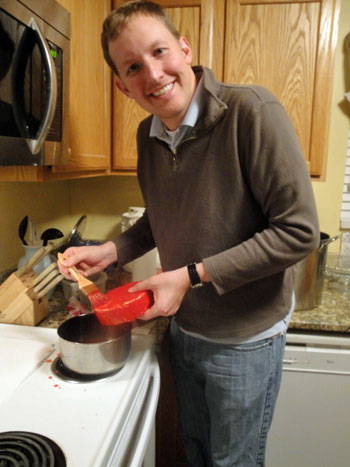 Dannon Nicholes in Hebron, Kentucky
There must be a rule that all male cheese makers are handsome and nice! Doesn't it seem that way?

Dannon Nicholes is a father of two whose wife suggested he get a hobby less than a year ago. So, he took a cheese making class at a local library and started making cheese.  

Wives are always right, of course, and Dannon took to cheese making like a duck to water. He started with our Mozzarella Kit in July, 2011, and since then, he's made a wide variety of fabulous cheeses. (Check out his blog - Dannon's Big Cheese)

Even his first Parmesan was a smashing success (although the truth is he ate it 2 months before it was finished aging!). Eating the cheese is the best part of this particular hobby, don't you think?
---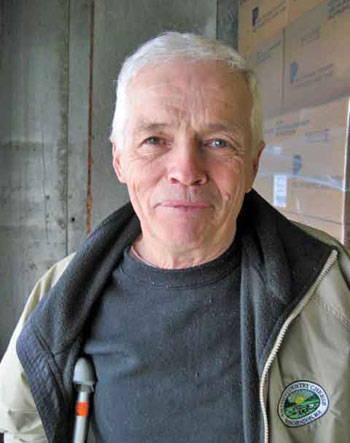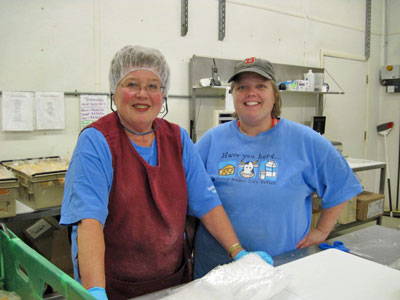 At Smith's Country Cheese in Winchendon, Massachusetts
Ricki and Dave Smith have been friends for at least 27 years - since the first meetings of the American Cheese Society. Dave (at right) still marvels at what a motley crew they all were back then.
He remembers those meetings as "Ma and Pa Clampett Go to the City." The valets didn't even know how to drive his old pickup at the conference center in Boston!)
During those early years, Dave and his wife grew their dairy business to the point where now their cows produce over 5 million pounds of milk per year! (That's Carol at left with their daughter, Jennifer.)
Then, last October, tragedy struck when Dave was run over by a loader. He was in a coma for 1 1/2 weeks with a crushed leg and internal damage.
Just a day after Dave's accident, their cheese maker's husband died in a car accident.
Dave is now able to walk with the help of a crutch, but it will be awhile before he can do farm work again. Making cheese is labor intensive and it appears that Dave's intensive laboring days are over.
However, the business is thriving and Dave wants to see that continue.  
He would like to help an experienced cheese maker with an entrepreneurial spirit (or a couple) ease their way into running and eventually owning the business.
News From Fellow Cheese Makers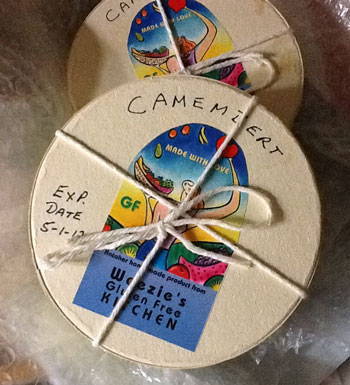 Solution for Aging Her Camembert in Florida
Regarding my Camemberts:  I've found that a week after the white mold has formed, I move the cheese to the deli locker of my main fridge for 2-3 weeks and the cheese comes out perfect.

No more weird stinky molds, slip skin or failure. Just perfectly delicious and perfectly ripened. Not too hard, not too soft, but just right.

I've only done it on the last 2 batches. I'm learning as I go. I was afraid it might be too cold in there, but obviously it's not.
 
I took temperature readings in every compartment of my fridge and the deli locker was the closest to "ideal" as I could get. It slowed down the aging which was what I was trying to do. I'm really happy it worked out so well.
Louise M Dutton, Fort Lauderdale, Florida
---
I am so excited about making GOOD cheese. When I was a kid one of my friend's moms (they were Italian) taught me to make ricotta.  

Later in life, I became friends with Paula Lambert (cheese maker in Texas) and shipped her cheeses to Hawaii for my restaurant.  

Now, I am all about the source - growing my own - from lettuce to hens for eggs. I just hope I don't have to go into ranching, though I'm from Texas - I think that might be a bit much!

My question is - Where do I find a good source for cow's and goat's milk on the Big Island? I live in Kona and love cheese, and want to buy a kit and ingredients from you, but realize I have to begin with the main ingredients.
Amy E. Ferguson, Kailua Kona, Hawaii  
(Note: If you know any sources, please send them to us at info@cheesemaking.com so we can add them to our Good Milk List.)
---