Cheese Making Recipe of the Month
April is Grilled Cheese Month, so what could be more appropriate than mild, semi-soft, meltable Brick cheese?
Jim did his research and he has given us an authentic recipe from the late 1800's when this cheese was developed.
At that time, it was pressed into brick-shaped molds and then, it was washed in a salt brine to encourage the growth of reddish bacteria (b. linens) on the surface. When it was young, it was mild and as it aged, it acquired a remarkably pungent taste.
Monthly "Fun Day" for the Royal Staff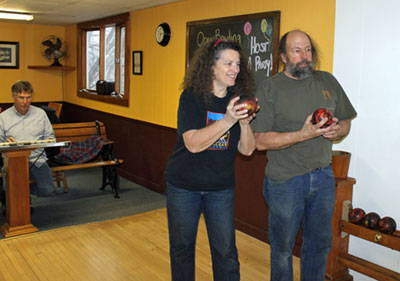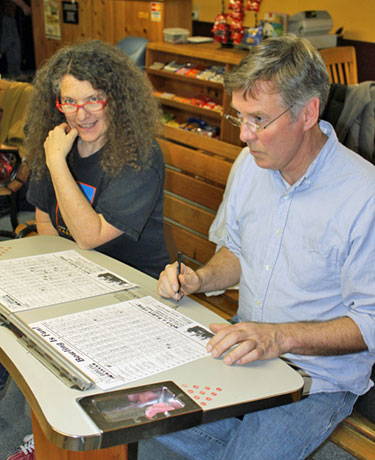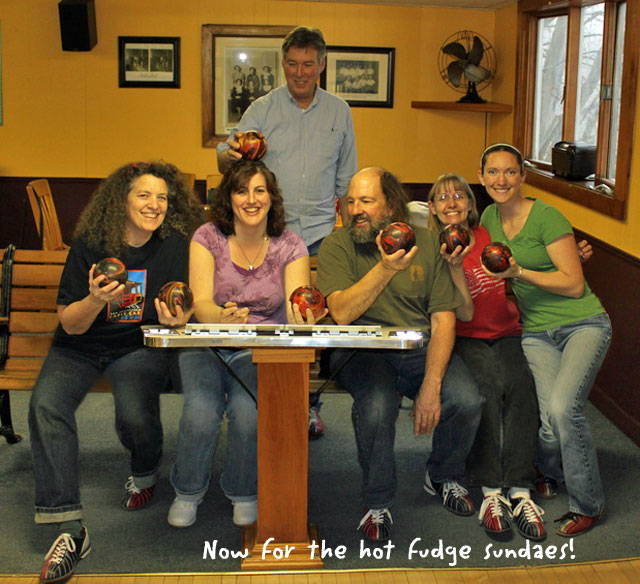 It all started when Ricki (the Cheese Queen) asked Kathy Conley, longtime royal staff member to plan a fun day for the holidays. She did such a great job with it that Ricki decided to crown her the official office "cheermeister."
Thus, it became known throughout the land of New England Cheesemaking, that if one of the staff was feeling sad, Kathy would grab her Joyful Happy Stick and run around singing a happy song, thereby restoring happiness to the land.
Along with the position of office "cheermeister" came the duties of planning a monthly outing. For the first one, Kathy scheduled lunch at a local cafe. For the second outing, she arranged an afternoon of bowling in Shelburne Falls, MA.
The stakes were high, of course, and the pressure was intense, but order was maintained and there were very few skirmishes. The scores actually varied quite a bit from game to game so almost everyone had a chance to win.
After the strenuous physical activity, the staff rewarded themselves with hot fudge sundaes and Kathy began planning the next outing. It's rumored that a hot air balloon might be involved (but don't tell the Queen)!
---
Meet a Fellow Cheese Maker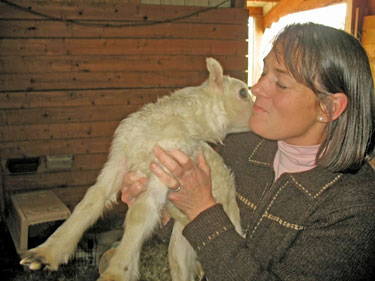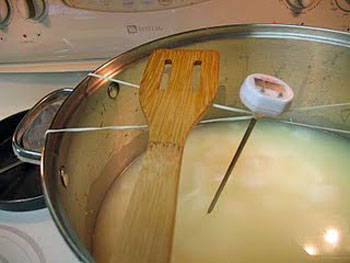 Gouda with Tara Tarbet from Highland, Utah
Tara Tarbet is a very busy lady; she has 4 grown children, one of whom she is still home schooling, she raises goats, chickens, ducks, rabbits, sheep and llamas, she teaches guitar and leads a blue-grass band of 9 teenagers, she is the choir director at her local congregation, she quilts, spins and knits, she makes cheese (of course) and she just got elected as a county delegate to her state caucus!
Keep your eye on Tara because we think she might be running for President someday. She definitely has our votes!
She shares information about all her activities at her wonderful blog- Welcome Home Farm. This includes a lot of good tips for cheese makers, including the one shown at left.
She also uses some interesting equipment to make her cheese, such as a Wonder Box to keep her yogurt warm and her new semi-automatic Master Cheese Maker  which controls the temperature of the curds as they set.
News From Fellow Cheese Makers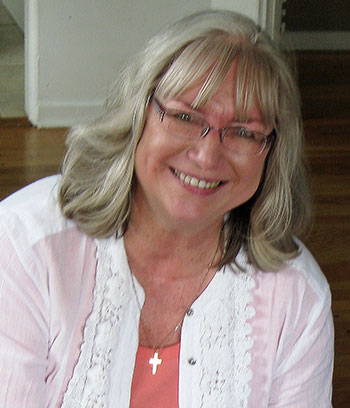 I just had to share this with you: I am a brand new "cheese maker." A couple of weeks ago, I attended a class at the Longmont Senior Center and Kate Johnson (the instructor) from Briargate Farm I believe, recommended your website and your book Home Cheese Making.
I was so taken with how good her homemade cheese tasted that I went home and placed an order with you, plus bought your book. Now comes the fun part!
I made ricotta cheese as my first "easy to make" cheese - to be honest, I expected to fail miserably! - and was so delighted when it turned out perfectly!!!
I was so proud that I took pictures throughout the whole process and posted them to my Facebook page (and I should add here that I'm almost 65 years old!) for friends and family to see.
Then I decided to make the fromage blanc and I added crushed organic culinary lavender and local honey and it was success #2!!! (The only thing is I didn't get as many curds as I expected - I'm going back for cheese making class #2 this Friday and will ask what I did wrong).
My reason for emailing you is to let you know that (1) you have a confirmed customer with me - I'll soon be placing another order and (2) I LOVE CHEESE MAKING!!! Thank you for your site and also for your book - I'm still in the middle of reading it and already know it's an invaluable resource!
Donna Hoff, Longmont, Colorado
---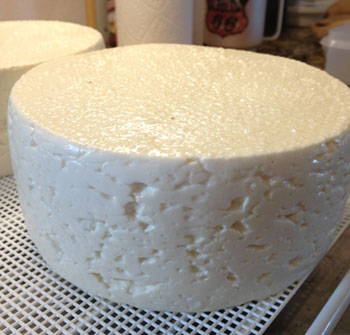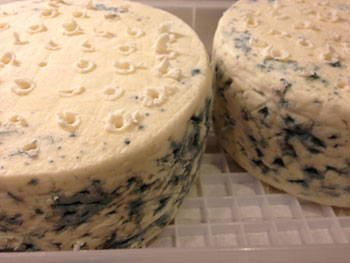 Non-homogenized milk rules!
I saw your site several years ago and have been making cheese ever since. But, not until this December when I came to find Kilgus Farmstead non-homogenized milk, did my cheese become really cheese. A noticeable difference. I had been using powdered milk with cream, a costly way to make cheese.
Kilgus is in northern Illinois and delivers milk to a local farmer in Trenton Il who makes creamline yogurt within 48 hours from the time the cows are milked Windcrest Dairy. Both the milk from Kilgus and the yogurt from Windcrest Dairy (both sold at Windcrest Dairy) have been a great find.
Will send pictures of some of my other cheeses but right now I'm working on the Gorgonzola Picante. (shown here before and after adding blue mold).
Thanks for your site. I enjoy reading it all and trying the recipes.
Jodie Simoneaux, Swansea, Illinois
---
Lesson learned, but no harm done ...
Re: Making 30 Minute Mozzarella:
I think when you see milk where the cream rises to the top, it's always a good sign. I did learn something else, though. When one stupidly overlooks the instruction of when to add the citric acid, no curds form!
However, I gave it a try anyway and added the citric acid to the heated milk which already had the rennet in it. It didn't curd "properly" like a custard but it did, after 10-12 minutes, form enough of a curd (similar to cottage cheese) to work with.
I wound up making little balls. It worked well enough to make some tasty cheese. Maybe not as pretty or nicely textured as it should have been, but it was yummy. I added some herbs de Provence to some and some dried dill weed to some others. I'd just like to let people know that if one screws up like I did, you don't have to waste the milk, you can still make some tasty cheese!
Alyssa Hillger, Columbus, OH
---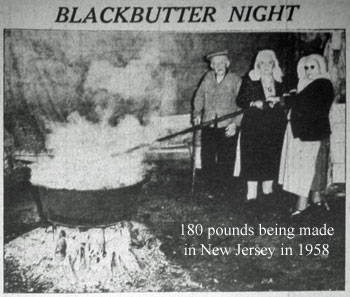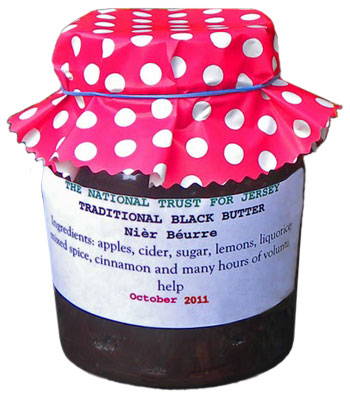 Traditional recipe for "Black Butter"
In addition to making cheeses, butter, etc. (thanks to you) I also make my own cider and perry from apple and pear trees in my yard. Don't know if anyone would be interested in this recipe for Black Butter from clarified butter but on the off chance, here it is.
(One thing - the color "black" in use in the recipe and early history, to my understanding, referred to any dark color and generally my black butter comes out a dark brown, depending on the apples and cider used. So would not like to have folks thinking something wrong if its not black.)
Black Butter:
Sent by John H. Fockler, Waterford, MI
A traditional delicacy of the Jersey island, this jammy conserve is made from apples cooked down with apple cider, brown sugar and spices. There are recipes date back to the 1400s.
It can be served as a spread on bread or as a preserve to go with cold meats (traditional) or as a cool additive to an Indian curry (non traditional!)
Ingredients:
4 lbs apples (cider apples)
2 pints sweet apple cider
1 lb brown sugar
1 teaspoon clove (ground)
2 teaspoons cinnamon (ground)
1/4 teaspoon allspice
clarified butter
Directions:
Peel and core the apples. Meanwhile, boil sweet cider until it reduces by half. Put the apples, chopped small, into the cider. Cook slowly, stirring frequently, until the fruit is tender, as you can crush beneath the back of a spoon.
Then, work the apple through a sieve, and return to the pan adding sugar and spices. Cook over low fire for about 3-4 hours, stirring until mixture thickens and turns a rich brown.
Pour the butter into into small clean jars, and cover with clarified butter when cold. Seal and keep for three months before using. By this time the butter will have turned almost black, and have a most delicious flavor. Of course, spiced to your taste.
---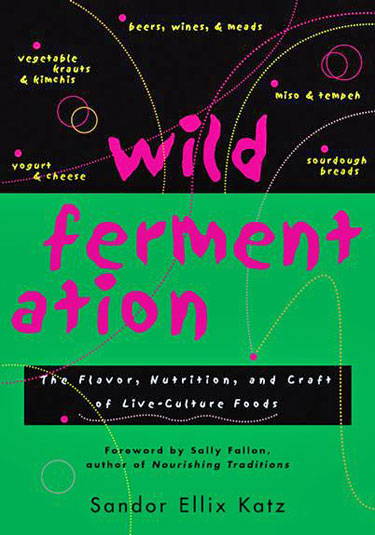 Wild Fermentation; The Flavor, Nutrition, and Craft of Live-Culture Foods
Did you know that chocolate is a fermented food? When the ripe seedpods of cacao beans are harvested, they are allowed to ferment for up to 12 days before the beans and pods are separated. Without this fermentation, the flavor would be totally different from the one we love so much.
This book is loaded with cool information like that and it contains over 100 recipes. It was originally published in 2003, yet it remains the only non-technical book of it's kind.
This is amazing when you consider that bacteria is the new frontier in healthy foods. Five years ago, nobody knew a probiotic from an antibiotic, but we sure do now. If you have any doubt in your mind about the powerful health benefits of fermented foods, you will want to read this book.
---