Cheese Making Recipe of the Month
When you make this cheese, call it St. Maure de Your House!
You can easily make this cheese, but don't try to sell it by it's real name. You can label it Sainte Maure de Pittsburgh or Sainte Maure de Texas or, well, you get the idea.
There are many Sainte Maures, but Sainte Maure de Touraine is the only one with an AOC designation (translated from the French, that means Controlled Name of Origin).
Thus, the only cheese that may be sold by that name has to come from the Touraine region in France and it has to be made to certain specifications.
One of the specifications involves the rye straw which runs through the center of the cheese. To be AOC designated, Saint Maure de Touraine must have the AOC seal imprinted in the straw along with the number of the producer. (The straw makes it easier to handle the log-shaped cheese when making it.)
Jim gets his straw from a local farm. He hasn't figured out how to imprint it with his name yet, but when he does, you will be the first to know!
Back by popular demand at the Queen's palace!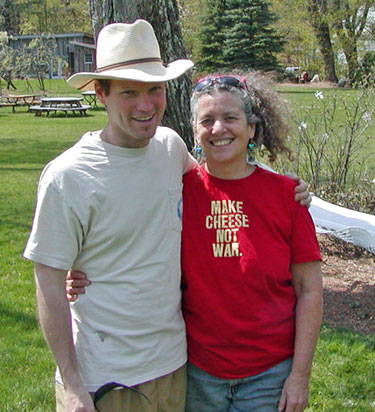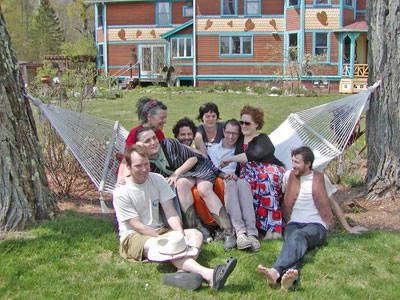 Starry Mountain Singers is an offshoot of Village Harmony the group Ricki and Jamie have been singing with for many years. Every year, these 9 young people who met through Village Harmony get together for a fabulous tour.
One of their stops is Ricki and Jamie's house in Ashfield, MA where they teach a workshop, and then perform a concert to a large crowd of enthusiastic fans.
(If you would like to be on the mailing list for Ricki and Jamie's music events, e-mail info@cheesemaking.com.)
The Starry Mountain singers present traditional music from around the world, including shapenote - a traditional New England style of singing, gospel, and Appalachian folk songs as well as Georgian, Bulgarian and Corsican arrangements.
If you think you know what this group sounds like, think again! These young people make magic with their voices in an intensely powerful way.
Ricki picked out a few of her favorites songs and she would love to hear what you think about them: Glory Hallelujah, Balloon, and Krialeso at MySpace, and  Echoes From the Burning Bushat YouTube.
Meet a Fellow Cheese Maker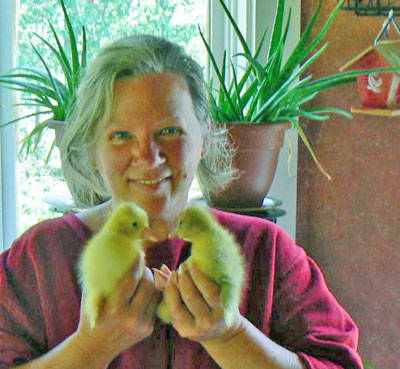 Terrie Travers in Butler, Tennessee
There is a lot of cheese making going on in Appalachia, where folks take the concept of "doing-it-yourself" to the highest possible level.

Terrie Travers and her husband, John do just about everything themselves. They retail their artwork (The Appalachian Shed) all across the country, grow vegetables (including mushrooms, cotton and quinoa) which they sell at farmer's markets, and they make a lot of cheese.

We posted a blog article in 2010 about Terrie and her Fromage Blanc. At that time, she had been making cheese for less than a year. Now, she's an expert and her "cave" currently holds: two traditional Swiss, one Gruyere, one Asiago Pressato, half of a Honey Rubbed Montasio, two traditional Cheddars, and one Parmesan.  

We asked her to take pictures the next time she made Swiss because there are so few tutorials online, if any, with pictures of the process. She did this (thank you, Terrie) and now, it's all there at our fabulous blog.
News From Fellow Cheese Makers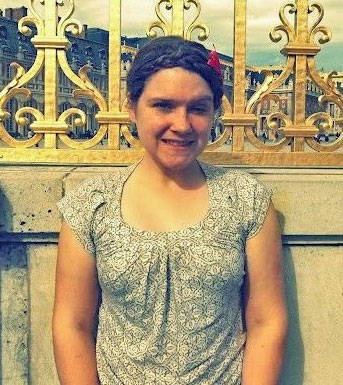 What a great senior project!
(Note: Amanda asked to interview Ricki as part of her presentation, and Ricki agreed as long as she promised to share her final product with all of us.)
As requested, I am sending you my final product (minus the cheese) for my senior project. For my class, I brought in the cheeses I made and everyone loved them!
I included pictures of the process except for the goat cheese. I did not manage to get my own pictures for that, so I took some off the internet.
Thank you very much for your time and help. I loved using your book to make the cheeses. It is really addicting. Once you start, you just want to keep trying out different recipes. Thank you so much again.
Amanda Titus, Belmont, New Hampshire
---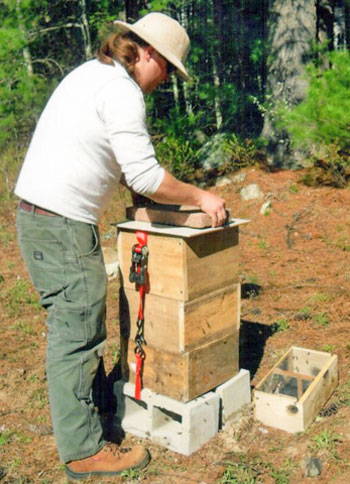 Cheese Plus Honey Equals Big Yum!
I make some of my own cheese and recently added a bee hive to my property.
I would love to combine the two and wondered if there are any cheese/honey recipes you are aware of and if there are any tricks or recommendations on combining the two?
Would enjoy learning how these both work together on proven recipes before experimenting.
Gen Defoe, Nashua, NH
(Picture by Kagen Weeks of Hive at Your Home)
Our technical advisor, Jim Wallace answered Gen and we thought you might want to know what he said:
Adding honey or any other sweeteners to cheese is not a great idea because the objective has been to convert the milk sugars to lactic acid and keep bad molds and other bacteria from growing in the cheese. Adding sweetness to any cheese that is aging can result in problems.
However, honey can be used with the finished cheese and in some of the softer cheeses it can be used when serving to complement the cheese but will need to be consumed immediately. Quite often honey can be warmed and poured over a slice of a fresh cheese for a great accent.

Here I make a very rich ricotta and then pour warm honey over it an hour or so before serving along with a few toasted pine nuts. It sinks into the cheese and makes a terrific dessert.
Jim Wallace
---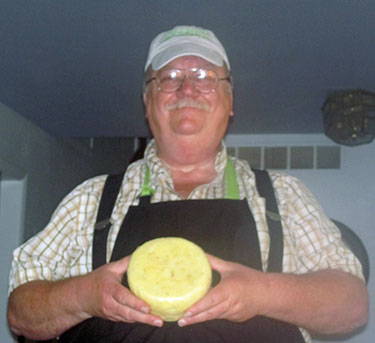 First, I've found thistle cheese for sale at Artisanal Cheese in Manhattan , NYC. Although a complex taste - not bitter - it was covered with ash. Reminded me of Romano Pecorino.
Second, I've found both plants and seeds for Cynara cardunculus (Perennial Cardoon):
Plants at Plant Delights Nursery 
Seeds at Digital Raingardens
And, lastly, I ordered thistle rennet from Spain. Contact is Mafalda at contacto@capraispana.com.
So, I got some sheep milk and made some Romano - reminiscent of centurions cheese. It is aging, ready by July. If it is as good as the Parmesan I make with cow's milk and your vegetable rennet, it will be good.
Rich McGaughey, Wheatridge, Colorado
---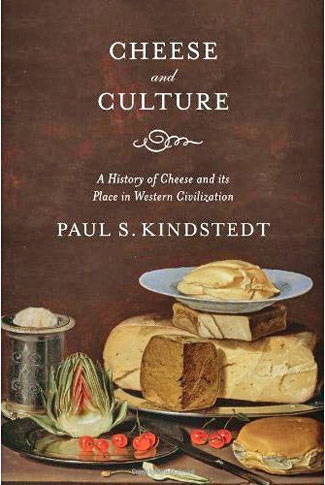 Cheese and Culture: A History of Cheese and it's Place in Western Civilization
Who else but Paul Kinstedt would tackle a subject this broad? Nobody else would and nobody else has. This is the last word on the history of cheese.
Paul Kinsted is a Professor at the University of Vermont in the Department of Nutrition and Food Sciences. In 2005, he wowed the cheese world with his comprehensive book, "American Farmstead Cheese.
Now, he's expanded his focus to the history of cheese in every part of the globe where it's ever been recorded.
To have "Cheese and Culture" on your shelf is to have an accurate reference for any time in cheese making history you might want to research. What a great addition to your home library!
---
Cheesemaking 101 Workshops with Ricki Carroll
A full day of hands-on cheese making with Ricki in her beautiful house in the foothills of the Berkshires. You will learn to make Farmhouse Cheddar, Queso Blanco, Whole Milk and Whey Ricotta, 30 Minute Mozzarella, Fromage Blanc, Creme Fraiche and Mascarpone.
---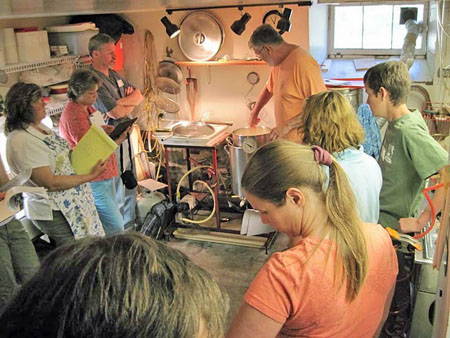 Cheesemaking 201 Advanced Workshops with Jim Wallace
A full day of hands-on cheese making with Ricki in her beautiful house in the foothills of the Berkshires. You will learn to make Farmhouse Cheddar, Queso Blanco, Whole Milk and Whey Ricotta, 30 Minute Mozzarella, Fromage Blanc, Creme Fraiche and Mascarpone.
---