Cheese Making Recipe of the Month
Tilsit Cheese Making Recipe

Here's an interesting project for a cold, winter day (or even a warm, sunny day if you live south of the Equator) - a mild, buttery, natural rind cheese with a relatively short aging time. Sounds good?!
There are many variations of this cheese because, although it originated in East Prussia, it traveled all around northeastern Europe to Switzerland, Denmark, Poland, Germany and Holland. (Tilsit is a cheese with a well-worn passport!)
In Jim's recipe, the rind is both washed and smeared in B. linens, giving it a reddish-orange surface. It's not a beginner cheese, but it you've made a few cheeses and you're ready to move up a level, this might just be your whey.
Meet a Fellow Cheese Maker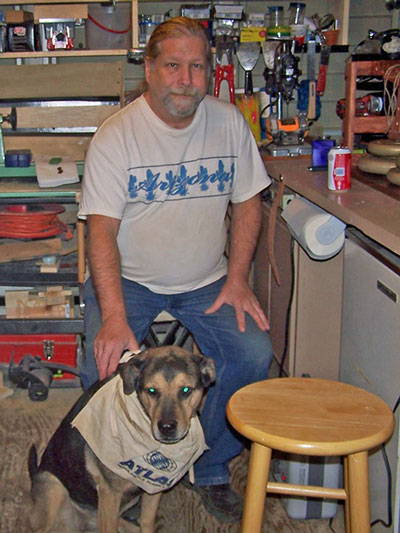 Steve Murtaugh
Pittsburgh, Pennsylvania
Steve was one of the first entrants in our recent essay contest.
He retired in 2010, after managing government labs for most of his working life. (Of course he's busier now than he ever was!)
In fact, this winter, he is in the process of making over 188 pounds of cheese which he intends to sell at farmer's markets next summer.
In one of his e-mails to us, he mentioned that he was aging his cheese in white coolers he got from Omaha Steaks. One thing led to another and Steve ended up conducting a series of experiments around retaining humidity in cheese "caves." He summarized his results for us (complete with diagrams) and we posted them on our blog
---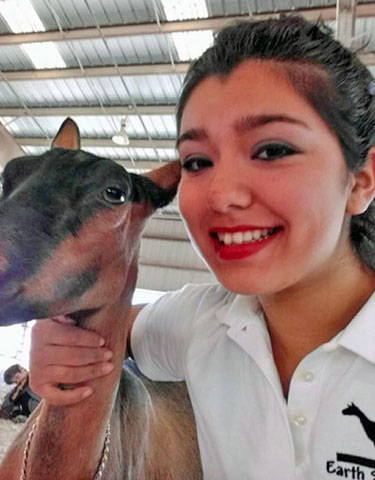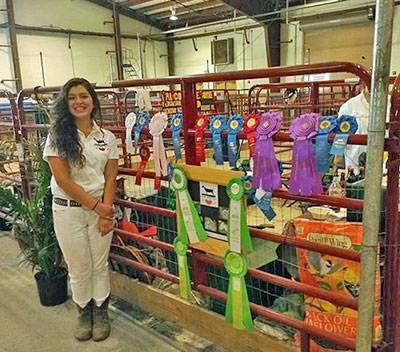 Displaying her ribbons at the South Florida Fair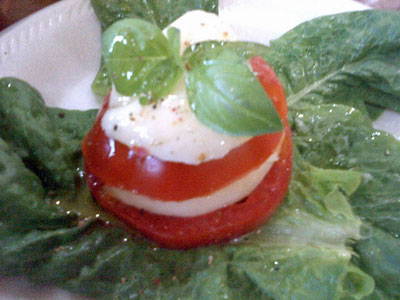 Mia Herrera in LaBelle, Florida

Mia Herrera just had her first show of the season, at the South Florida Fair in West Palm Beach. She won 1st Place for Showmanship, along with a bunch of Grand Champions and Reserve Grand Champions. Congratulations, Mia! We first interviewed Mia in 2010, when she was 11 years old. She was already raising dairy goats, winning prizes and making cheese.
In 2012, one of her goats came down with listeriosis. Mia's mother, Maureen did some research and wrote a paper about the disease, including it's history, symptoms and herbal remedies.
Mia is 14 now. She has 25 goats and 12 of them are pregnant (so that figure could jump to 49 quickly). In fact, she just had a doe freshen with quadruplets.
Currently, she milks all of her does by hand, twice a day. She is putting money from her fair premiums (prizes) away to invest in a used milking machine.
Every week, Mia and her mother sell cheese and fudge at the downtown Englewood Farmer's Market (Thursdays 9-2) and they will soon be going to the Venice Farmers Market (Saturdays 8-1). Their goat's milk fudge is their most popular product. Flavors include: Milk Chocolate Walnut, Creamy Peanut Butter, Orange Creamsicle, Mochachino and Dark Espresso.
They also make and sell Mozzarella to go in Mozz Stacks (fresh basil and tomatoes from the garden) drizzled with olive oil and minced garlic, Haute Chevre (horseradish, chives and dill), Lemon Feta (sprigs of rosemary from the garden, lemon rind slices, olive oil and a little garlic) and their most popular item - chevre rolled in walnuts and drizzled with local honey.
Mia is homeschooled, but if she went to public school, she would be in the 9th grade. She is already taking some college pre-courses online - headed toward an animal husbandry/ veterinary degree. Her goal right now is to try making hard cheeses. Something tells us she'll succeed at that!
---
News From Fellow Cheese Makers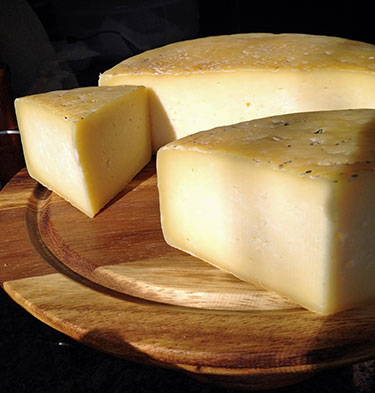 Mark Goldsmith's first Havarti
Thank you for the wonderful recipe on your website for Havarti. Friends and family want me to quit my day job.
I used 4 gallons of whole raw milk and aged it almost 4 months, washing it every three days for about 2 and a half months until the rind got hard enough to not allow any new mold to grow. (I'm very new at this so pardon me if I do not accurately describe the process.)
The taste was nutty, earthy with a semi-hard rind and very soft and smooth inside.
I just made another one last weekend - excited to see how it comes out... in 3 to 4 months.
I am totally hooked on cheese making!
Mark Goldsmith, Thousand Oaks, California
---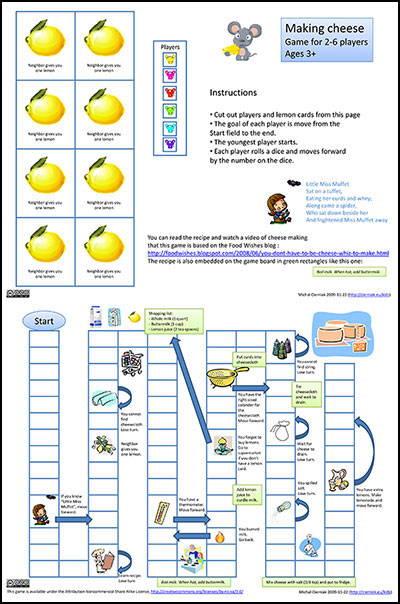 Michal Cierniak is the father of an 8 year old girl, Avril. Four years ago, when she was 4, they made fromage blanc together.
Shortly after that, Michal decided to make a board game online with his daughter. He based it on their wonderful experience making cheese.
We think it's a fabulous activity and a brilliant idea. He shares every detail about making the cheese and making the game at his blog, Kids' Things.
 
---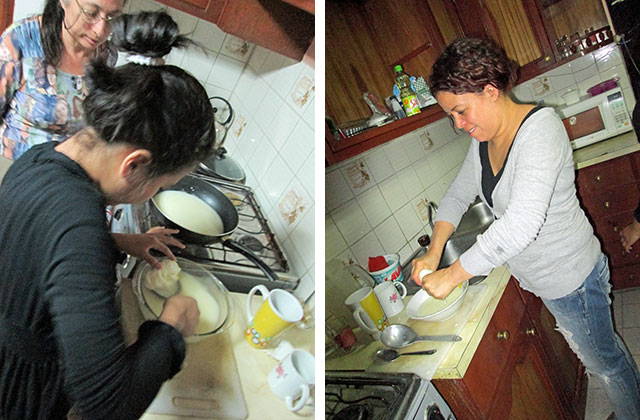 Sandi with Rebeca Chavez in black and her mother, Romy Chavez in white
Making Mozzarella in Peru

We are doing a home stay in Arequipa, Peru. We are trading cooking lessons with our host, Romina. She would like to make French onion soup with Mozzarella cheese.
Early in our visit, her mom described how she makes soy cheese and gave us the Spanish word for rennet - cuado, and told us where to buy it. Here, it is available in any pharmacy - one tablet is about 30 cents. The pharmacist told us exactly where to buy citric acid. Milk was the hard part. The first day Romina tried to buy milk, she was too late - the milk lady goes home by 10 am.
The second day, she thought she would also be too late, but found a street vendor selling fresh, whole milk. To my surprise, it is homogenized! Romina and her daughter, Rebeca, were thrilled to watch the milk turn into cheese and almost fought with each other to pull the Mozzarella. We are leaving them with enough rennet and citric acid to make seven more batches of cheese.
The cats love the whey!
Sandi Erickson, Franklin, North Carolina
---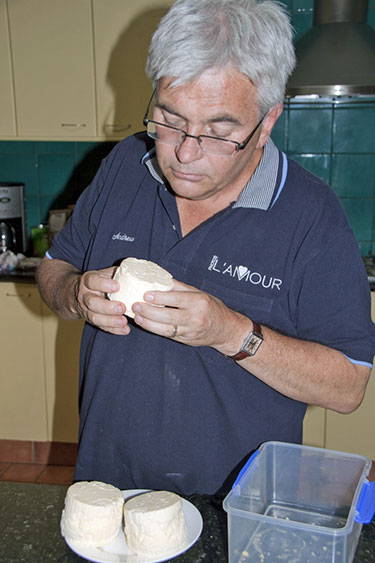 I thought I would whip out a short video on how to make blue cheese. It's based on Coastal Blue, (p. 184 in Artisan Cheese Making at Home) which is a modified version of Point Reyes Bay Blue.
I have changed it around a bit to make it much more "home cheese maker" friendly. Since I've also never tried the real American version, I corrected to my own taste.
It's not an overly strong blue, so most people quite like it. For those who are more "cheese naive," put it on a cracker with a little sweet jam.
I put it with a home made Mango Chili jam (there is actually a video on my YouTube channel on how to make that, as well) and my relatives have even offered to pay for a wheel. I'd never take their money, but it is the ultimate compliment for any home cheese maker.
Andy Cumberland, Brisbane, Australia
---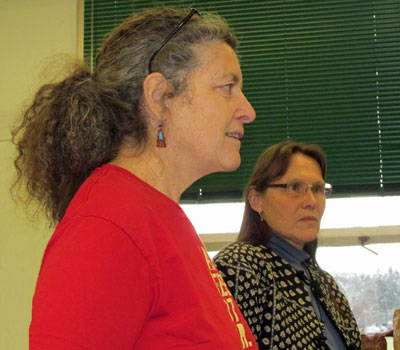 Ricki paid a visit recently to a local high school to give a brief presentation about making cheese. A longtime friend, Mary Link, The Director of Special Projects at Greenfield Public Schools (Greenfield, MA), invited her to participate in a lunchtime lecture series at Greenfield High School.

The time was limited to 20 minutes so Ricki could only give a brief introduction and a quick demonstration. She made queso blanco.

Ricki believes the joy of cheese making stems from that magic moment when a pot of milk becomes a pot of curds. From the looks on the students' faces when they witnessed that moment, it's clear they experienced the magic.
---