Cheese Making Recipe of the Month
Gorgonzola Dolce (The Sweet One)
Do the words "mild, creamy and sweet" mean anything to you? To us they mean yum!  This delightful cheese requires only 3 months of aging, and then it's ready to devour! Jim's takes you step-by-step through the cheese making process to make it easier than you ever thought possible.
Meet a Fellow Cheese Maker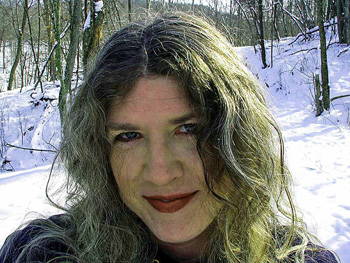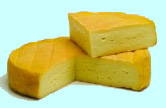 She Tackled the Munster Monster and Won!
Suzanne McMinn of "Chickens in the Road" fame is really getting into cheesemaking. This month's cheese, Munster (not to be confused with Muenster) was a bit of a challenge for our beginner, but she proved once again how easy cheese making can be.
Suzanne writes so well that it's fun to read about her adventures, even if you don't plan to make cheese yourself.   Check out how much fun she's having and maybe you'll decide to take the plunge!
News From Fellow Cheese Makers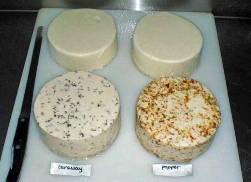 I appreciated your article about making Jack cheese. If I may add some wisdom gained by experience using a different culture but very similar methods- There is no need for additional heating time if you use New England Cheesemaking thermophilic direct set starter. Just keep everything at 90F during incubation and while stirring the curds. Incubate 45 minutes to one hour. Add rennet and hold for another hour at 90F. Cut curds, rest 10 minutes, then stir at least 46 minutes. My cheeses (from my raw goat milk) are pressed in Wheeler presses (purchased from you) and come out smooth, sliceable, and oh so good. Also the jack cheeses can be made with fresh hot peppers, fresh herbs, horseradish, seeds, or whatever by boiling the additives ... like you advise for caraway cheddar in your book. I do not use any salt until I brine the wheels.

Carroll Curtis
Pampatike Organic Farm
King William, Virginia
---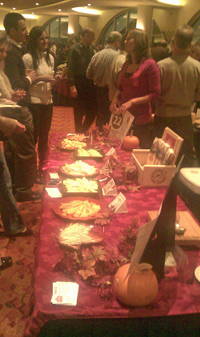 We would recommend the Wisconsin Cheese Originals Festival to anyone. What a treat it was. I love blue cheese and did they ever have it! I tried every one... along with many other kinds. Jeanne Carpenter does an awesome job. We had a wonderful time at Delaney's on Friday nite with cheese maker Bob Wills.  

The Saturday morning farmers market tour was chilly but worth every shiver and included lunch at Fromagination. (If you are in Madison you need to stop there.) This was followed by the Saturday night "Meet the Cheese Maker Gala Reception" with 35 Wisconsin cheesemakers and featuring 150 different artisan, farmstead and specialty cheeses. I think I tried every one, including three kinds of Limburger. We did not take part in any of the Saturday afternoon seminars but will next year. We have November 4-6, 2011 circled on our calendar.

Ned Miller
---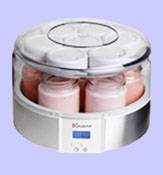 Makes delicious, thick and creamy yogurt in only 6-10 hours. This convenient electric yogurt maker comes with seven reusable 6-oz. glass jars. There is an automatic shutoff which can be set for a customized fermentation time and a beeper that will let you know when your yogurt is ready to be transferred to the refrigerator. Both the jars and lids are dishwasher safe for easy cleanup.
 
With the purchase of this yogurt maker you will receive one free packet of (Y4) Yogurt Culture ($5.95 value), enough to make your first five batches of yogurt.
---