Cheese Making Recipe of the Month
Pont l' Eveque is perhaps the oldest of the Norman cheeses. It is a beautiful mix of bloomy rind and washed rind, falling right between Camembert and Livarot.
Once you cut into it, you will find the edges have broken down more than the center, giving you a contrasting flavor of that sweet gooiness of Camembert near the edges and a firmer and brighter acid as you approach the center.
This is a great flavor combo in the mouth which allows you to focus on the milky goodness of this amazing cheese.
Cheese Making Questions & Answers
I want to make some truffled cheeses, but I can't seem to find any information on how.
Q. Truffles - I have access to fresh black Oregon Truffles and I want to make some truffled cheeses, but I can't seem to find any information on how. I tried to add some into a batch of brie last week, but it's not working out like I'd hoped.
A. Risky - We usually recommend adding dehydrated or heat treated items to cheese. It's a bit risky to add fresh things from the garden, field, or woods because of the dangers of toxin-producing biologicals being placed in an anaerobic environment where competition is more restricted. The high moisture of the brie would 'up' the dangers here.
That said, you can add the truffles after the curds have been drained and are ready for molding.
---
All the recipes suggest half skim and half full cream. I'm not sure how I should approach this.
Q. Parmesan - I have access to raw farm milk and I want to make Parmesan.
All the recipes suggest half skim and half full cream. I'm not sure how I should approach this, as I'm not sure of the fat content of the milk.
A. Control butterfat - A lot will depend on the amount of butterfat in the milk. The usual process (with Jersey milk) would be to bring in about two thirds of the milk the night before and let the cream rise at a cool temperature. The next morning, you would skim the cream from that and bring in fresh full-fat to add to the skimmed milk.
Jersey milk is high in fat, so if your milk is not so high in fat, move towards 50:50 on the split.
---
Do I cut the mold off when I eat the cheese?
Q. Mold under wax - My waxed cheeses are all developing mold under the wax. I am very careful with cleanliness. They are stored at 55F in a wine fridge that I use for cheese. What might be my problem and do I need to do anything besides cut the mold off when I eat the cheese?
A. Depends on amount - Mold under the wax is either due to waxing at too low a temperature or leaving pinholes during the waxing. (It may even be caused by small breaks or cracks caused by improper handling of waxed cheese.)
If the situation is bad enough, remove the wax, scrape the surface clean and re-wax. If the mold growth is minor, you might just leave it and remove the slight mold when you are ready to eat the cheese.
---
The curds were soft and I don't think it will make it.
Q. Unstable blue - I made a blue yesterday out of fresh cow's milk and it seemed really wet. The curds were soft and I don't think it will make it. I took it out of the mold this morning and it is not holding shape. It is sagging and if I can save it somehow I would greatly appreciate your advice!
A. Too moist - Blues are not the easiest to make. The big problem is that you need to keep the moisture high, but you still need to make them dry enough to form a good structure. It's a hard line to hold.
If your cheese is losing its form, the curds were probably too moist. There's not much to do at this point because the collapse is probably internal as well and any spaces you had for mold development are probably closed now.
---
Meet a Fellow Cheese Maker

Congratulations to These Three Certified Home Cheese Makers!
This month, we're honoring 3 "Platinum Level" cheese makers from Kate Johnson's school, The Art of Cheese in Longmont, Colorado.
Kate runs a great program with all kinds of classes for beginners through advanced cheese makers.
For inspiration and motivation, she awards certificates (Bronze, Silver and Platinum) after her students have completed a certain number of classes.
We did a blog article about her fabulous program a few weeks ago.
Now, Denise Milligan (bottom right), Ripley Casdorph and Karen Ragland are the first 3 students to achieve the highest, Platinum level at Kate's school.
We hope you will follow the link below to read more about them.
News From Fellow Cheese Makers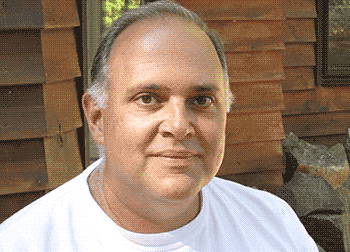 Creme Fraiche for Breakfast
I am a retired middle school band teacher. One of my hobbies is curing meat and sausages. Cheese making is the next logical step.
I love coming to the cottage on a Friday night and setting a litre of 10% cream on the cooktop and making this creme fraiche. On Sunday morning I can make this dish, my wife's favourite, for my wife and my two daughters, and for whoever else may be visiting.
Your creme fraiche packets are fantastic. I always have an extra litre of half and half in the fridge just for this. It's quick, easy, and never fails.
My recipe is for a delicious breakfast, fancy enough for a brunch. I use challah bread, that I often bake myself using the whey from the creme fraiche, lightly toasted and buttered as the base. I then place two slices of smoked salmon on top of the bread crossed. Place one lightly scrambled egg on top of the salmon and fold the edges of the salmon up over the egg. Put a nice dollop of creme fraiche on top and sprinkle with a few capers and a few thin slices of red onion. Serve with a mimosa!
Petar Cuckovic, Windsor, Ontario Canada
---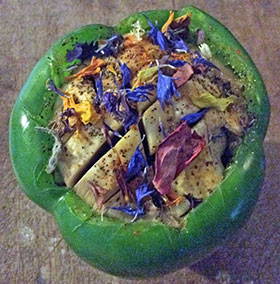 Here's a little something I put together using my goats cheese. I stuffed the green peeper with goat cheese, tomatoes and garlic.
On the top I place a freshly picked, field mushroom, sprinkled with black pepper and sea salt. Then I sprinkle on wild, edible flowers and drizzle with olive oil.
I pre-cooked the pepper for 15 minutes in the oven, before filling. Once stuffed, bake in a medium oven for around 30 minutes.
Pedro Collins, The Little Village Dairy, Stoke Lyne, Oxfordshire, UK
---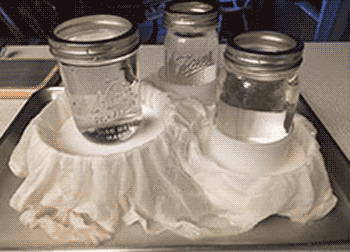 I wanted to send you pictures of my reblochon cheese in the making. I'm so excited about it.
You can see I had to make a half batch. I'm not able to handle 4 gallons of milk, so I never use over 3 gallons, and even that is hard. I went to the dairy this morning and got fresh raw milk for this recipe.
Thank you so much for putting this recipe out. I can't wait to make my French tartiflette using the reblochon cheese.
Teddy Gardner, Arkadelphia, AR
---