Cheese Making Recipe of the Month
The proper name for this cheese is Red Leicester, or Leicestershire, but it comes out sounding like "Red Lester."
This was actually a cheese Jim avoided until he saw and tasted it at the Neal's Yard booth in Bra Italy, at the Slow Foods festival a couple years ago.
He expected it to be more like a cheddar variation, but found it to be quite different in both texture and moisture, and a bit more tangy in flavor. Plus, it has that eye catching deep red/orange color.
Say what you will about brightly colored cheese, this one is a true show stopper!
Cheese Making Questions & Answers
What's the best way to wax my cheese?
Q. Waxing Mozzarella - I recently smoked some store-bought mozzarella and it was absolutely delicious. Is there any way I could wax a "loaf" of it? I like to slice it prior to smoking so I can get good smoke coverage on each piece; if I put it back together into a "loaf," is there a way to wax it?
A. Probably not - Mozzarella is normally not considered a cheese for waxing. It is too high in moisture and problems can develop over time. If you want to wax short term, it might work, but wax tends to not stick to moist cheese and the fat that rises during smoking may also prove to be a problem.
Re: the stacking idea - if you do stack the pieces together before waxing, you'll probably see mold developing because the hot wax cannot flash the mold spores which likely have already settled there.
---
Is there a way I can reduce the salt without compromising the end results?
Q. Low salt diet - I just purchased two of your cheesemaking kits today for the first time: Ricki's Basic Cheese Making Kit and Ricki's Mozzarella & Ricotta Kit. I bought them primarily so that I might have some control over the quantity of salt added, as my husband has recently been put on a very restricted sodium diet and all of the store bought cheese is loaded. Swiss is the lowest, but that becomes a little tiresome after a while!
Most of the recipes seem to include salt, including Colby, which says to add 2 tablespoons, and the end result is 2 pounds of cheese. That amounts to 375 mg of sodium for a 1 ounce portion, which is even higher than a lot of the store bought ones! Is there a way I can reduce the salt without compromising the end results?
A. Salt is important - Unfortunately, salt is a functional aspect of cheese making. It's roll is to help the cultures work at a point in the process. This is required to limit the acid production of the culture. Normally, the amount given is 2% of the cheese weight but 25% of that or more runs off as brine.
That said, you can make mozzarella and any of the soft cheeses without salt. If there is no culture and no aging involved, you can leave it out (however, the taste will be very bland). Many folks use herbs as a substitute.
---
I am looking for a true black grape ash?
Q. Different ash - I am looking for a true black grape ash. You do not sell this, but can you get it, or can you let me know where I might be able to?
A. Make it - This a true ash and produced by burning the trimmings from vines. It is grey and not black. It does not have the neutralizing effect of the activated charcoal we sell.
We have no sources for it but you can easily make it yourself if you know someone with vines.They are just burnt in the open air.
---
l am buying raw milk and it is very "fat." Can you tell me how to control the fat content in cheese?
Q. Raw milkfat - I am new to cheese making. l am buying raw milk and it is very "fat." Can you tell me how to control the fat content in cheese?
A. Fat rises - In most milk, the cream will rise if you allow the milk to rest at a cool temperature (below 60°F for at least 6 to 8 hours).
Then, you should be able to carefully skim some of the butterfat off. This is usually done for Alpine and Parma style cheeses. The cream can then be used for making sour cream or butter.
---
Meet a Fellow Cheese Maker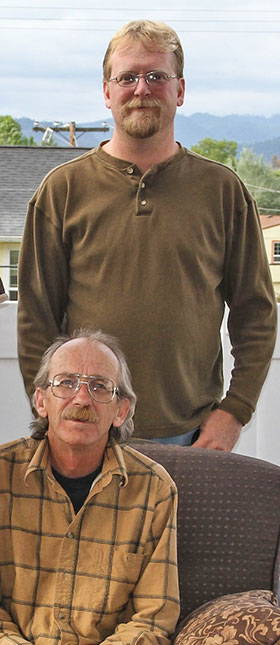 Eric Olson in Glide, Oregon
Eric's father was a cheese maker (by profession) and he taught Eric everything he knows about making cheese, and about building the equipment used in the process.
For awhile, Eric and his father had their own cheese factory in Wisconsin, but after they closed it, neither one of them made cheese for over 20 years.
Then, 2 years ago, Eric's father passed and Eric decided to start making cheese again.
Using the skills his father taught him (like welding stainless steel), Eric built the most elaborate set-up we have ever seen for making cheese at home.
If you watch his video, which shows him using this equipment to make cheddar, we promise you will be as impressed with his talent as we are!
News From Fellow Cheese Makers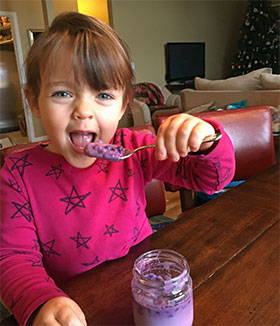 Margaret's Non-Dairy Soy Milk Yogurt
I've been experimenting with alternative yogurts, and came up with a decent blueberry soy yogurt recipe with your Sweet Yogurt (Y5) packets. They were a couple of years old (kept them in the freezer), but they still worked great. I used:
1 quart of unsweetened organic soy milk (it's only soy milk on the ingredients - nothing else added - I used West Soy brand)
3/4 cup of sugar
1/2 cup of small blueberries (frozen is fine)
Bring the soy milk to a boil, and simmer it for a couple of minutes while dissolving the sugar. Then, add the blueberries, and simmer for a few more minutes while the soy milk turns purple. Remove from the stove, and when the soy milk has cooled to about 100 - 105F, add the Y5 packet. Let dissolve for a couple of minutes (like the instructions say), then stir. Place in yogurt incubator.
I also did this recipe using only vanilla, sugar and soy milk. Both came out great… I don't think it was too sweet.
Thank you for an amazing product! Everyone says to add a thickener like agar, but I didn't need it with the Y5 (I had failed sets with other starters - yours worked better). I'll be buying more as I'm getting back into yogurt making after a hiatus!
Margaret Buttery, Colorado
Pictured above is Margaret's 4 year old daughter, Genevieve.
---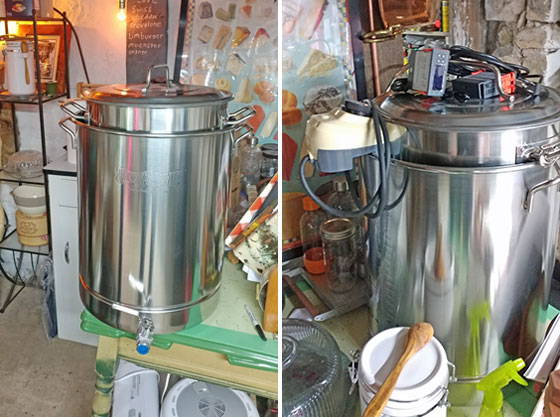 Modified Beer Making Equipment
I've moved to a 40 quart pot - adapting home brewing equipment for cheese making (photos below). Kind of a double boiler arrangement. Also making a temperature controller to hold milk with in +/- 1°C.
OK, I'm an electrical biomedical engineer by day. A cheese maker at night.
Steven Benner, Doylestown Pennsylvania
Watch for more about Steve this month on our fabulous blog.
---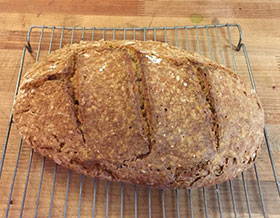 I'm using whey instead of water to make fermented bread. If a recipe calls for 2 cups of water, I use 2 cups of whey. It bumps up the protein in the bread, and because I don't use yeast, it makes the bread rise more after two days of fermentation.
Meibao Nee, owner of One Goat Creamery, Mariposa, CA
---
Ron's Ricotta Spread with Pork & Herbs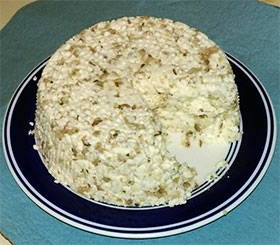 You have helped me start a fascinating and very tasty hobby. I just wanted to send you a pic of my first molded ricotta spread.
I smoked some pork ribs and chopped one of them up about the size of bacon bits, added some minced onion, basil, fennel, oregano and dill seed. It is a little dry, but it still tastes great.
I used apple cider vinegar instead of citric acid because I like the tart flavor, but it came out sweet, as did the whey. I will be making a slim fast (slow?) smoothie for breakfast tomorrow. How sweet it is!
Ron Baum, DeWitt, Iowa
---