Cheese Making Recipe of the Month
Here is a wonderful new twist on a Dutch favorite. This recipe combines the old ways of cheese making with modern day science. The result is a truly fabulous cheese that we can't wait to share with you.

The culture we use in this recipe adds a sweeter, more savory flavor that brings a whole new dimension to a traditional Gouda. Complete with a full history and detailed recipe, you'll be able to learn about and enjoy this fantastic cheese.
Cheese Making Questions & Answers
Do I have to buy distilled water for dissolving my rennet?
(Q) I have chlorinated city water. Do I have to buy distilled water for dissolving my rennet and for adding moisture to my cave?

(A) If your water is simply chlorinated, all you have to do is allow the water to sit in a pot open overnight and the chlorine should de-gas and be fine to use.

However, if you call the water department and find out that your water is chlorimated (a big difference in that ammonia is added), you will need to buy non-chlorinated water.
---
Is this normal in the ageing process?
(Q) I have a Parmesan which I made in January and it seems to be bloating/swelling some in the cheese fridge which is 85% humidity and approx 49-53°F. Is this normal in the ageing process?

(A) No, this is not normal for the style of cheese. It's an indication that there is some undesirable bacteria working inside.

Open it now, just to see what is going on inside. The size of the holes and whether they are round or irregular, as well as where they are located will tell a story about what happened.

Give it a good slap or two and listen for a hollow sound before opening it. If you don't hear it, perhaps it is just the outside shrinking more than the center due to dehydration.

If there are many small, round holes, they are usually from a coliform infection. This is a big problem in dry dusty weather when milk is left exposed.

If there are larger and shiny round holes, there could be contamination from a bacteria similar to what makes Swiss, but these usually appear when the cheese is aged too warm.

Irregular shaped holes are normally from poor curd management in draining and pressing.

Large central holes which sometime split the entire cheese are butyric bacteria which usually have a noxious smell. When you see these, its either really dirty milk or poorly fermented silage.
---
Can I use a sample from Y-5 yogurt culture to start another batch, from my last?
(Q) I got a 5 pack of your Y5 Yogurt culture and it is working out very well. I have also been using an heirloom style starter from another company and they say that the culture never gives out after many uses, using a sample from the last batch to start another batch, and on and on. Is the Y-5 such a culture?

(A) As you can tell by looking at our Y5 culture list, it is a more complex culture than others. This diversity is good but creates problems in re-culturing because unless conditions are perfect in the process, certain of these strains will dominate and the final balance of the yogurt changes. Many of what are called heirloom cultures have really been raised in many successive generations, and have sorted this balance thing out so they can be successfully re-cultured.

That said, we see the term heirloom culture thrown around extensively when most of the time the reference is inaccurate.

A true heirloom culture would be one that has evolved from a natural source specific to an area and carried out for many generations without changing it's characteristics too much.

Traditional yogurt cultures were exactly this and could be re-cultured generation after generation.

The question is - which cultures have the best chance of being carried forward to another batch of milk while still preserving their characteristics? This is essentially the ideal mother culture.

Ideal candidates for this are those cultures that are less complex. In other words, with fewer bacteria strains to be in competition with one another.

The best candidate in our yogurt is our Y1 Bulgarian yogurt. It will survive many batches without changing.
---
How much heavy cream (not ultra pasteurized) needs to be added to a gallon of 4% milk to get it anywhere near cow's milk?
(Q) I'm unable to find a dairy that is willing to sell me raw milk (very sad!). My question is how much heavy cream (not ultra pasteurized) needs to be added to a gallon of 4% milk to get it anywhere near the average Jersey cow's milk?

(A) About 3 - 4 oz of heavy cream. However, if you are making cheese, the normal milk will not hold the extra butterfat because the protein base has not been increased. Store bought milk is usually 3.25%.
---
Meet a Fellow Cheese Maker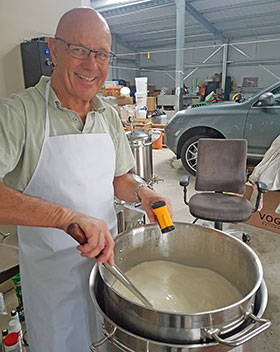 Tony Hamblyn in New Zealand
Tony is an airline pilot (with Air New Zealand) who also makes cheese, beer, sausage, salami and dried meat.

He loves brick cheese, and that has become his specialty (which is somewhat unusual for a home cheese maker). To make it, he has adapted his brewery set-up for cheese.

It hasn't been easy and he's still working to achieve the consistency he wants, but someday he hopes to enter the New Zealand cheese awards which has a section for hobbyists.
News From Fellow Cheese Makers

A Veterinarian with Goats in Arkansas
Thought you might enjoy a picture of my March goat cheeses (bottom right).

I'm trying to stop milking, but my half Lamancha/Nubian, Queen Lateffa, just won't stop giving milk!

I've tried to cut down to twice weekly milking but she won't dry up. I've been milking her since Jan. 2016.

Another reason, my son in law Simon loves my goat cheese. He's from the British Isles.

I'm a small town veterinarian in NW Arkansas and goats have always been my hobby. But I'm trying to retire from both. Ha!

I've thrown away my cheese making books and am relying on experience and experimentation. The cheeses in the picture were all made in March - one gallon cheeses. I use Fromage Blanc culture plus unpasteurized goat's milk.

I let it set for 8 to12 hours. Then I decide what to add and use the basket or small cups and press for about 4 hours or so. I like the small cups for fresh cheese.
The yellow looking one is black olive and sea salt coated with cocoa butter. The other one is wild onion and sea salt. The red one is brined and coated in Recado and olive oil. (Recado is a spice my daughter sends me from Belize.) The pale yellow cheese has dried Serrano peppers from last year's garden.

Since I don't have a "cave," I let my aging cheeses sit in the fridge for 3 or 4 weeks, then vacuum seal them. I know it works cause now I have year old cheeses that are fabulous.
Linda Ford, DVM, Arkansas
---