Cheese Making Recipe of the Month
Crème Fraîche is a cultured cream product with high butterfat and a wonderfully mild, tangy flavor. It is thick and rich, so it is often used like sour cream.
It provides a delicious topping for soups, main dishes and especially desserts. So, forget the whipped cream this fall and make Crème Fraîche to garnish fresh fruit from your fall harvest!
This recipe is perfect for beginners because it's so easy to make. With a little cream and culture, you can enjoy homemade Crème Fraîche in your own kitchen.
Cheese Making Questions & Answers
Since cream of tartar is derived from tartaric acid, can I use it as a substitute for tartaric acid?
Q. Since cream of tartar is derived from tartaric acid, can I use it as a substitute for tartaric acid? If yes, what amount of cream of tartar equals tartaric acid?
A. Using cream of tarter is not going to be as effective as using tartaric acid because it is a neutralized version. If you do try to use it, we know it will take more, but not how much, because we don't know it's actual strength.
---
Can I use 25% goat's and 75% cow's milk for Ricotta?
Q. I'm looking at your Ricotta Salata recipe. Can I use 25% goat's and 75% cow's milk? Or perhaps 50-50?
A. You can mix the two milks, but the taste will be very different. With this cheese, you want high butterfat content, however, goat's milk has less, so it is not generally done. Your best option would be sheep's milk, but few of us have that!
---
Can I safely age Garlic Gouda with olive oil and a paprika rub to improve the flavor?
Q. I made Garlic Gouda this weekend. I put dried, ground garlic and some paprika into 1 cup of water and brought it almost to the point of boil and then let it set. I had planned to use it as an infusion, but I inadvertently did not strain the garlic pepper mix when adding to the milk. Now, the cheese is drying and I wonder if it would be better to wax it, or if I can safely age it with olive oil and a paprika rub to improve the flavor. What would you recommend?
A. There is nothing wrong with adding solids instead of an infusion.However, instead of adding them to the milk, we recommend adding them to the curds at the time of molding. If the cheese has a nice tight rind with no openings, the oil rub would be just fine. It's only when the solids are sticking out of the rind that it is better to wax the cheese.
---
Can I use Y-5 sweet yogurt culture like an heirloom culture,?
Q. I got a pack of your Y-5 sweet yogurt culture and it is working out very well. Can I use it like an heirloom culture, taking a sample from the last batch to start another batch, and on and on?
A. As you can tell looking at our Y5 culture list, it is a more complex culture than others. This diversity is good but creates problems in re-culturing because, unless conditions are perfect in the process, certain of these strains will dominate and the final balance of the yogurt will change.
A true heirloom culture would be one that has evolved from a natural source specific to an area and carried out for many generations without changing it's characteristics too much. A good example of this would be the cultures used in Parma where they retain their whey from each day and use it the next day for their new cheese.
Traditional yogurt cultures were exactly this and could be re-cultured from generation after generation. The closest we can come to it is our Y1 Bulgarian culture because it is less complex, so there are fewer bacteria strains in competition with one another. It is essentially the ideal mother culture and will survive many batches without losing it's viability.
---
Will early-season milk be a problem in making this cheese?
Q. I have been using your Chevre C20G culture to make goat's milk chevre
for about 10 years. We have 2 does whose kids we just weaned.
My process is: I pasteurize one gallon of milk by slowly heating to 165F, stirring regularly (takes at least 20 mins to get there), then bring it down to 86F by putting the pot inside a larger one with ice cubes in it.
I add the culture package and let it re-hydrate on the surface for a couple of minutes before stirring it in. I incubate overnight, then drain inside the refrigerator for 10-12 hours. I put it in a glass bowl and add 1 1/4 teaspoons of sea salt. I stir it and then pack it into small, glass mason jars.
I have made two batches this week and both have come out grainy, like fine-curd cottage cheese. The flavor is good - just grainy. I tried using a large bowl mixer to beat the second batch. It helped, but it still has chewy small curds like cottage cheese. The second batch also had a greenish cast to it. (In the past, mine has always had a slightly buttery, yellow cast to it.)
A. Early-season milk can be a problem in making this cheese. This milk was intended specially for the young ones. As the season goes on, the milk becomes more user-friendly for cheese making.
Also, your pasteurization process is probably changing the proteins and making the milk problematic for cheese making. You are using an industrial process that calls for the milk to be heated to a high temperature in a matter of seconds and then to be flashed cold in seconds.
With your method, you are subjecting the milk to excessive heat. The best pasteurization for you would be to heat to 145F, hold for 30 minutes, then chill ASAP.
---
Meet a Fellow Cheese Maker
North Meadow Farm in Manchester, Vermont
This beautiful farm was the worst "fixer-upper" you have ever seen until Lysa Cross, Jesse Pomeroy and David Johnson brought it back to life. (Check out the "progress" pictures at their Facebook page)
Now, with the help of their head cheese maker, Mario Lanzilotta and their creative carpenter, Eric Cross, the three partners have a farmstead cheese company.
They are making fabulous Gouda, Wenslydale and Cheese Curds (for sale at their farm store along with eggs and pasture-raised meat).
By next Memorial Day, they plan to be serving their own Vermont maple ice cream, so, watch for their grand opening!
Meanwhile, you can visit the farm and they will show you their cows, goats, pigs, chickens and a little puppy named Bernie. You can even go on a hay ride in the summer and a sleigh ride in the winter. Gouda times!
News From Fellow Cheese Makers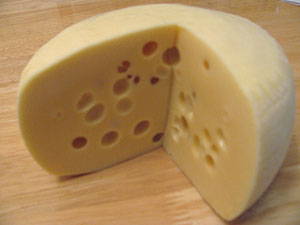 ---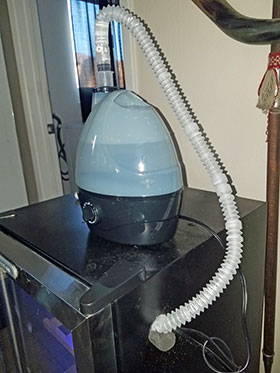 I see many people building a cheese cave using small bottle cap humidifiers that you constantly have to refill. There is an easier way!
I use a humidifier designed for a reptile terrarium that holds a full gallon of water, and has a tube to pipe the humidity in. This did require I cut an equal sized hole in the side of my wine fridge to insert the tube, so people would have to be very careful that they figure out where the elements are running (many dorm size fridges have the cooling elements within the side walls, so the hole would have to be made somewhere else).
But, the result is that none of my cave space is taken up by a humidifier, which means more cheese, AND, I only have to fill up about every 4-5 days. (Some might get a full week, but I live in the Arizona desert, so the humidifier really has to work to get up to where it needs to be.
Cathy Miller, Phoenix, Arizona
---
Making Canestrato in New Hampshire
This is a large Canestrato that I made with the milk from my lovely Jersey cow, Heidi.
I make cheese every third day. My refrigerator will only hold 15 gallons, which is perfect, since my large stainless steel cheese pot (really a Bayou Special pot) can only hold 15 gallons.
I have been making Canestrato for 5 years and the one in the photo is 14 pounds. Since I made that particular cheese, I have gotten your 8 pound basket mold and I now make an 8 pound wheel and a 6 or 7 pound wheel and I find that size is better to handle. Jim told me that is usually the size the cheese makers in Italy make, so I changed my MO. It is Jim's great recipe that I follow and it is a delicious cheese!
The photo was a shot for a newspaper article that the writer asked us to provide for the little article and I thought you might like it, too!
Sue O'Dwyer, Harrisville, New Hampshire
Note: We interviewed Sue in 2014
---