Great news, our new book is hot off the press and ahead of schedule. Say Cheese, a kid's guide to cheese making, is now available to order.

We've been dreaming about co-authoring a kid's cheese making book for years. Now, our dreams are coming true. After lots of hard work, we're excited to announce the release of our new book, Say Cheese, a Kid's Guide to Cheese Making.

It's full of fun, easy to follow recipes, science, history, geography and more. From milk to yum it offers hands on learning for kids of all ages.

This book has been made possible because of you, and we want to say, thank you. You have helped grow an amazing community of cheese makers around the world. This community inspires and encourages us everyday. Because of you, we're able to set extremely cheesy goals and have fun along the whey. From the bottom of our hearts we truly are thankful for all of your support, it means the world to us.

XOXO
- Ricki & Sarah
Cheese Making Recipe of the Month
In many stores we see a commercial version of Brie, made by machines with milk that could be better, and aging that's focused more on getting to market and longer shelf life than what Brie was traditionally.
Being Cheese makers you have the option to select our milks and manage the process without retail restraints. So, in this recipe, I'm focusing on making a traditional Brie that stands out from the crowd.
Cheese Making Questions & Answers
Can My Cheese be Pressed Longer
Q. I'm pressing my cheese and I have to press it for 12 hours. That means it will be done at 2am and then I have to put it in a brine for 24 hours. My question is - can I let it press until I get up at 5:30am?
A. Since it is the final press phase, it should not be a problem. But, it is important to keep the schedule for the earlier pressings.
---
How to Care for Aging Blue Cheese
Q. My blue cheese has been aging for 2 weeks at 54F and the mold on the outside is growing like wildfire. There are lots of good open cragsthroughout, too. My question is whether to keep the exterior relatively clean by wiping it down with salt/vinegar solution/brushing or just let it go and scrape it clean in a month or two?
A. Usually the mold slows itself down due to the surface drying. But, if it is too heavy, reduce the moisture in the air. Some blues develop a very slimy surface which can be scraped but most blues dry down eventually to a crust.
---
The Underside of Cheese is Damp While Aging
Q. I just made two 2 lbs wheels of cheese. Everything went very well. I made 2 lbs of farmhouse cheddar and 2 lbs of stirred cheddar. I have had them drying for 4 days and I have turned them many times. (I heat my house using wood so it tends to be drier in my home.) I have had the cheese on wooden boards, but, every time I flip the cheese, it's slightly damp on the bottom. I feel like they're not getting any drier. I keep flipping the cheese, but it's always slightly damp on the bottom side.
A. Normally the surface will begin to darken a bit when they are dry enough. This may take from 2-7 days, depending on the cheese.
If there seems to be moisture under the cheese, this is a sign that they have begun to re-ferment. It is called late acid development. This is caused by too much moisture left in the curds when the whey was drained.
This moisture contains lactose and food for the bacteria. In the future, make sure the curds are dry enough before draining the whey. To control this - cut them smaller and stir them longer. Make sure that the curds do not feel mushy or, when broken, show a lot of moisture inside. They should be about the same dryness from the edge of the curd to the center.
---
Chlorinated Water Can Kill Ripening Cultures
Q. I tried to make camblu and everything went fine except the surface molds which never grew at all. I bought the penicillium and geotrichum from you and I stored them properly and used them exactly as per the instructions.
I hydrated the molds with filtered water from my fridge dispenser. Could the chlorine have killed the molds or could the molds have been bad? Since I was using two molds it seems unlikely that both molds were bad, but I can't figure out what went wrong.
A. Chlorinated water is always a problem when working with molds and bacteria. Think about the fact that it is normally put in drinking water to kill things.
The other factor could be that the final cheese was dried too much for the mold to grow well. The aging space could also be too dry. Mold needs a good amount of moisture in order to thrive.
---
Meet a Fellow Cheese Maker
Welcoming Two New Cheese Makers
Loretta Olito-Thompson from Prunedale, California
Loretta grows citrus fruit, olives, avocados, tomatoes, etc.
She served her first cheddar with olives she grew and brined herself.
She had been a little bit nervous about waxing that first cheddar, so her husband stepped up to the plate and did it for her. We love him.
They broke it open on their 39th wedding anniversary and ate it with champagne.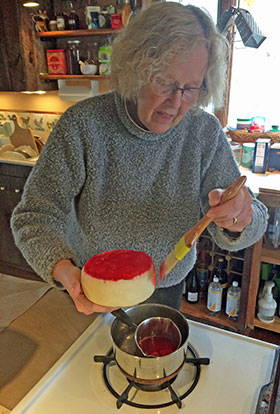 Leslie Durr from Charlottsville, Virginia
She works a somewhat stressful job as a psych nurse, so she appreciates the peacefulness of the cheese making process. She made her first cheddar a couple of months ago.
It was supposed to age for 8 weeks, but she wanted to serve it at Easter dinner, so you know how that goes.
After only one month in the "cave," it was delicious and, of course, her family was impressed. She even made ricotta with the leftover whey.
News From Fellow Cheese Makers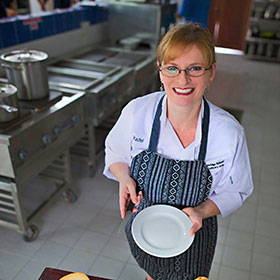 I just wanted to send off a quick message to say thank you to everyone at your company who helped answer my questions and directed me to people who could better help answer my questions when we started our buffalo dairy here in Laos.
If it weren't for you guys I might not be as far along with what I am doing right now.
We are starting to get more media attention and I just wanted to share the latest article, in National Geographic, that has come out on us.

Another big thank you again
Rachel and the Laos Buffalo Dairy Team, www.laosbuffalodairy.com
---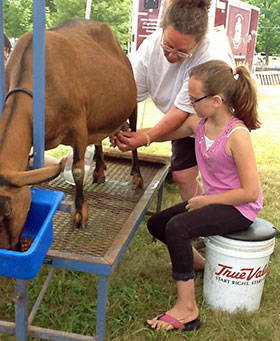 I have been a customer for years. I have been a home cheese maker for about 15 years, good at some things, horrible at others.
As I am sliding into retirement, I finally have some time to document what I do and have done in cheese making. I just started a new page on our farm website that is specific to my cheese making adventures and thought that you might find it amusing.
I hope to keep adding to the page as I move forward, working on more aged cheeses – you'll understand that better if you read my posts. I'll be adding more of my adventures/discoveries and my DIY projects, including two types of cheese presses and a cheese harp I have made. That idea came from one of your Moos-Letter articles but I went a little further. Here is my New Page
Pogo Pogorelc, Friends' Folly Farm
---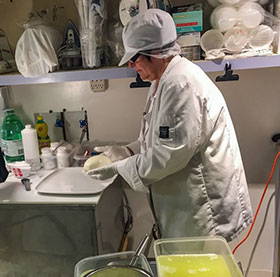 TV Show about Lynda Garneau
We have written several articles about Lynda and Claude Garneau of Ottawa, Canada since we first got to know them in 2016.
So, we were thrilled for her when Claude told us that a TV station in Canada had produced a show about Lynda and her cheese making.
You can view snippets of the show. It's in French, but you can see how she makes her cheese and you can see the fabulous cave Claude made for her. This is home cheese making at it's highest level.
---