Cheese Making Recipe of the Month
Today we're excited to share a recipe for making an Appenzeller style cheese.Since we don't live in the Appenzell region, we won't be making their specific cheese, but we can take the basic concepts and create our own version of this wonderful cheese.
Appenzeller is a fantastic cheese that has been made for over 700 years in the mountains of Switzerland. While aging, a unique treatment is applied, the rind is rubbed with a "secret" blend of yeast, alcohol, and a combination of 25 different herbs, roots, leaves, petals, seeds, and bark.
We hope you have fun and enjoy this cheese as much as we do.
Cheese Making Questions & Answers
What's the best ripening mat for Camembert?
Q. What's the best ripening mat for Camembert - the fine mesh or the medium mesh?
A. Most folks use the finer mat during the early draining. Then, when the Cams are moved to the aging area, they use the medium mesh mats or bamboo mats.
---
Should I wrap my Camembert in cheese paper?
Q. Should I wrap my Camembert in cheese paper when doing the final ripening?
A. You can, but if you have the right amount of moisture, there is no need to do that. If you are aging your Cams in plastic boxes with lids, just make sure condensation doesn't drip onto your cheeses.
---
Curds are not firm and rubbery?
Q. With my first batch of curd cheese, the finished curds are not firm and rubbery and there is no squeak.
A. They really only squeak shortly after making them. If you put them in the fridge for a while, they no longer seem to squeak after a day or so. That's why they need to be fresh. If they never did have that firm texture, you may have left too much moisture in the final cheese.
---
I have a cheese press question.
Q. I have a question about using a cheese press: When a recipe calls for a certain pressure to be applied to the cheese, let's say 35 lbs for 6 hours, and you see a drop in the pressure over time as the curds compress, should you adjust back to 35 lbs as needed?
A. Yes, absolutely. As the curds become consolidated, the tension of the springs becomes less. The tension should be readjusted every 15-30 min for the first hour or two.
---
Why has my cheese bloated and cracked?
Q. I made Danbo cheese and everything was going very well. My cheese is now 8 weeks old. I just came back from a short vacation and did not turn the cheese for 5 days. When I came back, the cheese had bloated and cracked with soft cheese flowing out. I turned it over and it had sunk on the other side.
A. Sounds like you are seeing some late gas production. This could be caused by some warning in the aging space or even just a cheese that was too moist going into the molds. The runny cheese near the surface is due to an accelerated protein breakdown after the 8 weeks.
---
Meet a Fellow Cheese Maker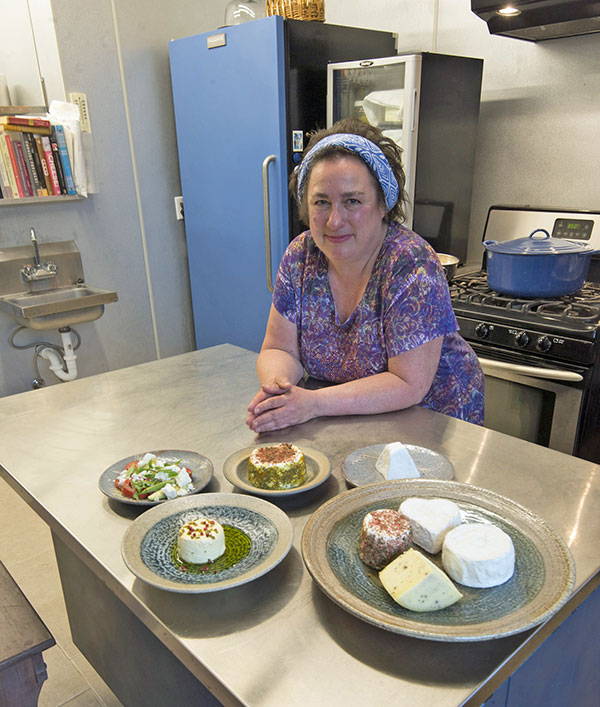 Karen Kushner in Sparta, Tennessee
Karen raises goats and teaches cheese making classes at Red Gable Farm in central Tennessee.
Her classes are geared specifically for home cheese makers. She limits most of them to 6 participants
Her farm is located 90 minutes from Nashville, Knoxville and Chattanooga. The farm next door has rental cabins within easy walking distance.
Karen makes some interesting bloomy rinds and a few of her own unique cheeses with her goat's milk.
News From Fellow Cheese Makers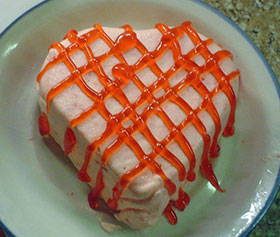 Bob Albers in Mandeville, Louisiana sent us this picture of his own cherry version of the Chocolate/Peanut Butter Coeur a la Creme we posted in our blog. He made it by Osterizing 6 marachino cherries and adding them right after adding the heavy cream. The topping is gel frosting in a tube.
---