Cheese Making Recipe of the Month
You may have noticed that Jim presented his fabulous recipe for Queso Blanco awhile back. That cheese is somewhat similar to Queso Fresco in that it's a very easy, fresh cheese to make. The main difference between these two is that Queso Fresco melts and Queso Blanco does not.
Jim likes to add smoked jalapenos to his Queso Fresco, as you can see in his picture above. But one great thing about this cheese is that you can add almost any herb or spice or even garden fresh vegetables to it. When you make it you'll understand why it is the most popular cheese in Mexico. Delicioso!
Meet a Fellow Cheese Maker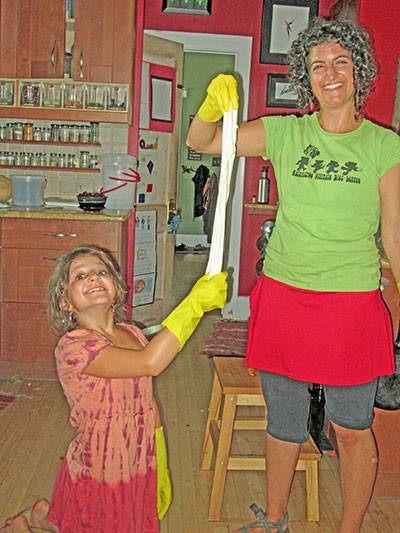 Haniya Freyer (9) and Her Mother, Hether
What a great team! Haniya is a pro at making our 30 Minute Mozzarella and her mother, Hether teaches children about eating healthy food as The Fresh Food Fairy!
They live in Kalamazoo, Michigan where Hether has already sprinkled her fairy dust everywhere and Haniya has taught all her friends to make Mozzarella.
Note: In this picture, they are both wearing rubber gloves while they stretch the cheese. We advise young folks in particular to wear gloves because that cheese gets pretty hot when you stretch it. Right, Haniya? You're the expert!
News From Fellow Cheese Makers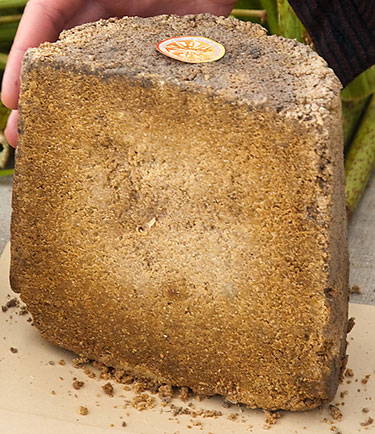 I see in the cheese making book (Home Cheese Making) that you have the recipe for making Mysost. I made it and it came out GREAT. Well, one was creamy and one was grainy but the grainy one I had put walnuts in and, in spite of the gritty texture, the flavor was very very good.
I am looking for a recipe for Gammelost ("old cheese" in Norwegian). It, too, is Scandinavian but I have looked high and low for a proper recipe with no luck. The cheese is made by souring the milk then cooking it at about 140F. So, no rennet is used in this one and the curds are delicious but a step by step instruction would be so useful and I can find nothing on the web or in any books.
Jennifer Budney, Algonquin, Illinois
(Note: If you have a recipe for Gammelost, please send it to Moosletter@cheesemaking.com.)
---
Hello. You don't know me but I have to take a minute to praise and thank you. My very beginning of everything cheese was launched by you.
I worked at Le Cordon Bleu in Boston and an instructor asked me to do a cheese class. HHHHMMM that's a good one. But sometimes we need to learn what may help us.
Oh, goat cheese cake will do. But no that's not making cheese. If I'm going to do this either I go all the way or no way. Ok, order everything thing you need to make it happen. So I got your book Home Cheese Making and off I was. Cultures, moulds, presses they were rolling in like a mad rush.
I used everything from your book and opened up a huge can of worms. Before you know it, I was giving 3 hour lectures on cheese making procedures, cheese categories and my students ... most anyway, were blown away. Some even passed the quizzes.
So, this letter is to thank you for being available in an important time of my learning and teaching career. I am now part owner of a company called Kite Hill. Yes, I invented 3 vegan cheeses that are now in 35 Whole Foods in California and will be in 350 total country wide within a year. This isn't about my success, it's about yours... the success of being amazing at what you share with all of us. I have never called without a fun and loving voice from your customer service team. Be proud of what you've achieved with cheese in America. I'm proud of you!
Monte J. Casino, San Francisco
---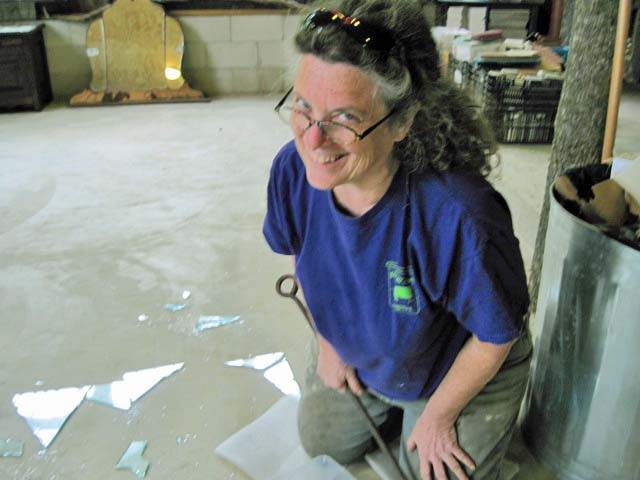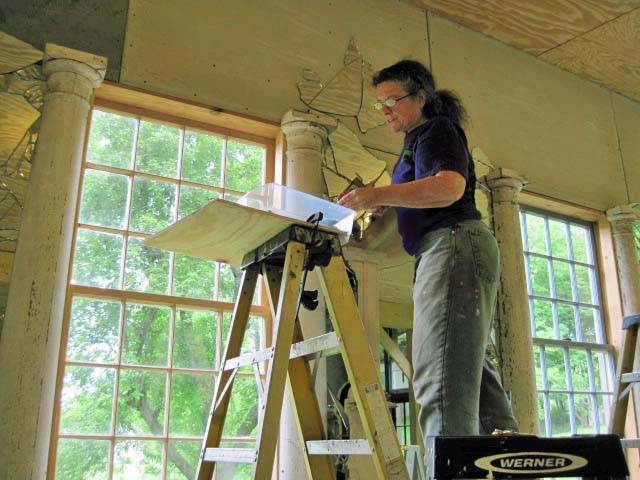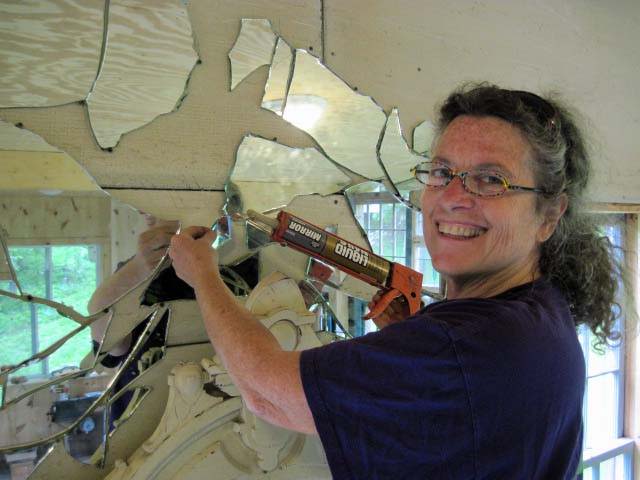 Creating the Coolest "Barn" in the Kingdom of Cheese
Many years ago, when Ricki raised goats, there was a well-used barn behind the royal palace in Ashfield, Massachusetts. Now, there are still remnants of the original structure but the barn is a fabulous work of art in progress. Ricki and Jamie expanded the sides and the roof, put in lots of windows, and they are decorating it in Ricki's unique, eclectic style.
This month, Ricki's focus has been mainly on a wall where she is doing a mirror mosaic with large pieces of plate glass. The effect is absolutely stunning! Stay tuned and next month, we'll show you the finished product. (By the way, there is also a post she is covering with glass beads and other ornaments. We'll be showing you that magnificent sculpture when it's finished as well.)
Long live the Queen! (But be careful with those pieces of mirror!)
---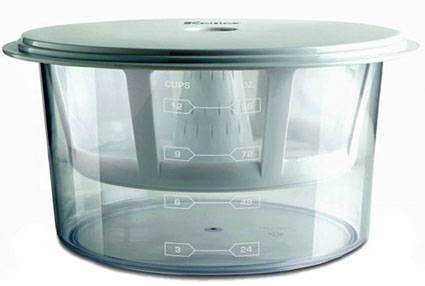 What did we eat before they came out with Greek style yogurt?! It is so yummy!
However, it is also very expensive and they add all kinds of stuff to it. Who needs that?!
Especially when it is so incredibly easy to make your own. We actually have so many products to simplify the yogurt making process that we had to open up a separate section in our online catalog.
This draining bucket eliminates the need for cheese cloth and holds up to 2 quarts of yogurt. So, the next time you're at the check-out counter paying the big bucks for that Greek-style yogurt, remember what Ben Franklin said - "a penny saved is a penny earned!"
---
Hi, I decided to rig up my own cheese press this weekend...
By the way I have a real cheese mold-- the black ABS pipe will not come into contact with the cheese-- it is only used to press the follower (it is 4" diameter so it fits around the follower hoop perfectly.
I'll be adding a disposable pie plate at the bottom, overlapping it over the edge of the wood base, and poking a hole in the bottom to help drain the whey.
I made this press as a result of my first experience making hard cheese (the farmhouse cheddar from Ricki's Basic Cheese Making Kit) using a crazy (and dangerous) rigged up contraption.
I was totally unprepared for my first attempt at pressing. What I did was try to balance free barbell weights on a one of your followers, which then sat on the basket mold, which was sitting on 2 bamboo mats in a rimmed baking sheet. But the free weights aren't totally flat and so they kept sliding off the follower.
Originally, I had the whole contraption on a raised countertop, and the first time two of the 5lb weights slid off, I had visions of my poor cat getting killed. I moved the contraption to the floor, where I eventually had to prop the thing up in a corner (for stability) and put some heavy tomato cans around the exposed edges to provide extra leverage in keeping the weights from sliding off. It worked, but barely. I realized I needed a better solution.
Adam Levbarg, Los Angeles, California
Note: You don't have to go through all this! We do sell two different presses and even plans for making an "Off the Wall Press."
---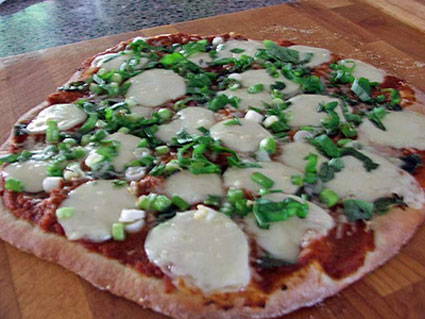 What can you say about a woman who has three refrigerators and a cheese "cave" in her home?! Well, one thing you can say is that her husband is a lucky man. He's the official tester of every recipe Maggie Parkinson creates.
We did a blog article about Maggie recently and she gave us her recipe for Steak in Stilton Sauce. That was so yummy and she had so many great recipes that we asked her to share a few of them with us.
As a result, we have this new section - a series of 6 recipes, complete with pictures and Maggie's informal directions. Her writing style is casual and friendly but beneath this soft exterior, she is an absolute maniac (and a perfectionistic fanatic) about food. She tests and re-tests her recipes. (Her husband really is a lucky man!) They live outside Seattle, Washington.
To start this series, Maggie did a tutorial which will enable you to produce a professional quality pizza in your home. (No soggy crusts will be tolerated!)
---